Welcome to Did You Know?, a blog series dedicated to helping you maximize your use of SMART products with tips and tricks that you may not know about. We'll regularly discuss new ways to leverage software and hardware to inspire greatness in the classroom. Leave a comment below if there is something you'd like to read about here!
Lumio enables students to connect remotely to live lessons delivered by teachers and engage in real-time with lesson activities. Available through any web browser, Lumio supports learning and teaching in any environment, even when some, or all, students are unable to join a physical classroom space.
The cloud-based classroom offered by Lumio easily supports student collaboration on any devices anywhere, anytime breaking down the barriers of distance learning with:
Flexible Lesson Delivery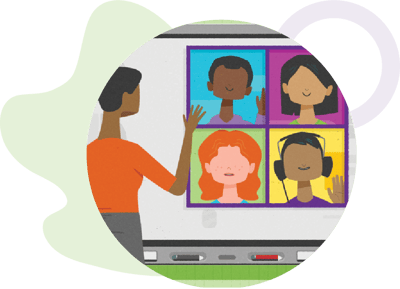 Teachers can share lessons to student devices with a variety of virtual delivery methods: whole class, small group, project-based, individual, Blended Classroom and collaborative.
Flexibility during lesson delivery: teachers can easily switch from teacher-paced to student-paced anytime during a lesson.
With the student-paced option, students can review and complete activities independently at their own pace – anytime that the lesson is running.
Virtual Collaboration
Collaborative Workspace activities empower students to work together from home on a shared digital canvas to co-create, add content and problem solve. The workspace allows students to add text, images, and digital content to share research, compare and contrast information, and truly collaborate. It's easy for teachers to see which student has added what content and add feedback and follow-up questions for students within the virtual workspace.
Shout It Out activities enable students to send text and images from their devices to a lesson. Teachers can then rearrange, organize, and discuss contributions – allowing for student voice and input even in a cloud classroom.
Activities And Assessments To Gauge Students' Understanding
Teachers can assess and support individual learning needs with clear insights into student work using individual handouts, activities and collaborative workspaces to monitor progress and assess By seeing students' work in either real-time or upon completion, teachers can adapt and offer individual support as needed. Teachers can also provide real-time feedback into both individual and small group activities virtually.
Teachers can engage students with a variety of assessment types including multiple-choice, short answer, and true/false questions using Response and the other interactive activities available in Lumio.
With assessment activities, students can see their own individual results on their devices, allowing them to direct their studying and ask questions to support their learning.
Google And Microsoft Integration
Lumio works with existing technology, familiar platforms and workflows including Google and Microsoft.
Students can use their existing Google drives/accounts to access content from any web browser on any device.
There are so many options for teachers to use Lumio to create and deliver lessons for students no matter where they are. Have you used Lumio to support digital learning, or have questions about how to do so? Let us know in the comments below!