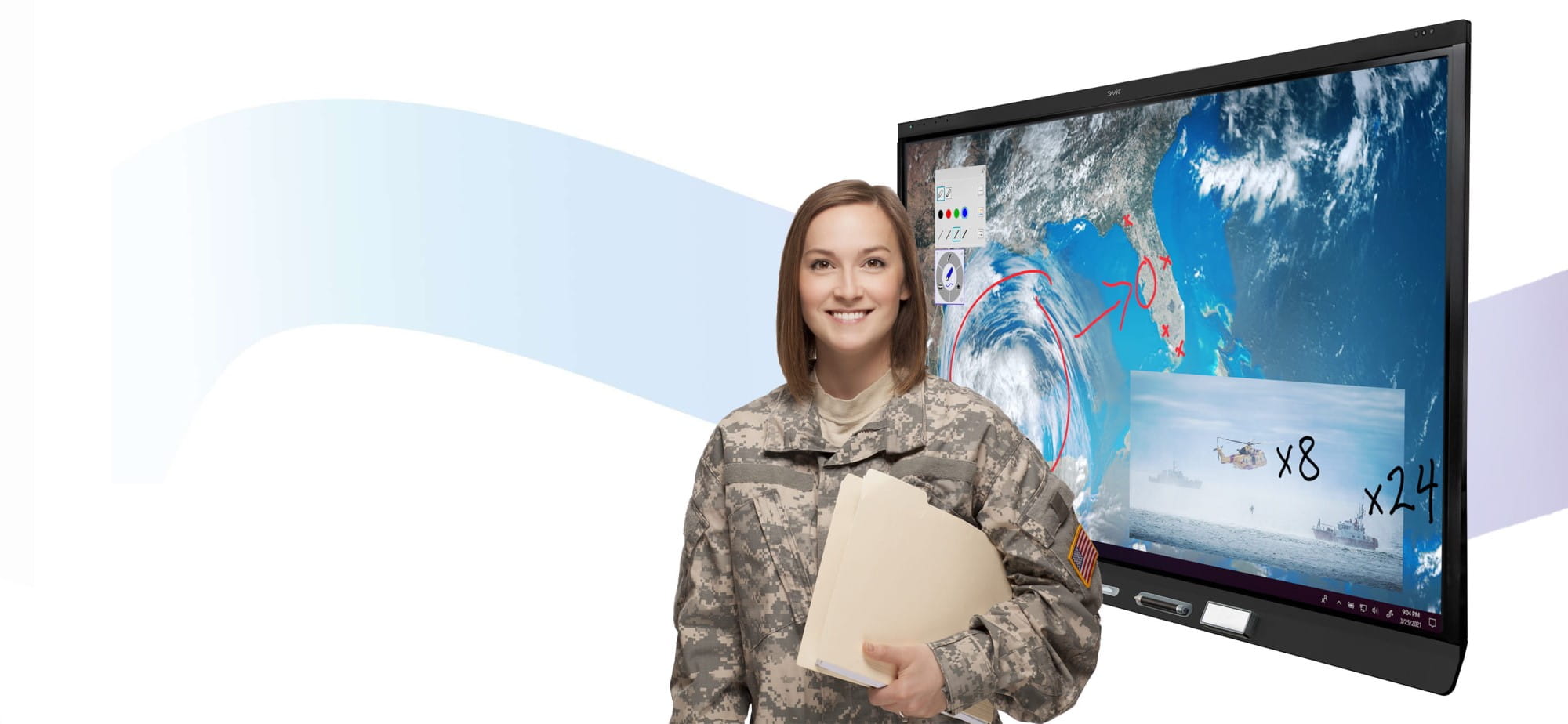 Government Solutions
Secure collaboration for global teams
Streamline decision-making, enhance critical-thinking skills and create a truly collaborative experience with SMART Board© interactive displays.
Book a demo
Make connections that matter between technology, team members and leaders, and transform your organization with innovative interactive displays.
Radio and Bluetooth restrictions?
SMART Board 6000S/6000S Pro and MX/MX Pro series displays can be configured for government facilities with restrictions on Bluetooth, wireless, and USB peripherals. TAA compliant displays are also available to government institutions.
SMART Board® interactive displays
6000S Pro-V3/6000S-V3 Series
65", 75", 85"
4K Ultra HD displays
Available without WiFI and Bluetooth
55", 65", 75", 86"
4K Ultra HD displays
Available without WiFI and Bluetooth
6000S-V3-P (TAA compliant )
*Available to government agencies
SMART Meeting Pro®
With SMART Meeting Pro, colleagues whiteboard and storyboard in the virtually unlimited interactive workspace. The space expands as you add images, documents, links and notes – even over multiple displays and meetings.
SMART Teamworks™
One-touch launch. Wireless screencasting. Multi-user collaboration from any device on your own network. PDF recaps. SMART TeamWorks gives your team the ultimate end-to-end collaboration experience from any device with any conferencing platform – and it's easy to use.
SMART Notebook®
Free, award-winning desktop software provides powerful teaching tools for your SMART interactive display that improve concept delivery and increase engagement and comprehension.
Exceptional security for greater peace of mind. Connect multiple devices to access your secure content and files. Factory disabled configuration helps secure your display from tampering and malware.
Get information for the U.S. General Services Administration, including authorized SMART GSA resellers in your area.
From the Federal Bureau of Investigation to the Army University,
many departments and agencies trust SMART to make their
teams more productive and efficient.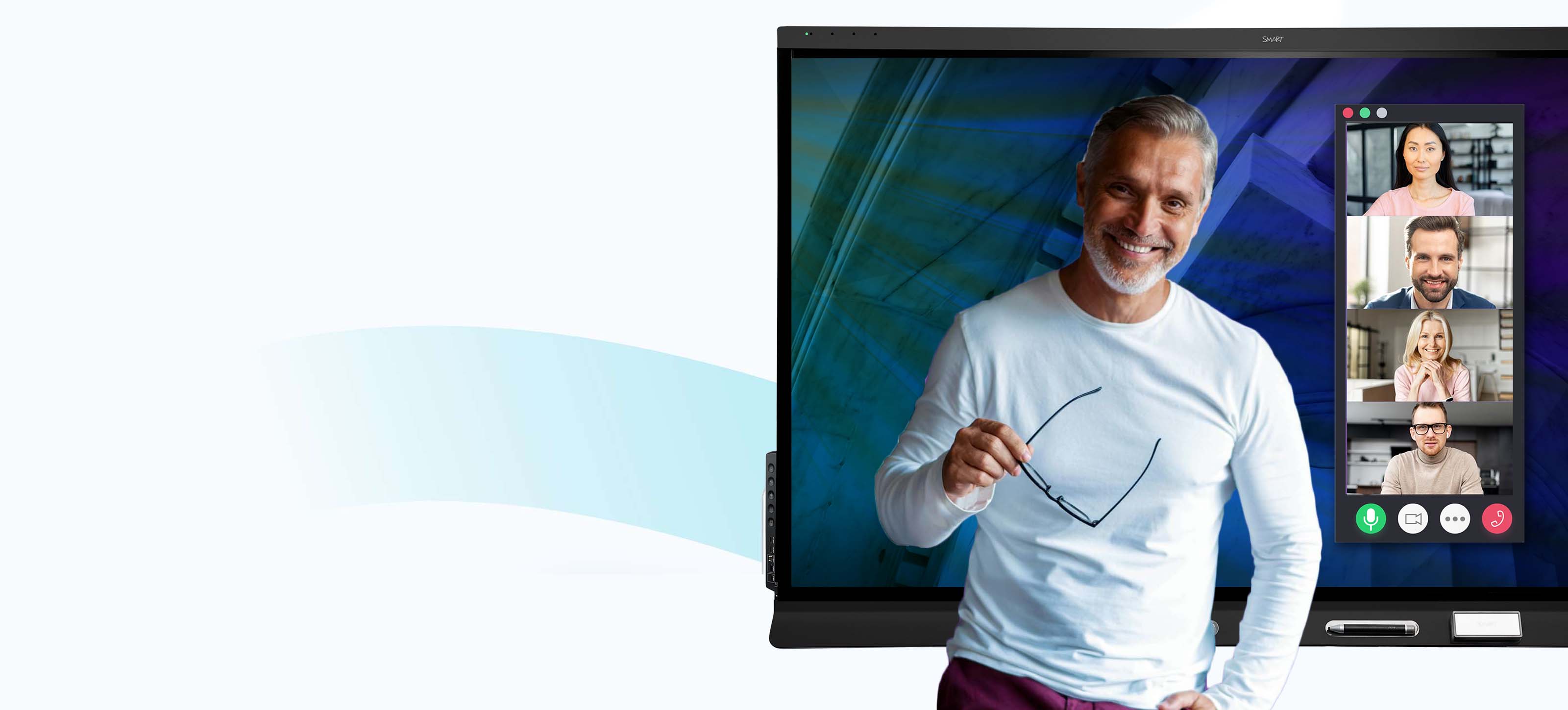 6000S Pro
Built to Use. Built to last.
With precise interactivity and digital ink, the 6000S and 6000S Pro series provide advanced collaboration and connectivity features with a simple, intuitive user experience. TAA compliant 6000S Pro models available.
Discover the 6000S Pro
SMART Podium™ interactive pen display
The SMART Podium with battery-free pen integrates with any Windows or Mac OS computer to provide touch, gestures and digital ink in the home office, while video conferencing, or presenting on a connected projector or large-format display.
Maintain, control and secure devices from any web browser. Centrally manage iOS®, Android®, Chrome OS™ and Windows®; devices, and SMART Board displays with iQ.
SMART Electric Height-Adjustable Stands
Mobile and wall stand options make it possible to easily create collaborative meeting spaces in any room, for groups large and small.
Support and service you can count on
We're with you every step of the way, with a host of warranty options, training resources and technical support to make your SMART experience simply seamless.
Access consistent US installation services for your SMART solutions, delivered by SMART authorized installation technicians. All managed and coordinated directly by SMART.

Improve capabilities and confidence with training resources for every skill level. Access video tutorials, free online courses, intensive hands-on training, certification courses and more.
Save money and stress with our best-in-class warranty and service plan options. All displays come with a SMART Limited Warranty or SMART Assure Warranty.
Ready to get your SMART interactive flat panel?