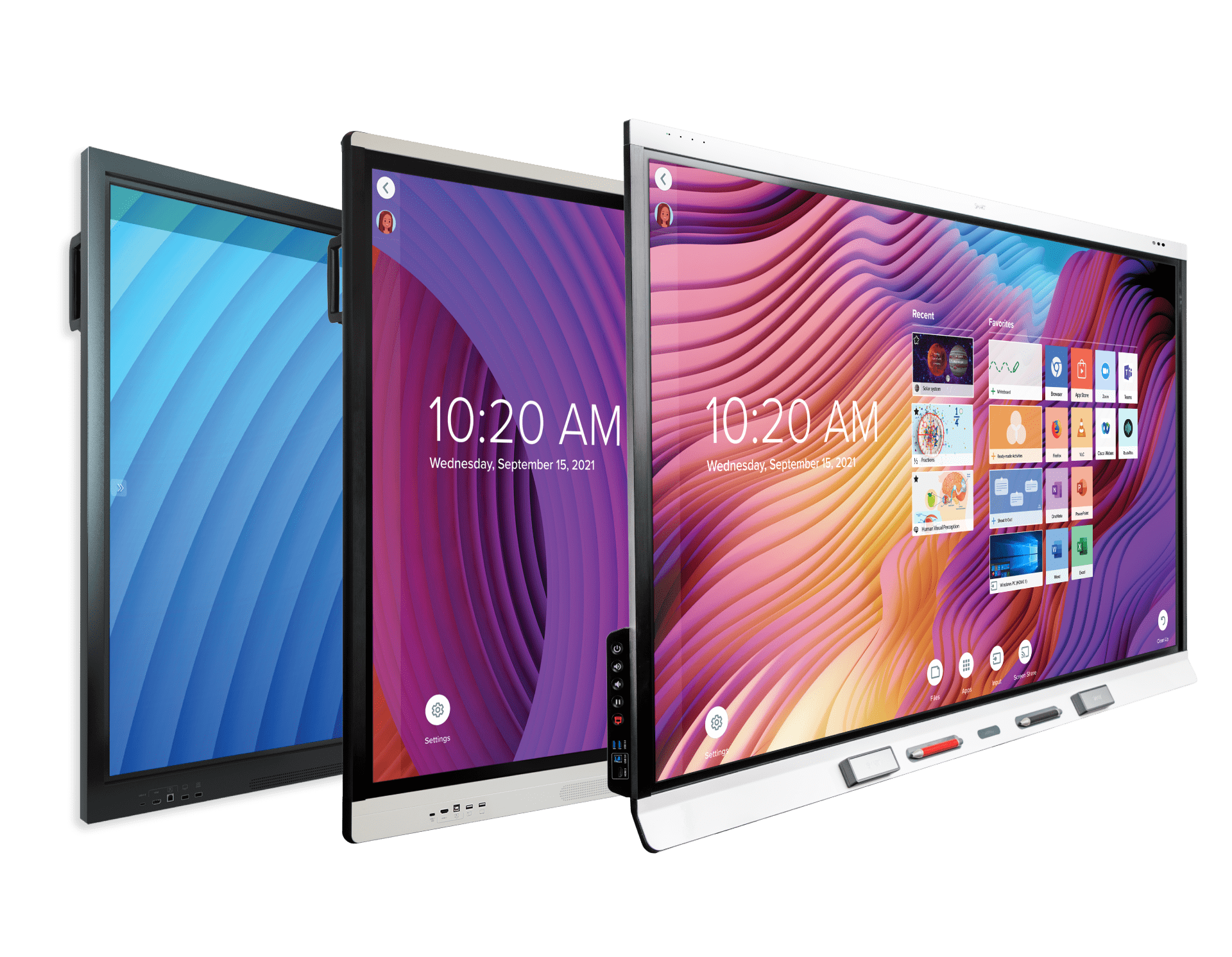 SMART Board® Interactive Displays
Einfacher geht's nicht.
Schnelle Verbindung.
Mitmachen leicht gemacht!
Book a Demo
Get more from your investment in student devices - in and out of the classroom
Works with your existing classroom technology
Designed for the future, with industry-leading upgradability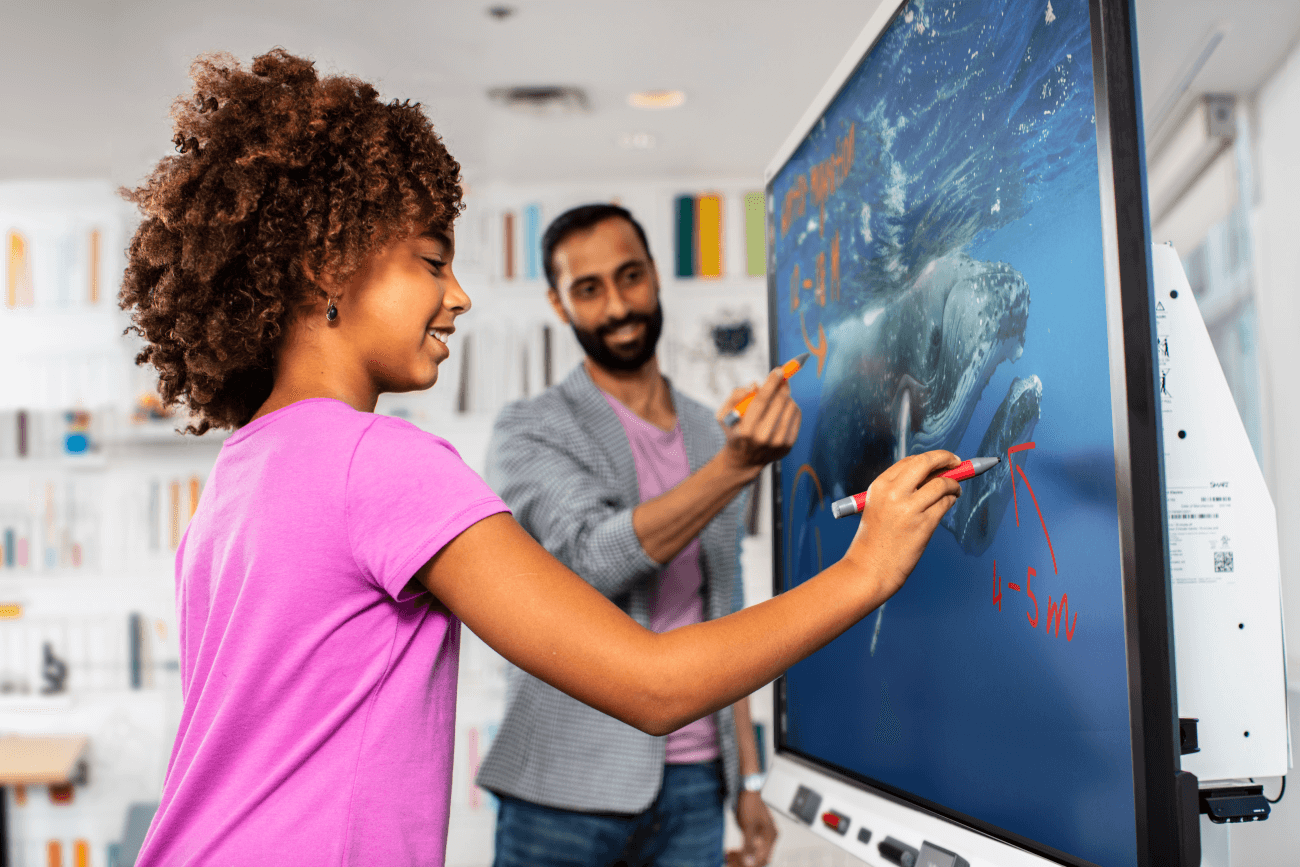 Powered by iQ
Your Classroom's Most Valuable Player
Knock it out of the park with interactive displays powered by iQ - SMART's designed-for-education embedded computing solution. Easy to use from day one, with endless options for student engagement and a product lifespan that's tough to beat, SMART displays with iQ maximize your technology investment.
SMART Board Interaktive Displays
ONLY SMART's industry-leading touch and ink technology enables multiple users to intuitively write, erase, touch, and gesture at the same time, over any program or app, without interfering with another's tools.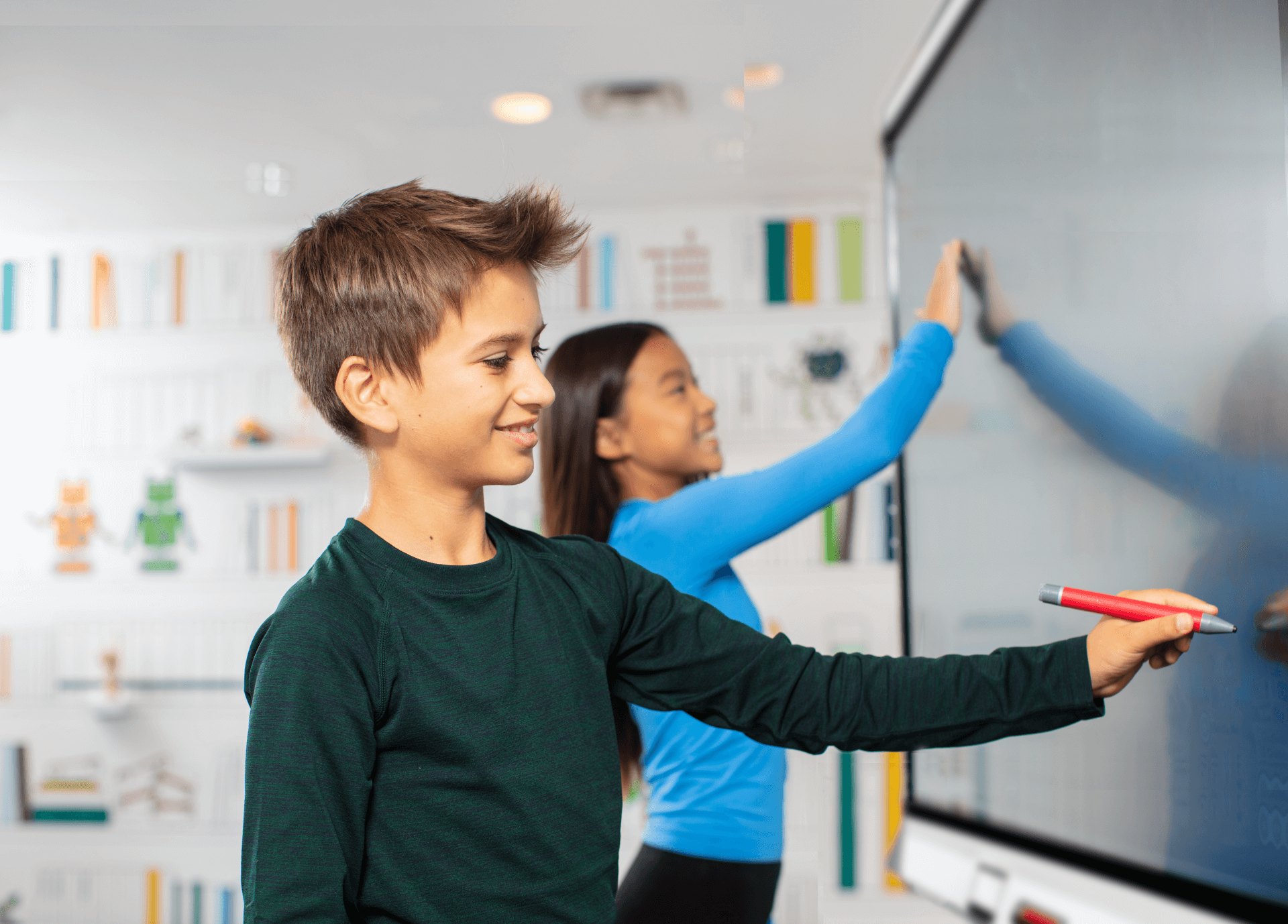 Let's break it down.
| | |
| --- | --- |
| | Up to 40 unique touch points with full multi-user interactivity. |
| | Continuous Pen, Touch and Eraser differentiation from all users across platforms – not just "pen and touch" like the other guys. |
| | Automatically recognizes and switches between pens, tools, touch, multi-finger gestures and erasing. |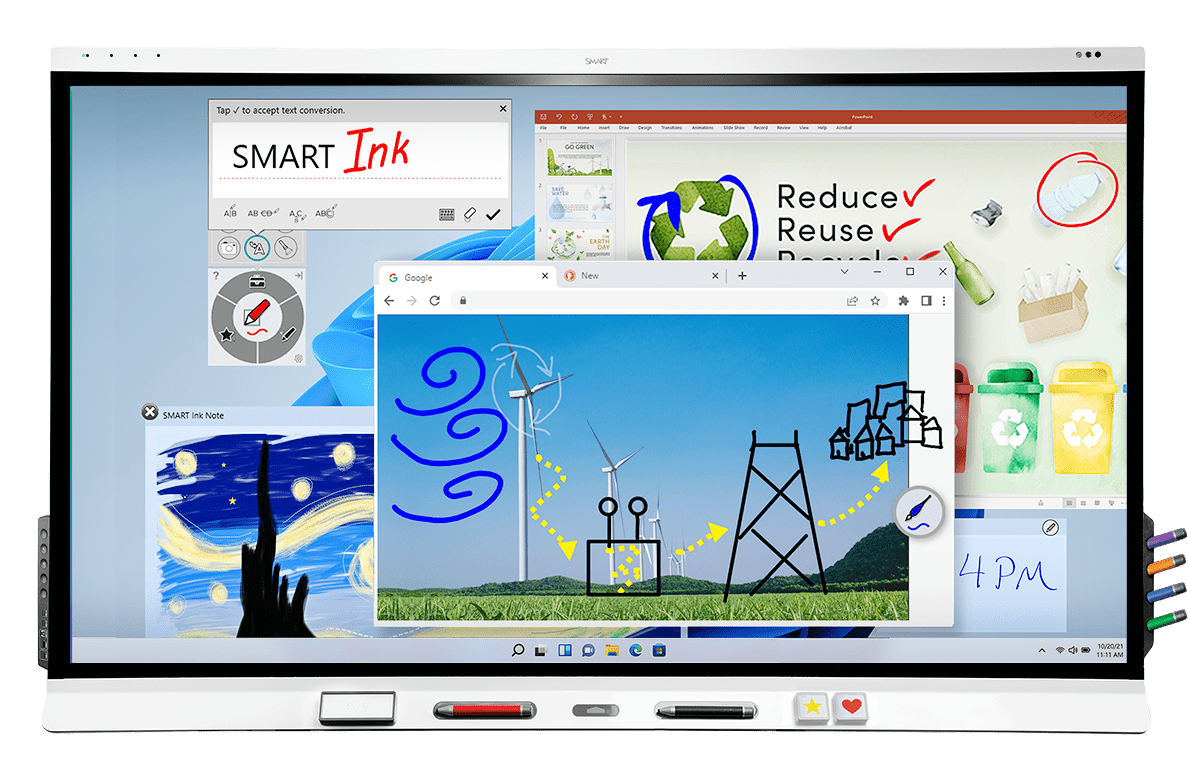 The power of SMART Ink
Leave your mark
Superior digital ink that behaves how you expect - and doesn't interfere with your teaching. Only SMART Ink software lets teachers write over and into web browsers, applications, and files on Windows and Mac - without blocking navigation with an overlay.
No overlays- write and navigate at the same time
Intelligent activation - just pick up a pen and write
Write, move, resize, and use ink-to-text in any application
Save your work with multiple capture options
See the best desktop annotation software
Less prep, more teaching
Our designed-for-education whiteboard application includes built-in content and activities that make it easy for teachers to add interactivity and engagement on the fly, no training required.
Einfache Integration mit interaktiven SMART Board Displays
Instant student engagement

Our ready-made whiteboard activities and tools help teachers involve students in learning for any subject or topic to be even more engaging and dynamic.

Teachers can open their tried & true PDFs in the iQ whiteboard in just three clicks for elevated interaction and student engagement.

We make it easy to use the content you already know and love.

Videos and images in just three clicks

Embed images and videos from the web into your lessons with just three clicks thanks to our integrated search function.

Students can easily watch the content you save on their own devices.

• Integrated video and image search
• Graphic organizers
• Brainstorming & discussion activities
• Digital manipulatives & interactive backgrounds
• Measurement tools & floating classroom apps
• Assessment activities that leverage student devices
Get the most from your student devices - in and out of the classroom
This is so much more than screen sharing. SMART displays with iQ allow for whole-class participation, truly active learning and a level of student collaboration that you just haven't seen before.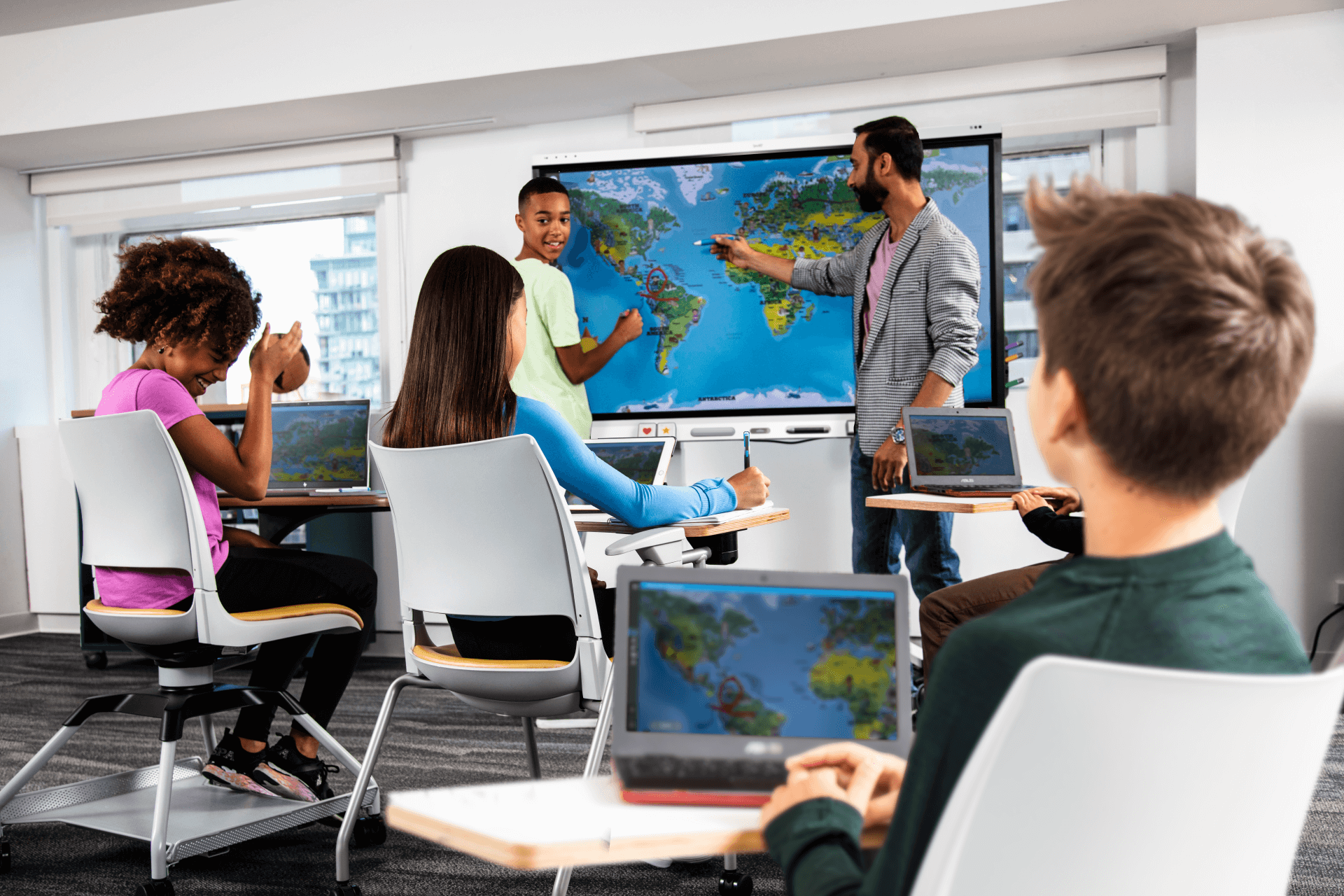 Leistungsstark dank iQ
Eine wirklich leistungsstarke Plattform
Unsere Android-basierte Benutzeroberfläche, die speziell für Pädagogen entwickelt wurde, macht es für jede Lehrkraft zum Kinderspiel, ihr Display optimal im Klassenraum einzusetzen. Dabei spielt es keine Rolle, wie technologisch versiert er oder sie ist. 
Book a demo
With just two clicks, teachers can connect unlimited students to the lesson, no accounts required.
Kostenlose Unterrichtseinheiten und -materialien
Touch-Technologie: HyPr Touch™ mit erweiterter IR-Technologie
55", 65", 75", 86" Bildschirmgröße
Touch-Technologie: Erweiterte IR-Technologie
65", 75", 86" Bildschirmgröße
Funktioniert mit Ihrer technischen Ausstattung
Unterstützt Windows® und Mac®
Maximieren Sie alle Ihre Technologieinvestitionen, um alles aus unseren Lösungen herauszuholen. Unsere Displays lassen sich nahtlos in Google und Microsoft integrieren und ermöglichen ein echtes Mehrbenutzer-Erlebnis unter Windows, Mac und Chrome OS.
Compatible with the tools you use
Reliable interoperability
SMART solutions leverage the tools and technology you already have, helping your teachers use it more easily, more effectively and more often.
3.

Works with ALL your software

• Any software is easier to use when the SMART Board is the hub of your classroom. Teachers and students can interact intuitively through the SMART display's touch interface, and use SMART's built in tools for ink, shape recognition, spotlights and more.
• SMART displays work great with: Microsoft Office suite, OneDrive, Google apps for education, Google drive, Dropbox, Microsoft Teams™, Zoom, Google Meet™ and many, many more.
Jeder Klassenraum, jedes Budget
6000S Serie: Der Klassenbeste
In a league of its own.
Embedded computing
iQ on Android 11
Touch points - Win, Android
40
Touch points - Mac
20
Continuous differentiation of all interaction types
Yes
Interaction types
Pen, touch, gesture, erase, highlighter* & tools*
Erase types
Palm erase, fine erase, eraser block
Palm rejection
Yes
Audio
2x 20W front-facing integrated mic array
2x USB-C 3.2
65W (front) 65W (rear)
Device Connectivity

Whiteboard broadcast - unlimited** users
Screen Sharing
*Additional pen types and tools sold separately
** Speed & functionality subject to individual network capabilities
MX Serie: Leistungsstark und einfach
The game changer.
Embedded computing
iQ on Android 11
Touch points - Win, Android
20
Touch points - Mac
20
Continuous differentiation of all interaction types
Yes
Interaction types
Pen, touch, gesture, erase


Erase types
Palm erase
Palm rejection
No
Audio
2x 15W front-facing


2x USB-C 3.2
15W (front) 65W (rear)
Device Connectivity

Whiteboard broadcast - unlimited** users
Screen Sharing
** Speed & functionality subject to individual network capabilities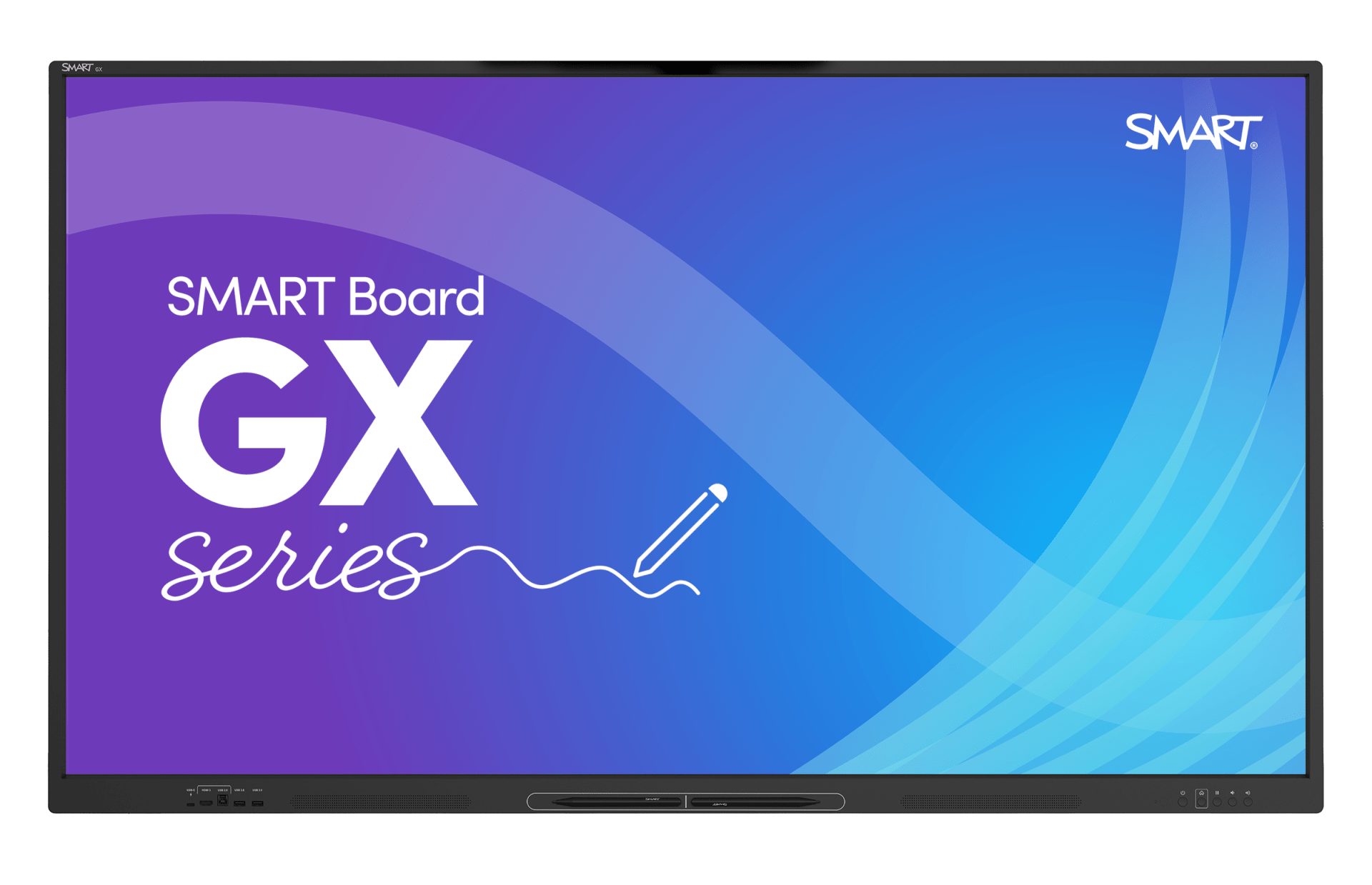 Also available – SMART GX Series
The better basic display
Our entry-level panel keeps it simple. Simple to master and simple to maintain. Powered by basic embedded Android, it gives your teachers the power of popular SMART Notebook and world-leading SMART Ink on Windows and Mac computers. And you get peace of mind with the reliable global support and service of an established technology partner. Elevate your game with SMART.
Download Brochure
Explore GX series
Benötigen Sie eine technische Übersicht? Dafür haben wir ein Diagramm.
Sehen Sie sich einen Vergleich der vollständigen technischen Daten für die 6000S, MX und GX Serie an.
Erstklassige Sicherheit und Qualität in jedem interaktiven Display
Im Lieferumfang jedes interaktiven SMART Board Displays enthalten – kein Abonnement erforderlich
An experienced, in-house global technical support team and industry-leading warranty with SMART Assure means your SMART Interactive displays with iQ include the robust, easy-to-access support you deserve.
Avoid the hidden costs of an unproven technology partner.
Vervollständigen Sie Ihre Lösung mit Zubehör von SMART.
Our industry-leading warranty includes
✔ Advanced replacement
✔ Two-way shipping
✔ Onsite service*
*Available for: North America, UK & Ireland, Austria, Germany, Switzerland, Belgium, the Netherlands, Luxembourg, Australia, New Zealand
SMART Remote Management software lets administrators control and secure displays from a central location, saving you trips to the classroom.
Included free for the length of your warranty for SMART displays with iQ.
SMART Board Computermodule
Live troubleshooting helps resolve technical issues more quickly with phone support in your time zone.
Plus, open issues follow the sun, letting our service teams hand off and continually work on your issues for the fastest resolution.
Ein paar weitere Gründe, warum wir die SMARTe Wahl für Ihre Klassenräume sind.
Ermöglichen Sie integriertes Lernen unter optimalen Bedingungen dank moderner Bildungssoftware. Mit den MX und 6000S Displays erhalten Sie diese ein Jahr gratis.
Vertiefen Sie die Kenntnisse von Lehrkräften und stärken Sie ihr Selbstvertrauen mit kostenlosen Schulungen für jedes Qualifikationsniveau.
Bereitstellung und Installation
Unsere Installationsdienste sorgen für eine sorgenfreie Implementierung Ihrer Geräte. Und unsere autorisierten Techniker leiten und koordinieren den gesamten Prozess, von Anfang bis Ende.  
Das war noch nicht alles. Sehen Sie sich diese interaktiven Optionen für Ihren Klassenraum an.
Interaktives Whiteboard der M700 Serie
Gestalten Sie Ihren Klassenraum interaktiver, indem Sie die interaktiven M700 Whiteboards mit vorhandenen Projektoren kombinieren.
Interaktives SMART Podium 624 Display
Mit einem drahtlosen Stift und einem Touchscreen mit 24" können Sie gleichzeitig präsentieren und Notizen festhalten.
From computing modules to mounting solutions, SMART has all the options you need.

Finden Sie heraus, wie die interaktiven SMART Board Displays Ihre Lernumgebung verändern können.