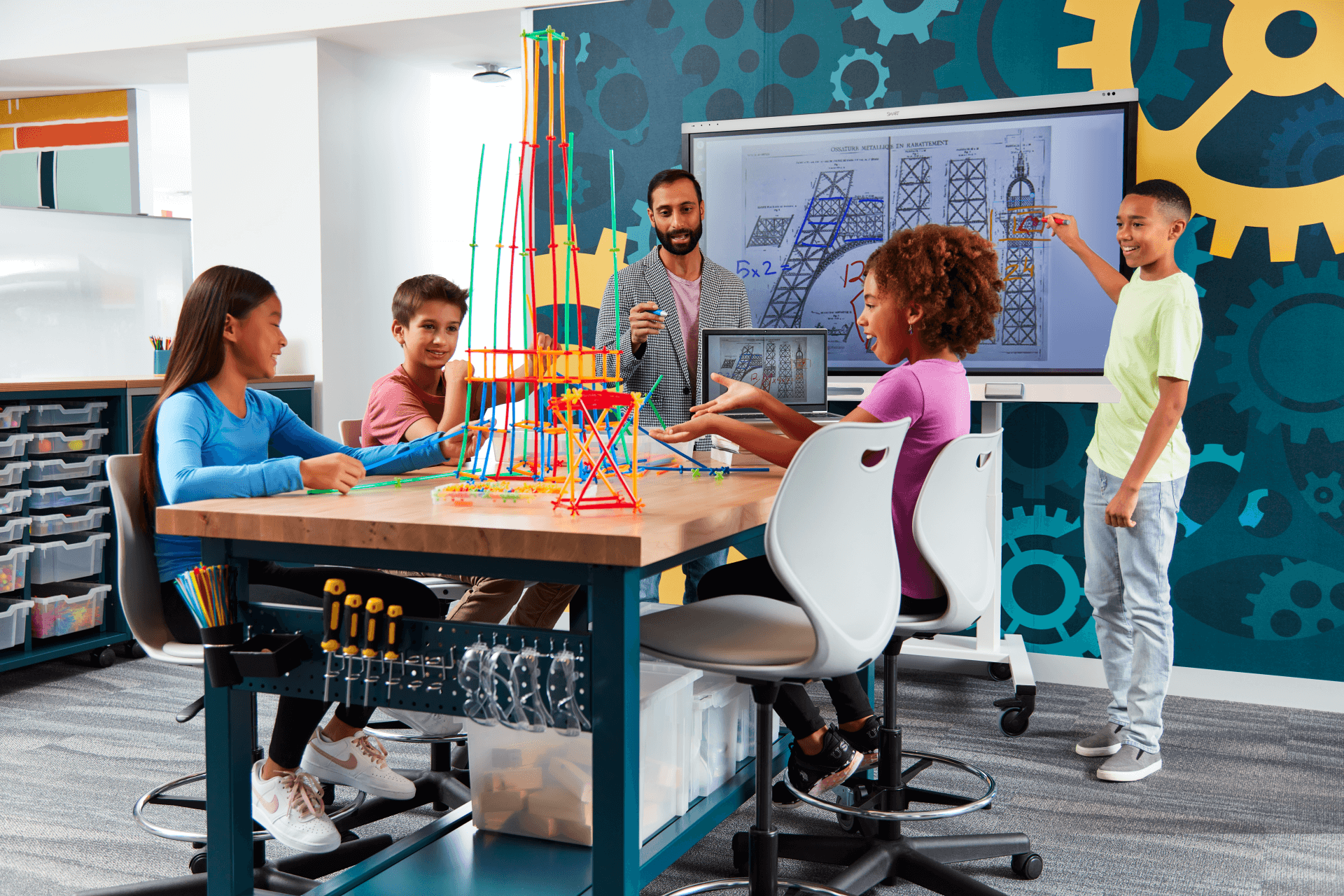 The world leader in interactive technology
SMART Interactive Displays

Easy to use, deploy and support, SMART Board® interactive displays provide value and capability like no one else, all at a great price. They're a solid investment in dynamic, collaborative learning.
Choose from three models engineered to fit every teacher, student, learning environment – and budget.
Book a Demo
Get more from your investment in student devices - in and out of the classroom
Works with your existing classroom technology
Designed for the future, with industry-leading upgradability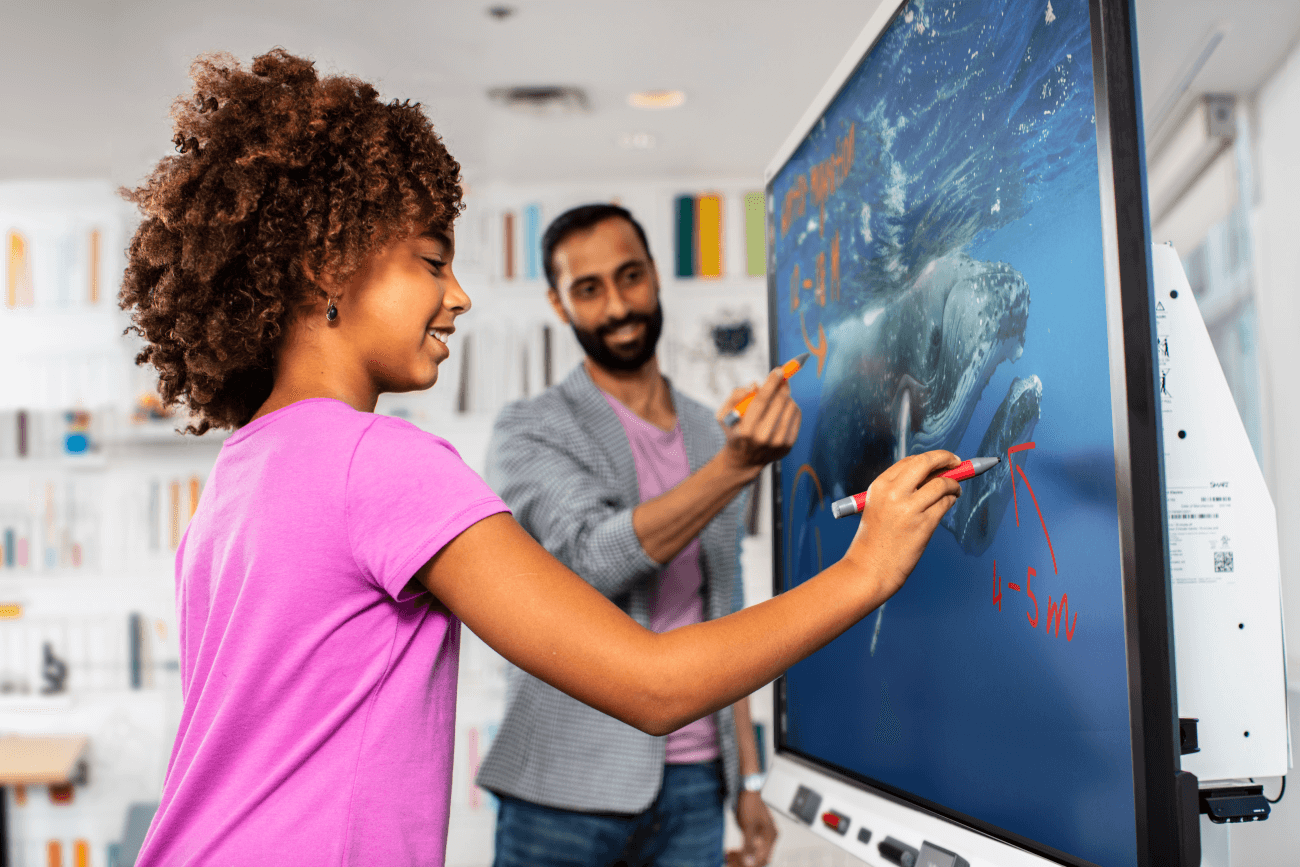 Powered by iQ
Your Classroom's Most Valuable Player
Knock it out of the park with interactive displays powered by iQ - SMART's designed-for-education embedded computing solution. Easy to use from day one, with endless options for student engagement and a product lifespan that's tough to beat, SMART displays with iQ maximize your technology investment.
You've never seen touch like this.
ONLY SMART's industry-leading touch and ink technology enables multiple users to intuitively write, erase, touch, and gesture at the same time, over any program or app, without interfering with another's tools.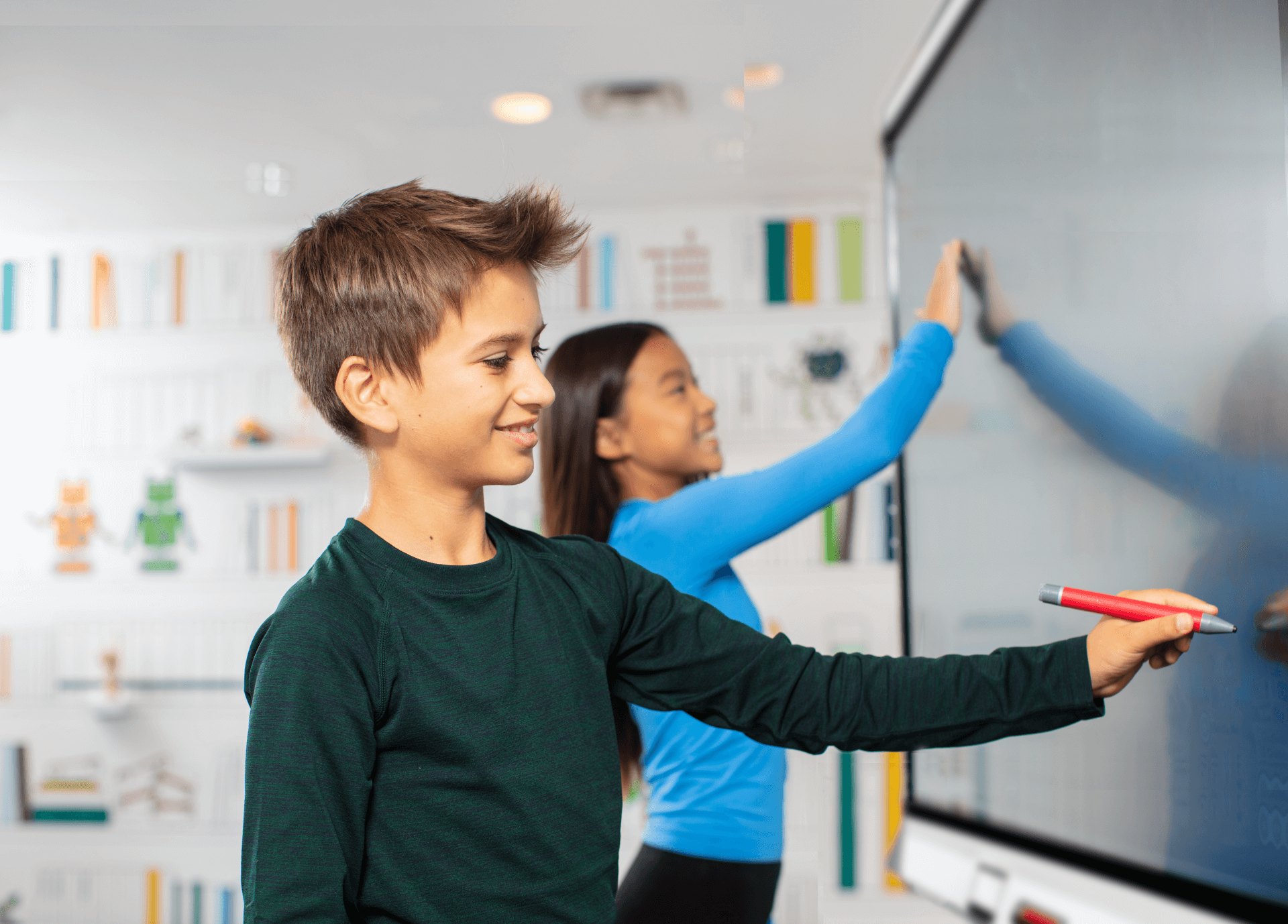 Let's break it down.
| | |
| --- | --- |
| | Up to 40 unique touch points with full multi-user interactivity. |
| | Continuous Pen, Touch and Eraser differentiation from all users across platforms – not just "pen and touch" like the other guys. |
| | Automatically recognizes and switches between pens, tools, touch, multi-finger gestures and erasing. |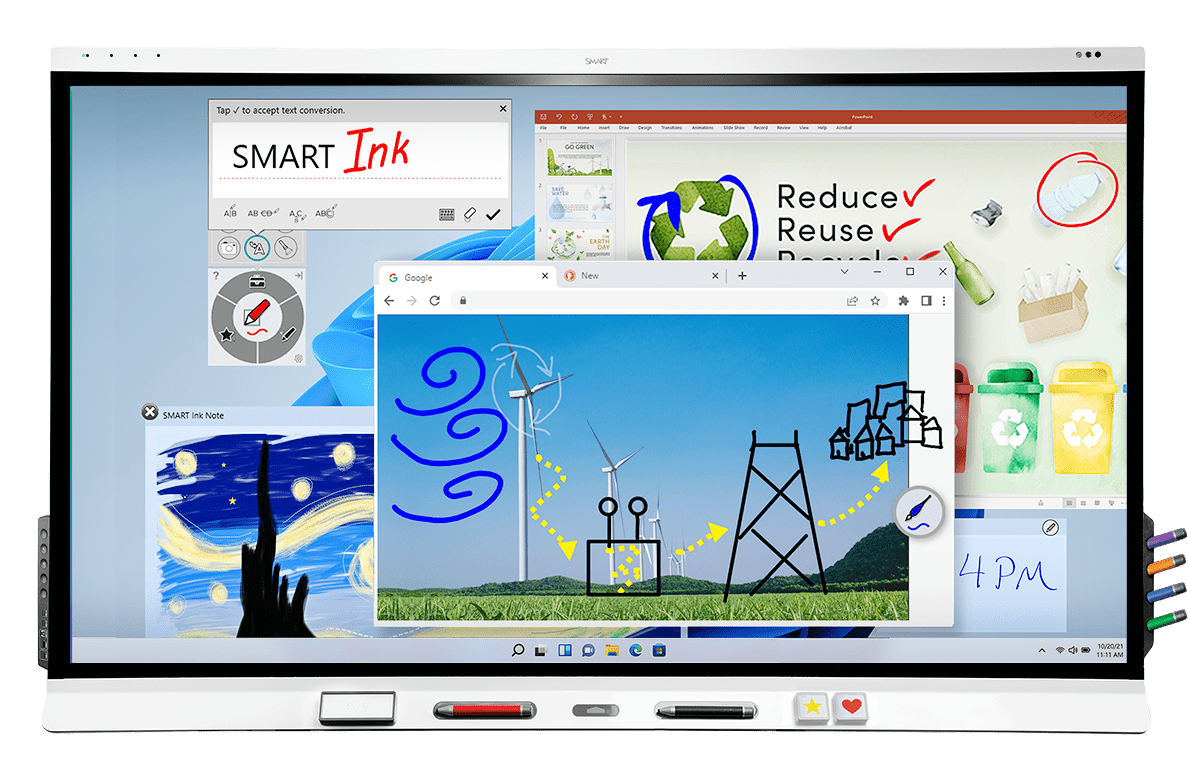 The power of SMART Ink
Leave your mark
Superior digital ink that behaves how you expect - and doesn't interfere with your teaching. Only SMART Ink software lets teachers write over and into web browsers, applications, and files on Windows and Mac - without blocking navigation with an overlay.
No overlays- write and navigate at the same time
Intelligent activation - just pick up a pen and write
Write, move, resize, and use ink-to-text in any application
Save your work with multiple capture options
See the best desktop annotation software
Less prep, more teaching
Our designed-for-education whiteboard application includes built-in content and activities that make it easy for teachers to add interactivity and engagement on the fly, no training required.
The "walk up and teach" whiteboard
Instant student engagement

Our ready-made whiteboard activities and tools help teachers involve students in learning for any subject or topic to be even more engaging and dynamic.

Teachers can open their tried & true PDFs in the iQ whiteboard in just three clicks for elevated interaction and student engagement.

We make it easy to use the content you already know and love.

Videos and images in just three clicks

Embed images and videos from the web into your lessons with just three clicks thanks to our integrated search function.

Students can easily watch the content you save on their own devices.

• Integrated video and image search
• Graphic organizers
• Brainstorming & discussion activities
• Digital manipulatives & interactive backgrounds
• Measurement tools & floating classroom apps
• Assessment activities that leverage student devices
Get the most from your student devices - in and out of the classroom
This is so much more than screen sharing. SMART displays with iQ allow for whole-class participation, truly active learning and a level of student collaboration that you just haven't seen before.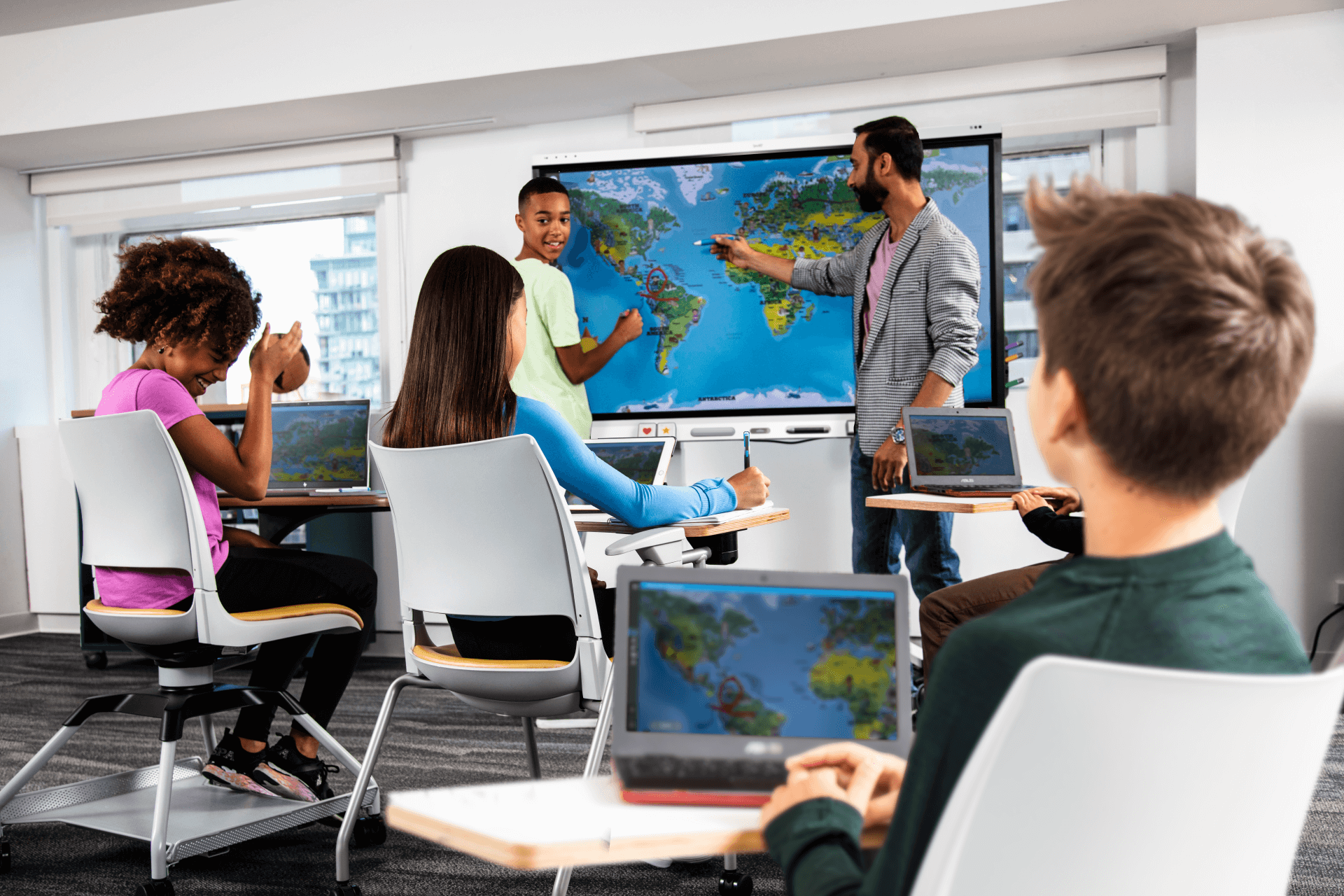 Whole-class brainstorming, freeform ideation, discussion activities, polling and formative assessment, and a collaborative project canvas with student attribution are just some of the features that let you put students in the driver's seat of their learning.
Plus, students can access and contribute to lessons whether they are in-person or learning remotely.
Book a demo
With just two clicks, teachers can connect unlimited students to the lesson, no accounts required.
Controls for active learning
Unique to SMART is the ability to switch to "student-based navigation," at any time, giving students control over their pace of learning.
Screen Share without limits
SMART displays with iQ support wireless screen sharing from any device, on any network – native, browser-based and app-based.
We've partnered with SMART because they are on the cutting edge of technology and very sensitive to the needs of schools. They are very responsive in terms of what schools need and what is going to help our students advance.
Executive Administrator, Middle Schools
for the second largest district in Alabama, USA serving over 36,000 students in 57 schools
Compatible with the tools you use
Reliable interoperability
SMART solutions leverage the tools and technology you already have, helping your teachers use it more easily, more effectively and more often.
3.

Works with ALL your software

Any software is easier to use when the SMART Board is the hub of your classroom. Teachers and students can interact intuitively through the SMART display's touch interface, and use SMART's built in tools for ink, shape recognition, spotlights and more.

SMART displays work great with: Microsoft Office suite, OneDrive, Google apps for education, Google drive, Dropbox, Microsoft Teams™, Zoom, Google Meet™ and many, many more.
Discover SMART Displays with iQ
In a league of its own.
Embedded computing
iQ on Android 11
Touch points - Win, Android
40
Touch points - Mac
20
Continuous differentiation of all interaction types
Yes – writing and non-writing hand
Interaction types
Pen, touch, gesture, erase, highlighter* & tools*
Erase types
Palm erase, fine erase, eraser block
Palm rejection
Yes
Audio

2x 20W front-facing speakers
Integrated mic array

2x USB-C 3.2
65W (front) 65W (rear)
Device Connectivity

Whiteboard broadcast - unlimited** users
Screen Sharing
*Additional pen types and tools sold separately
** Speed & functionality subject to individual network capabilities
The game changer.
Embedded computing
iQ on Android 11
Touch points - Win, Android
20
Touch points - Mac
20
Continuous differentiation of all interaction types
Yes
Interaction types
Pen, touch, gesture, erase


Erase types
Palm erase
Palm rejection
No
Audio

2x 20W front-facing speakers
Integrated mic array

2x USB-C 3.2
15W (front) 65W (rear)
Device Connectivity

Whiteboard broadcast - unlimited** users
Screen Sharing
** Speed & functionality subject to individual network capabilities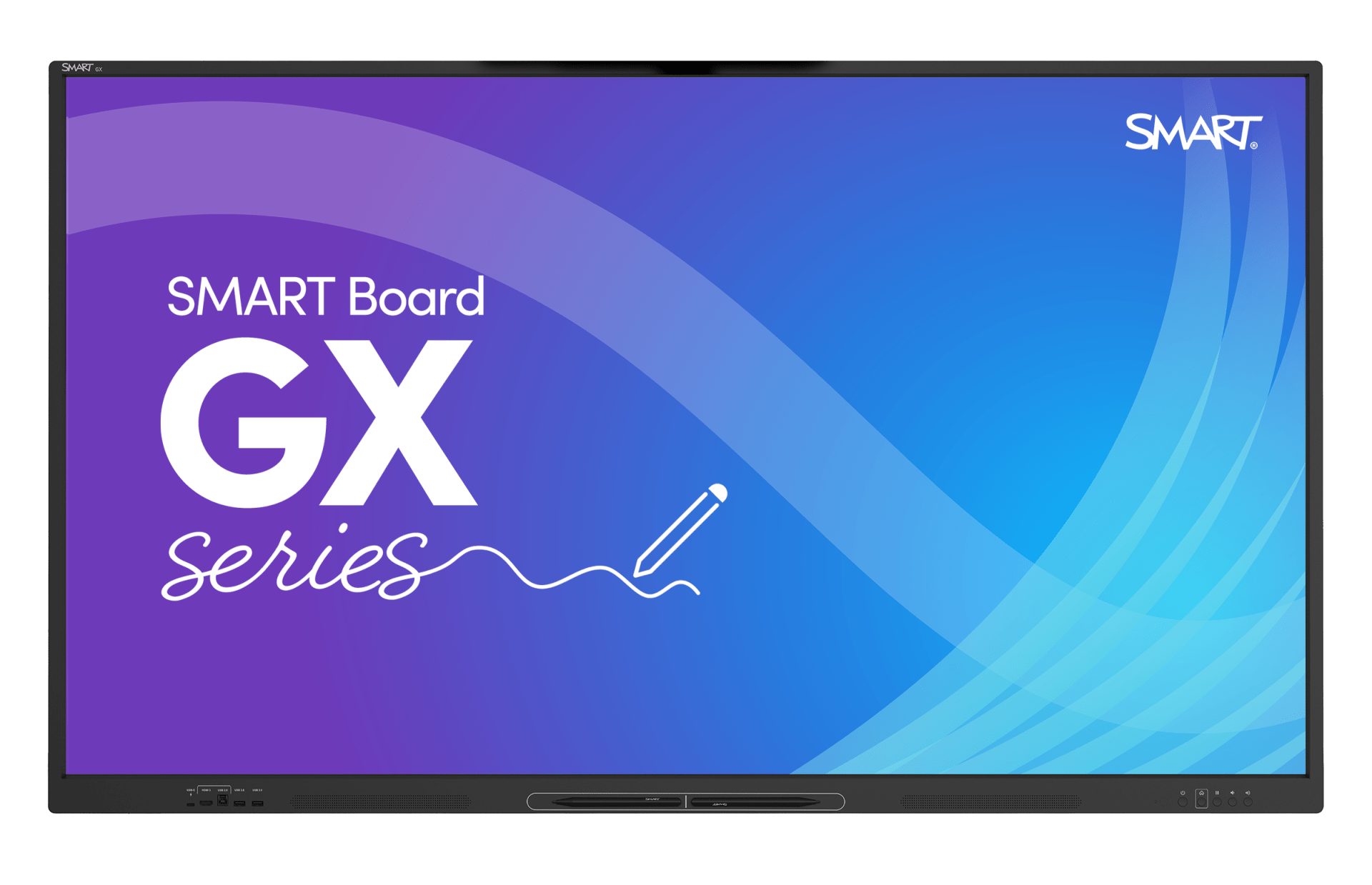 Also available – SMART GX Series
The better basic display
Our entry-level panel keeps it simple. Simple to master and simple to maintain. Powered by basic embedded Android, it gives your teachers the power of popular SMART Notebook and world-leading SMART Ink on Windows and Mac computers. And you get peace of mind with the reliable global support and service of an established technology partner. Elevate your game with SMART.
Download Brochure
Explore GX series
What tech specs really matter in an interactive display?
Your established technology partner
The coverage and tools you need
An experienced, in-house global technical support team and industry-leading warranty with SMART Assure means your SMART Interactive displays with iQ include the robust, easy-to-access support you deserve.
Avoid the hidden costs of an unproven technology partner.
SMART Assure warranty included - minimize downtime and avoid additional costs.
Our industry-leading warranty includes
✔ Advanced replacement
✔ Two-way shipping
✔ Onsite service*
*Available for: North America, UK & Ireland, Austria, Germany, Switzerland, Belgium, the Netherlands, Luxembourg, Australia, New Zealand
SMART Remote Management software lets administrators control and secure displays from a central location, saving you trips to the classroom.
Included free for the length of your warranty for SMART displays with iQ.
Live troubleshooting helps resolve technical issues more quickly with phone support in your time zone.
Plus, open issues follow the sun, letting our service teams hand off and continually work on your issues for the fastest resolution.
Things you can rely on, included with every SMART purchase
Award-winning software. No subscription required.
Included with every display:
Student-centered whiteboard app in iQ
SMART Notebook lesson creation software
SMART Ink annotation software
Our commitments to corporate and environmental responsibility
From design to deployment, SMART's supply chain integrity ensures quality and social responsibility. Feel great about the impact of your purchase.
Exceptional privacy and security
Whether in the room, on remote devices, or on mobile, our displays are built with student data privacy in mind.
All SMART displays with iQ are GDPR compliant.
Find the right fit for your classroom
Easier to use from day one, with limitless tools for student engagement.
The better basic display.
From computing modules to mounting solutions, SMART has all the options you need.
Frequently Asked Questions
How long do SMART boards last in classrooms?

SMART displays have a seriously long lifespan and are rated for over 50,000 hours of use. Over-the-air updates, upgradable computing modules and fewer product replacements result in less e-waste. SMART's rigorous Accelerated Life Testing, which includes extreme temperature, humidity, and voltage testing, helps maximize product lifespan and minimize hardware replacement.

Learn more about SMART's product longevity.

How do SMART's interactive displays integrate with Google and Microsoft?

SMART's new interactive display solutions will fully utilize

Google EDLA certification

(also known as Google Mobile Services certification) to provide secure, powerful interoperability for both Google for Education and Microsoft Office 365 customers, including Google Drive and One Drive cloud storage, and Google Meet and Microsoft Teams.

Are SMART Boards expensive?

Do I need a SMART board for my classroom if I have student devices?

SMART Board Interactive Displays interact seamlessly with your student devices, increasing student engagement and visibility to student learning. SMART Board with iQ enables panels offer 10 options to connect students devices, including a

whole-class whiteboard

, whiteboard broadcast (with student and teacher pacing) and screen casting.

Do I have to buy software with my SMART board?

No – when you purchase a SMART Board Interactive Display with iQ, you also get

SMART Notebook

for free. No cost. No subscription. No obligation.

Are SMART boards sustainable?

SMART Displays are designed to last longer, save you energy and support you on your journey to net zero. Exceptional energy efficiency and a full range of adjustable settings allow users to reduce power consumption, lowering both your operating costs and your carbon footprint.
Find out how SMART Board interactive displays can transform your learning environments.