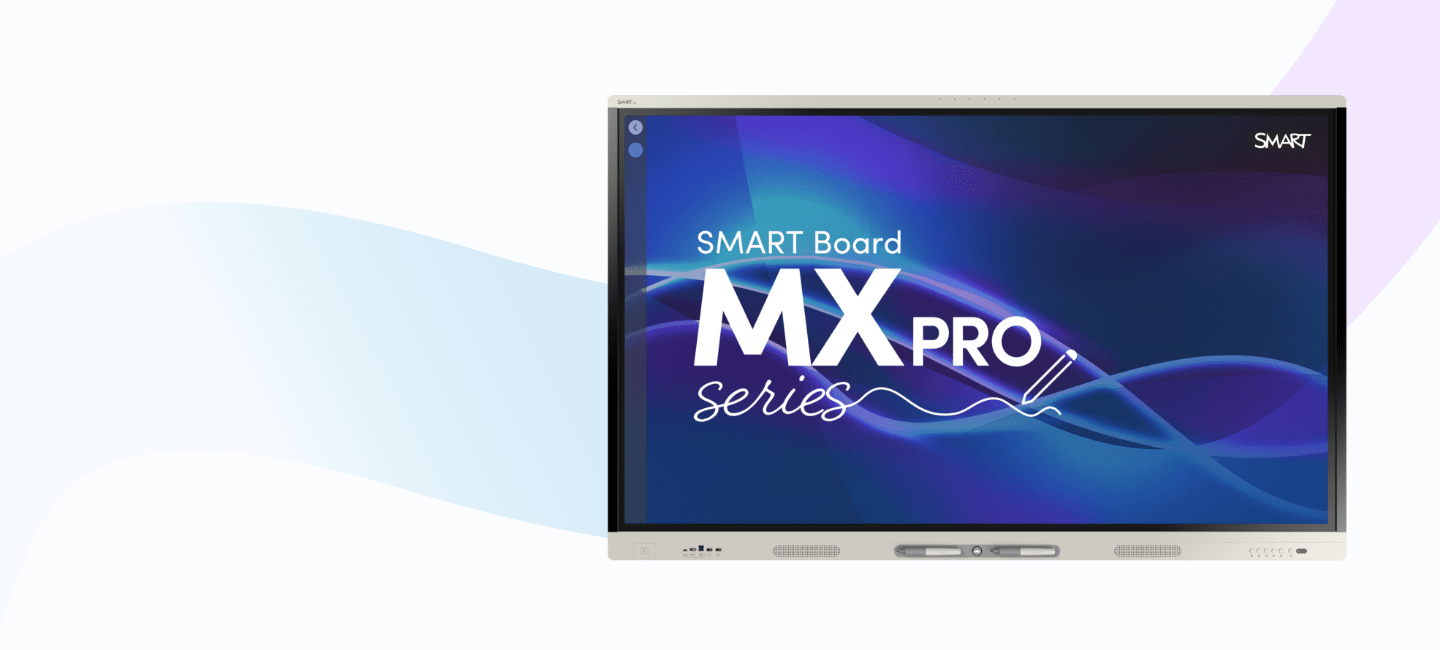 The versatile, all-in-one display
for visual collaboration
MX Pro series
The display that lets high-performance teams interact and collaborate from any location, anytime.
The SMART Board® MX Pro series has all the interactive tools teams need to collaborate, co-create and drive decisions faster.
Book a demo
Interactivity made easy
The MX Pro series is designed with collaboration in mind and simple enough for even a first-time user to walk up and use from day one.
Available in 55" 65" 75" 86"
Compare and share technical specs and product info about the MX Pro series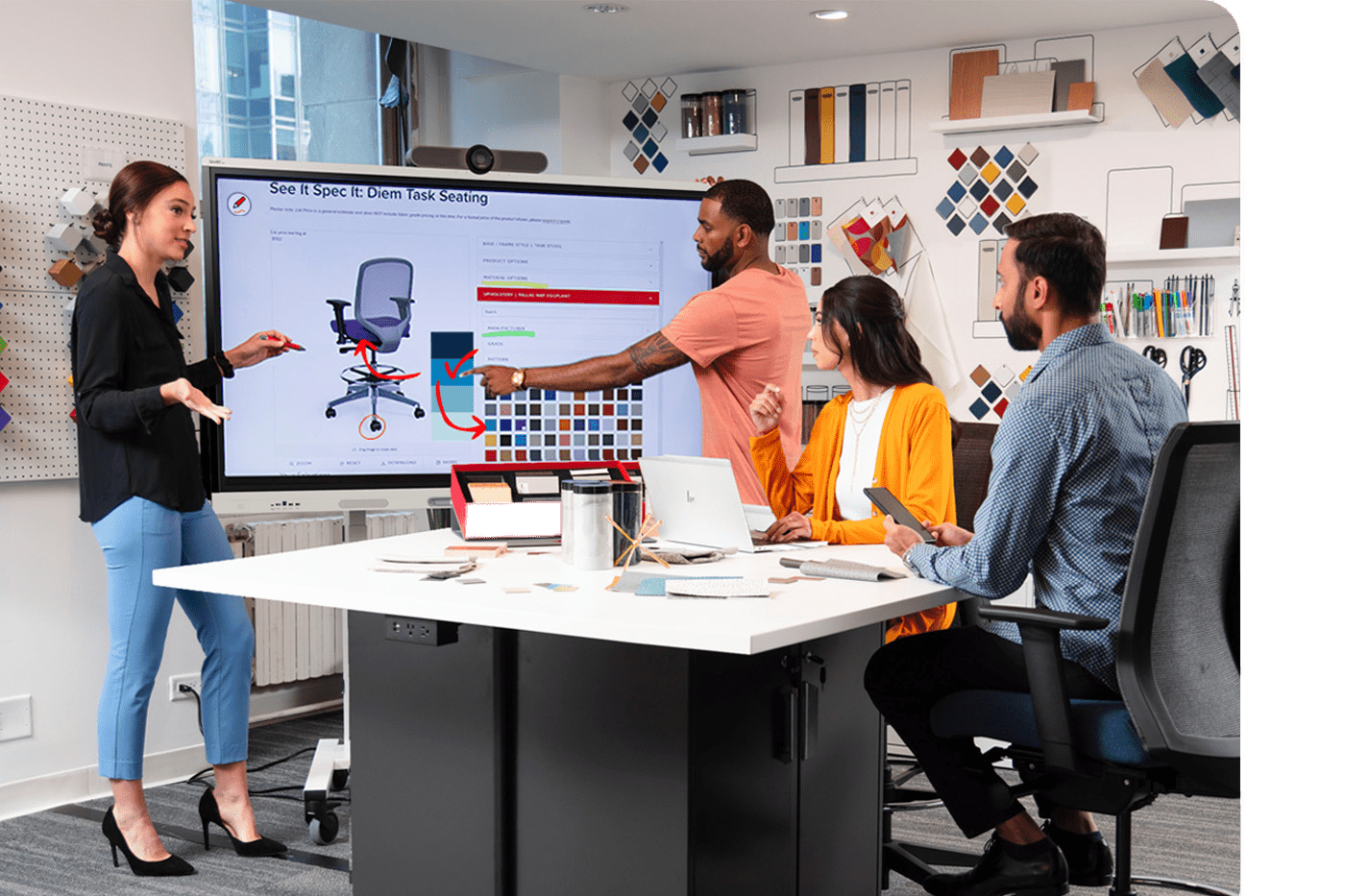 The world leader in multi-user touch
Touch technology mastered
SMART makes the world's ONLY interactive displays that allow multiple users to freely write, erase and gesture at the same time over any application.
Don't worry about figuring out the controls – the MX Pro series is smart enough to know the difference between your touch, gesture, pen and palm erase - without pressing a button.
See the MX Pro in action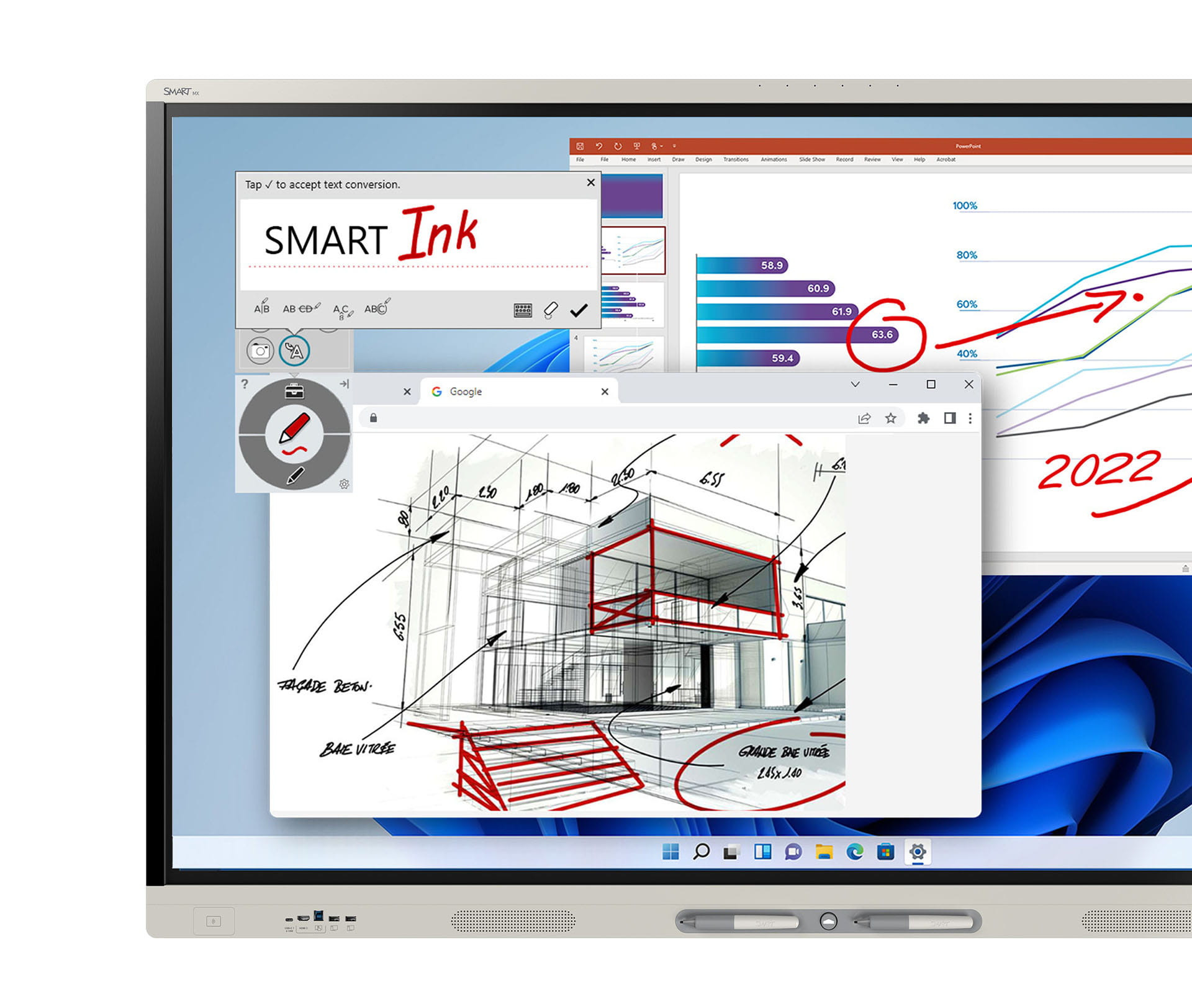 The power of SMART Ink
Leave your mark - effortlessly
SMART Ink® software helps to keep ideas flowing and meetings dynamic. Simply pick up a pen and write into PDFs, Microsoft Office files, browsers and connected video sources.
Plus, only SMART Ink lets you write and navigate at the same time without frustrating overlays. It really is as easy as putting pen to paper.
See how SMART Ink works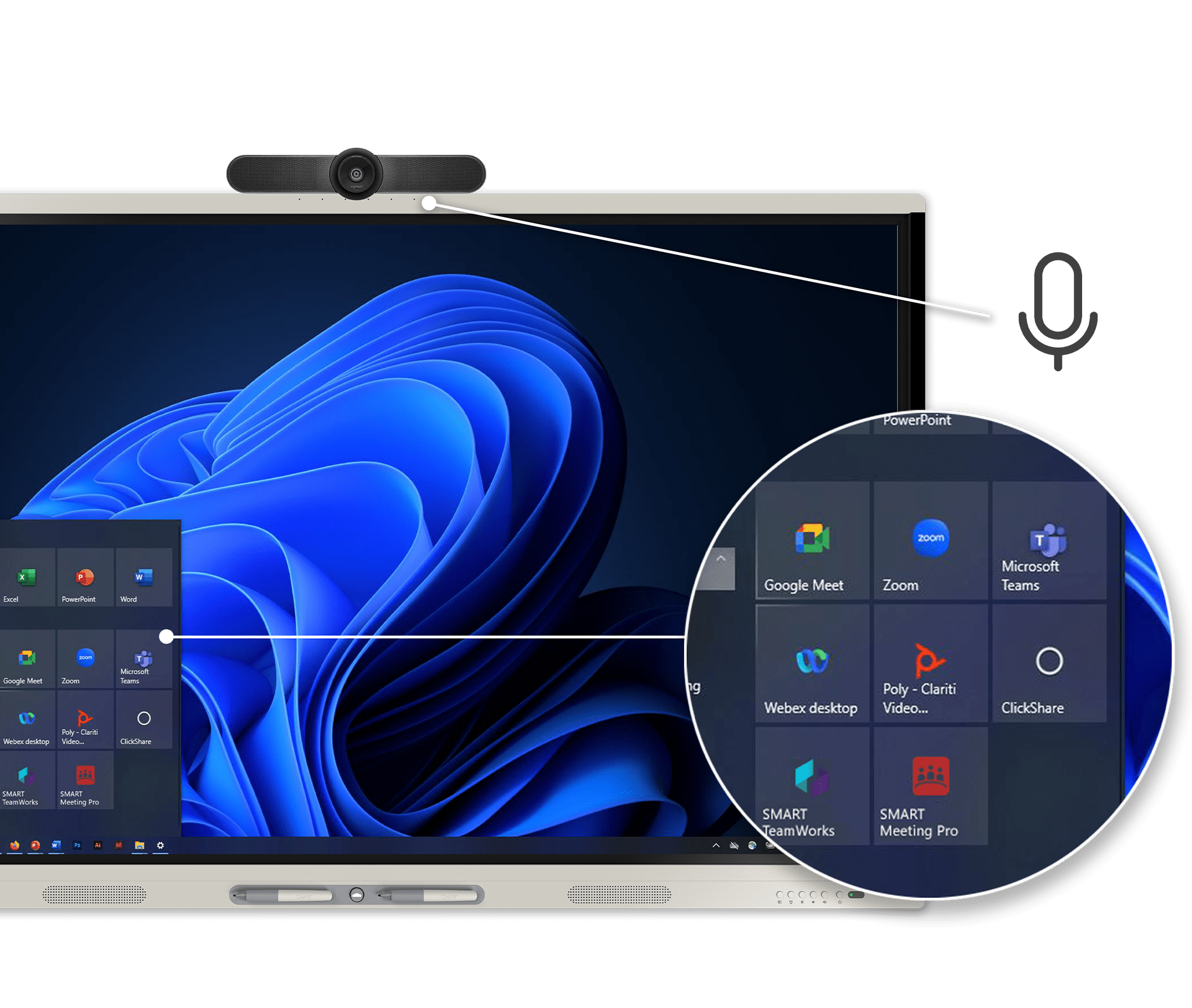 Bigger, better
Video conferencing
The MX Pro series boasts an integrated six element microphone array and combined 40W speakers for video conferencing with an immersive audio experience without connecting additional hardware .
The MX Pro works with the SMART Ultra HD Camera 120, Logitech® and other UVC webcams, Microsoft Teams™, Zoom, Google Meet™, Webex and more to engage hybrid teams for effective collaboration.
Explore Microsoft Teams integrations
Why SMART interactive displays are superior
Powered by Android 11
With a simple tap, switch from showing a video to writing and sharing on a digital collaborative whiteboard to keep ideas flowing.
Works with any device
The MX Pro series works with popular iOS®, Windows® and Android™ devices, so you can easily collaborate, share screens and stream media using native casting, apps or a browser.
Plug and Play with Windows Ink
Write and save editable annotations directly into Microsoft Office files - without installing any additional software or drivers.

Two USB-C ports
Dual USB-C ports - supporting video, audio, touch and charging - make it easy for participants to interact and share with only one cord.

HDMI pass through
Connect to additional displays for more collaboration space or project at any size with HDMI-out.

Faster, louder, clearer
With Wi-Fi 6, 20W speakers, and zero-bonded glass for precise inking and clearer, crisper viewing from every angle.
Ready to transform your workspace?
The modern workplace requires intentional design of space and tech.
Explore the ways you can elevate your space with some of our most popular products.
Get the most out of your SMART display
with included and add-on software for any use case
SMART Meeting Pro included
Unbound workspaces that expand as you add files, links and markup – even over multiple displays and meetings.
Remote Management included
Remotely administer your technology: push updates, run diagnostics, maintain, control and secure SMART Board displays and other devices from any web browser.
Add SMART TeamWorks
Engage hybrid teams and launch meetings faster with one touch with an end-to-end meeting solution designed for fast, flexible and limitless connectivity, collaboration and engagement.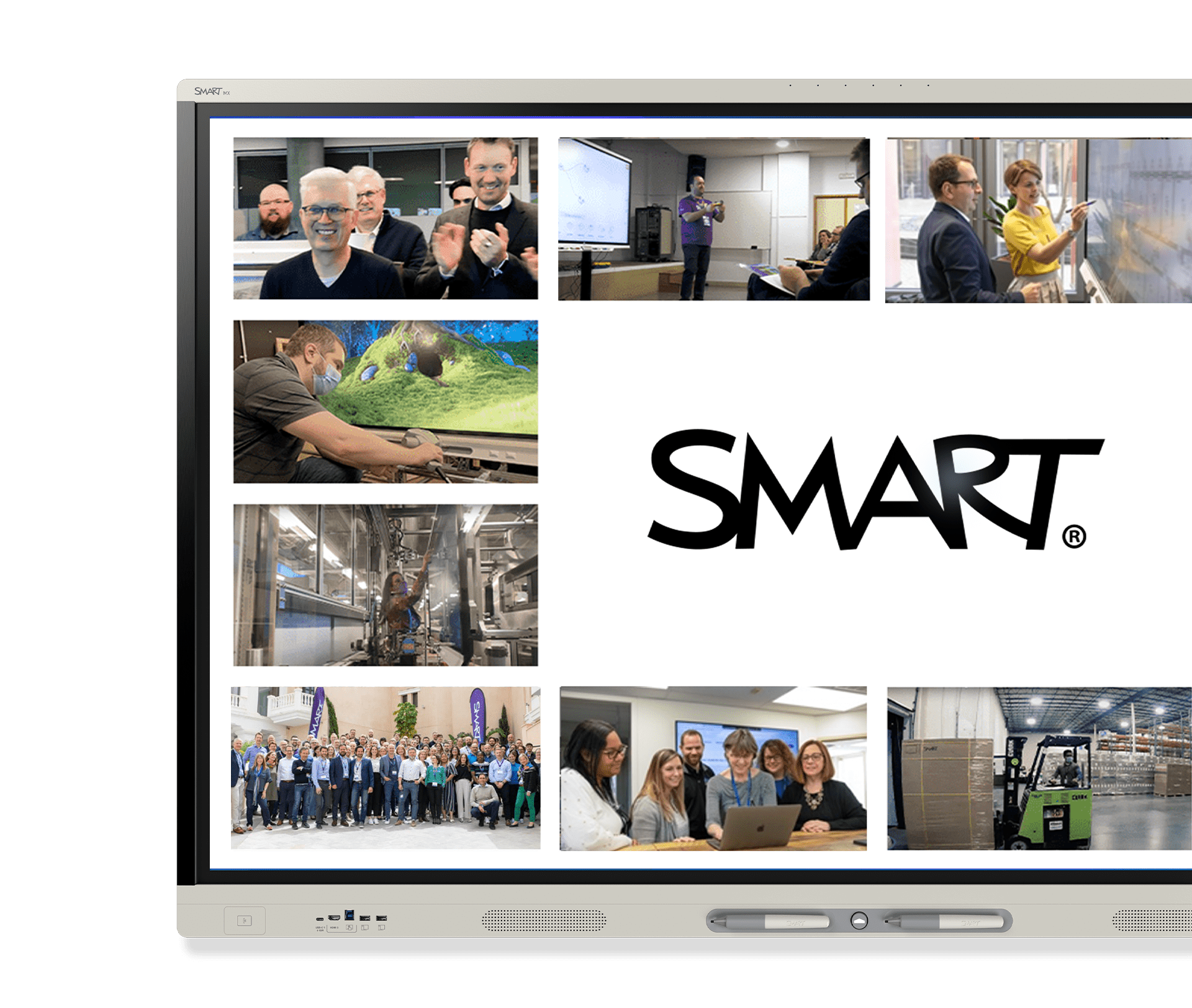 Your technology partner every step of the way
Supporting your implementation
Minimize downtime and avoid additional costs with market-leading SMART Assure warranty, included with every display.
What's included:
Real-time technical support
Onsite warranty support
Customer support teams around the globe
Advanced replacement
Two-way shipping
For the ultimate coverage, choose an extended warranty, available up to seven years.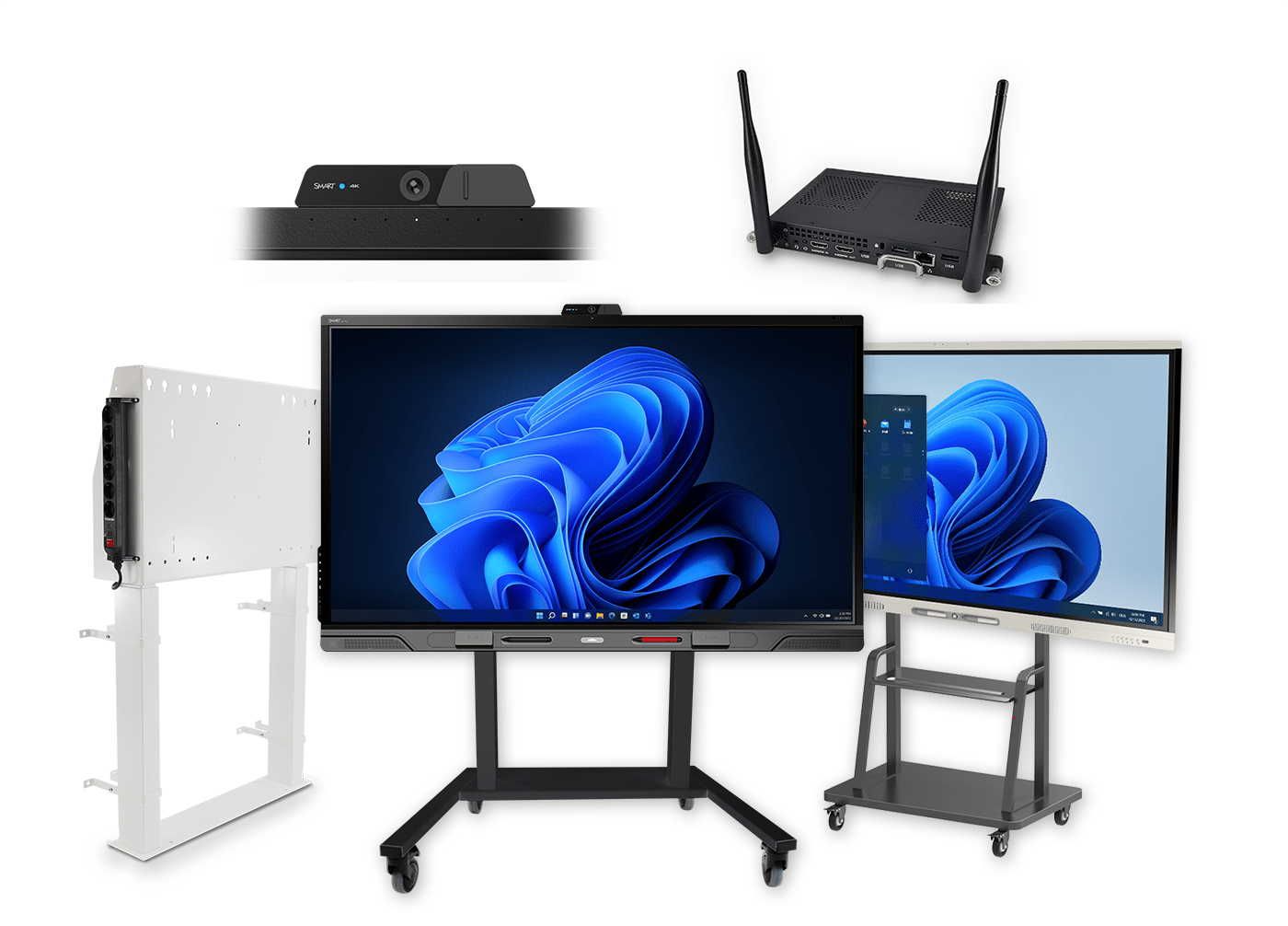 Solutions for any collaborative space
From computing modules to mounting solutions, SMART has all the options you need to design productive and empowering meeting spaces.
Ready to find the perfect solution for your business?
Book a demo
Find the right fit for your organization
SMART solutions for business
Find out how SMART solutions can help your business drive engagement and collaboration.
QX Pro series
The all-in-one performance display for the modern hybrid workplace.
SMART Podium 624
Make anything interactive.
Find out how SMART Board interactive displays can transform your workplace.