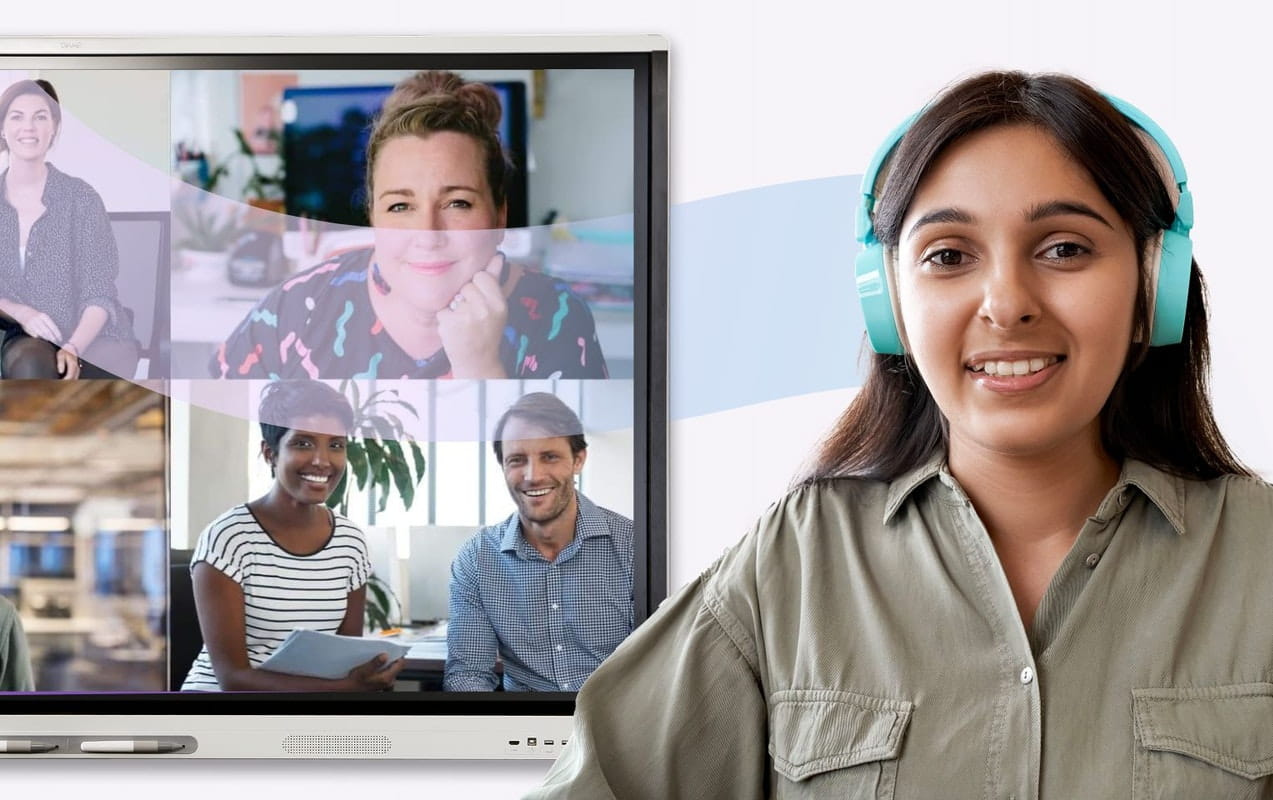 Scenario
Effective Remote Meetings. A Better way.
SMART Interactive Displays are the ultimate tool for remote collaboration, helping teams communicate, contribute, and solve problems more effectively and clearly; no matter where they are. Make your team feel like you're in the same room.
Book a demo
You want effective meetings as they are essential for collaboration, creativity, and innovation. They often foster relationships and ensure proper information exchange.
The reality? Meeting madness. We've all been there. Technology issues, multiple platforms, figuring out how to share ideas, screens, meeting notes and recordings. That feeling of overwhelm and that time is being wasted.
There must be a better way.
Use SMART Meeting Pro to enable teams to capture ideas in the virtually unlimited interactive workspace.  The Unbound Workspace expands as colleagues add images, files, links and notes – even over multiple displays and meetings – to accelerate those good ideas.
Simplify in-room and remote collaboration
For in-room participants, SMART's Simultaneous Tool Differentiation lets multiple users write, erase, use tools and move notes at once, over web browsers, applications and files. For remote participants, SMART Board Pro displays work with UVC webcams, Google Meet™, Microsoft Teams™ and more, and SMART TeamWorks™ software lets you and your participants work in a collaborative whiteboard and launch web conferences with a single touch.
Share screens from up to four devices wirelessly and enhance shared screen content with inking and tools that help communicate ideas, maximize participation and highlight important information.
SMART Meeting Pro™ software lets you write notes on the interactive whiteboard pages that can be saved and shared with your teams.
Meetings that you'll want to attend
Connect your teams in minutes
The best way to collaborate is by having meetings in-person, even if they're virtual. It's about collaborating on projects so that you can get work done efficiently.
Boost productivity and efficiency together
When it's easy to connect and display content from any device, you can communicate and capture ideas quickly and keep the meeting on track as you write, draw and navigate content.
SMART Board Pro displays come with up-to-date and secure remote management and end-to-end data security, giving you peace of mind.
"Bringing meetings to life has been a game changer for us… We wanted something that would give us the functionality to record live meetings, bring meetings to life, be able to annotate various documents that are shared around the world, and then at the click of a button send the output, next steps, meeting notes to all involved. "
Bulk Tainer Logistics

Book a demo or connect with us
Looking for more information?
Explore our business resources
Want to experience more with SMART?