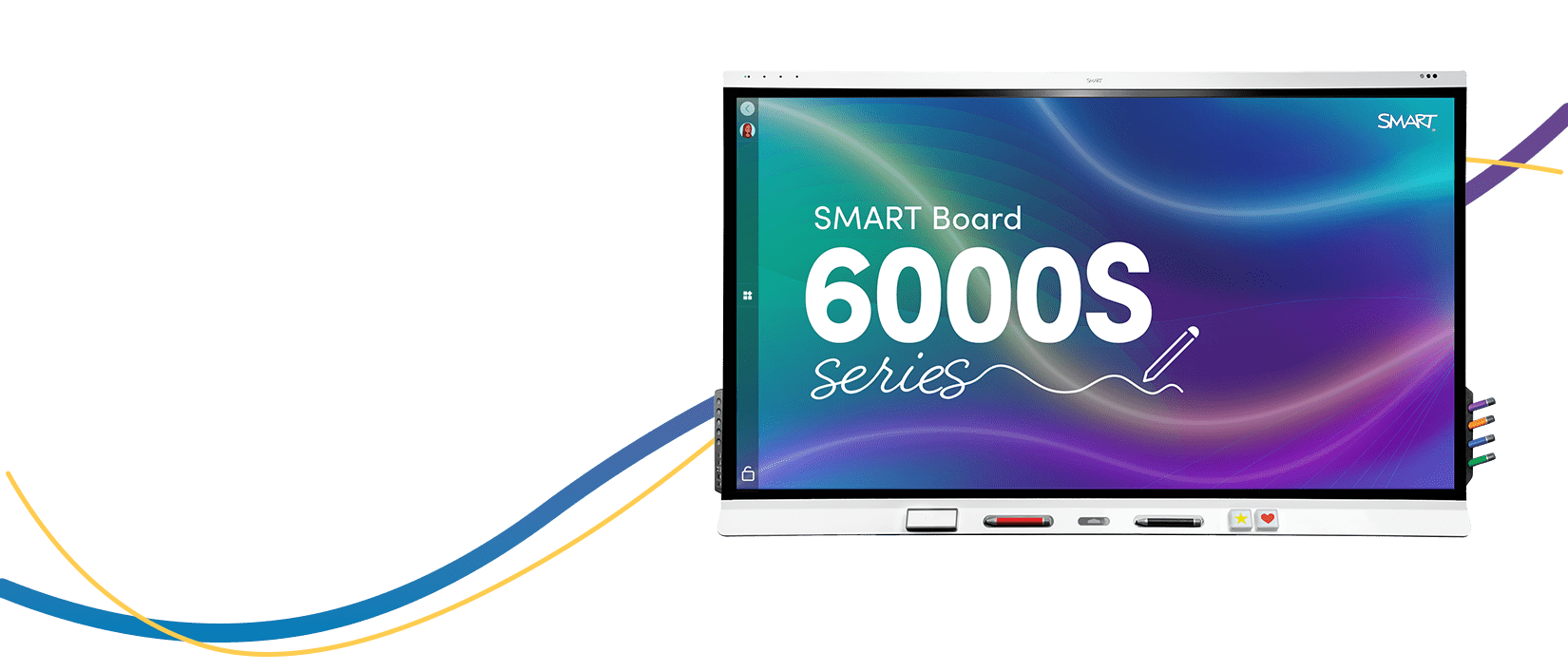 SMART Board 6000S Series
In a league of its own
Our one-of-a-kind powerhouse display delivers unmatched value when it comes to ease of use and student engagement.
Discover why it's the most effortless choice for IT professionals.
Available in 65" 75" 86"
Book a demo
SMART Interactive displays have enabled teachers to enhance learning and engage students.... The ease of use allows for our newest teachers and even our subs to focus on content and not stress over the equipment.
Coordinator of Digital Learning, & Technology Services
Lubbock ISD
Save and share product info about the 6000S.
Make room for everyone with true multi-user touch technology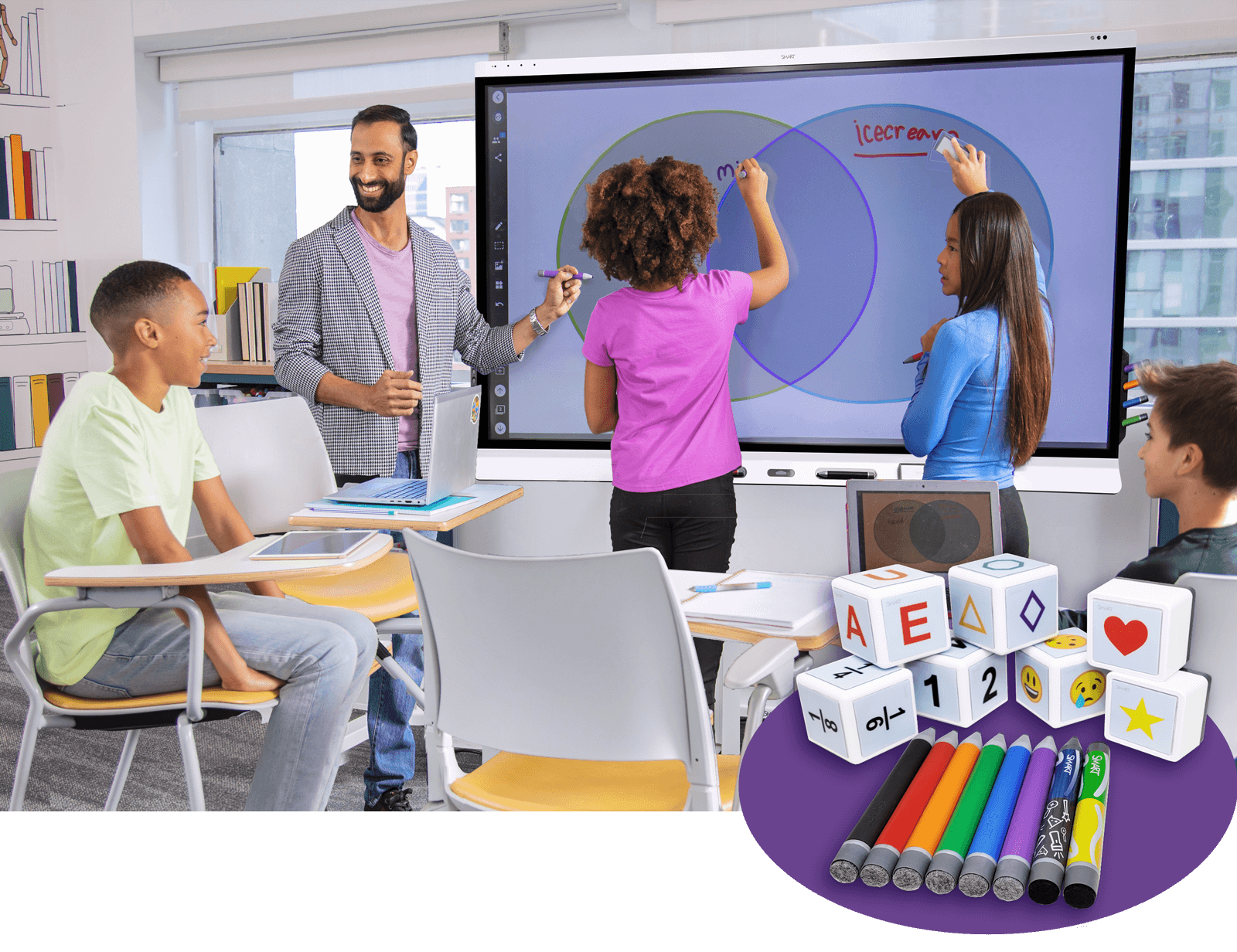 Truly intuitive.
Truly collaborative.
When we say we support creative collaboration, we mean it.
The 6000S series puts your students in the driver's seat of their learning with more differentiated pens than any other display. With their own pen type and color, students can collaborate without fighting over tools.
Get the details on the world's leading multi-user touch technology
Effortless inking
SMART Ink brings your students favorite learning tools and annotations to your files, web browsers, and applications - for both Windows and Mac.
Write and explore freely.
SMART ink keeps annotations where you put them as you move between programs, so you never lose what you wrote.
Differentiated pens means each student can choose their own SMART Ink tool – including art pens, shape recognition pen, highlighters and more!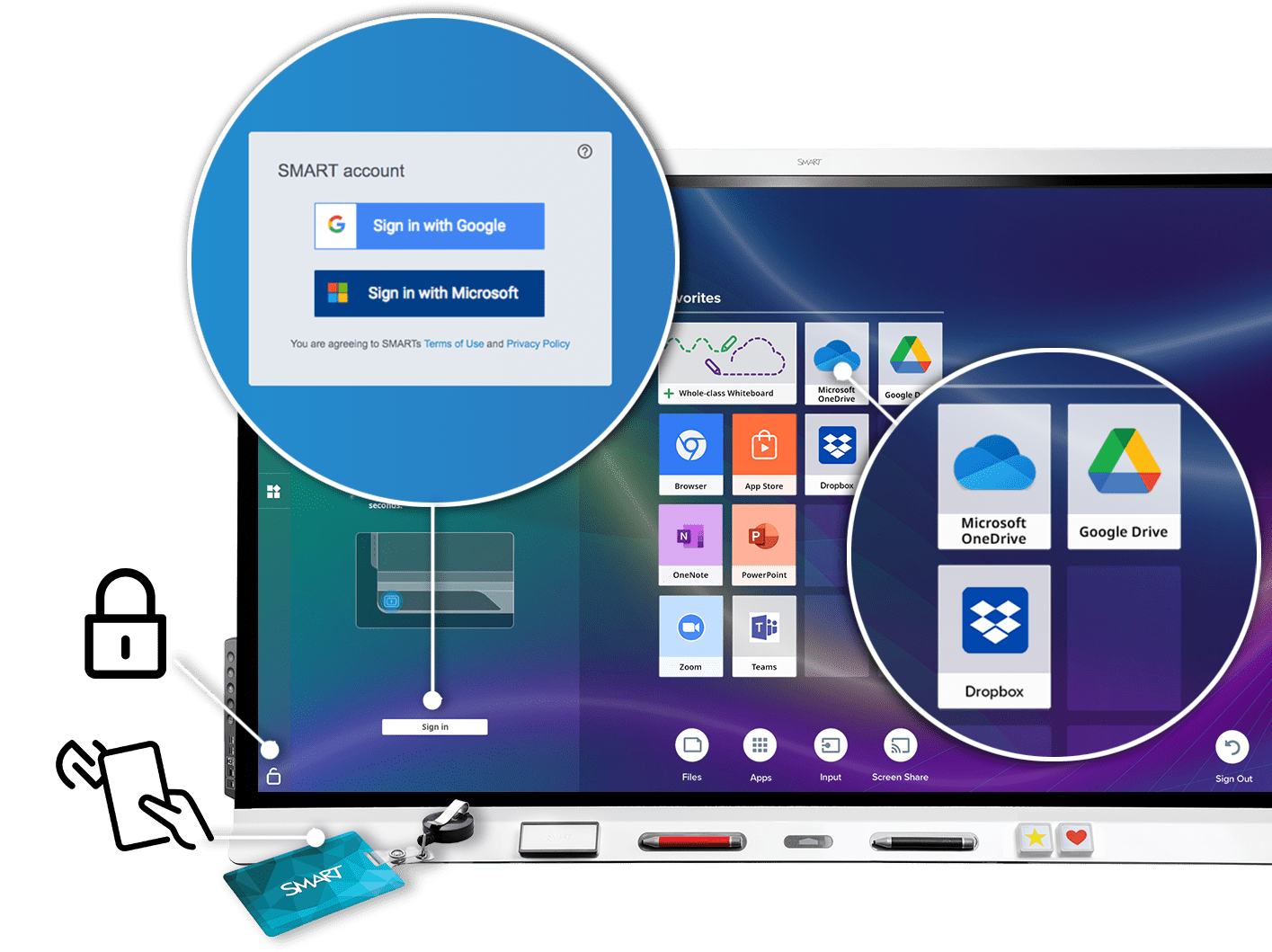 iQ: Android 11 made SMART
Secure multi-user profiles mean a quick and easy start for every class.
Teachers are always one click away from the apps, files, tools and cloud storage that they know and use daily, kept secure with customized user profiles.
Here's what you need to know:
Up to 20 user profiles per display
Self-serve profile setup through Google or Microsoft
Secure data protection
NFC sign-in
See profiles and NFC in action
A true crowd pleaser: easy for teachers, exciting for students
Built-in activities and teaching tools make it easy for teachers to add interactivity and engagement on the fly – even if they've never used a SMART Board®.
And the options are endless when it comes to student engagement. SMART displays with iQ allow for whole-class participation, truly active learning and a level of student collaboration that you just haven't seen before.
Walk-up-and-teach engagement tools

1. Easy to start teaching any topic.

The 6000S with iQ helps teachers:

Import multi-page PDFs in as little as 3 clicks
Easily split screen or switch between apps and webpages to bring annotation to a world of learning possibilities
Save any annotation as an editable file. Add it to your lesson and keep annotating!
Use integrated video and image search with persistent search results that save time

See iQ in action

2. Make anything interactive.

Enhance lessons on the fly with built-in teaching tools that let students elevate their understanding through hands-on interaction. Some of the ways you can do this:

Graphic organizers
Interactive backgrounds
Measurement tools
Counters
Fraction tiles
Letter blocks
Ready-made digital manipulatives for a variety of subjects including money, time, math, reading, music, patterns and more.

3. Give your students a voice

Learning is more fun when everyone gets to play. Every SMART board can broadcast to student devices and allow for whole class interaction.

Here are a few ways to make that happen:

Toggle student & teacher pacing for more active learning
Built-in polling helps teachers quickly check for understanding

Brainstorming activities get the whole class thinking together
Whole-class whiteboard, no student login required

See student devices in action

4. Want whole-class collaboration? Say no more.

Teachers asked, we answered. Whole-class whiteboard collaboration to help students learn with and from each other.

Includes 2-way inking, text & interaction
Includes student attribution

Plus, hop into screen mirroring to share and stream media quickly and easily - from any device, on any network – native, browser-based and app-based.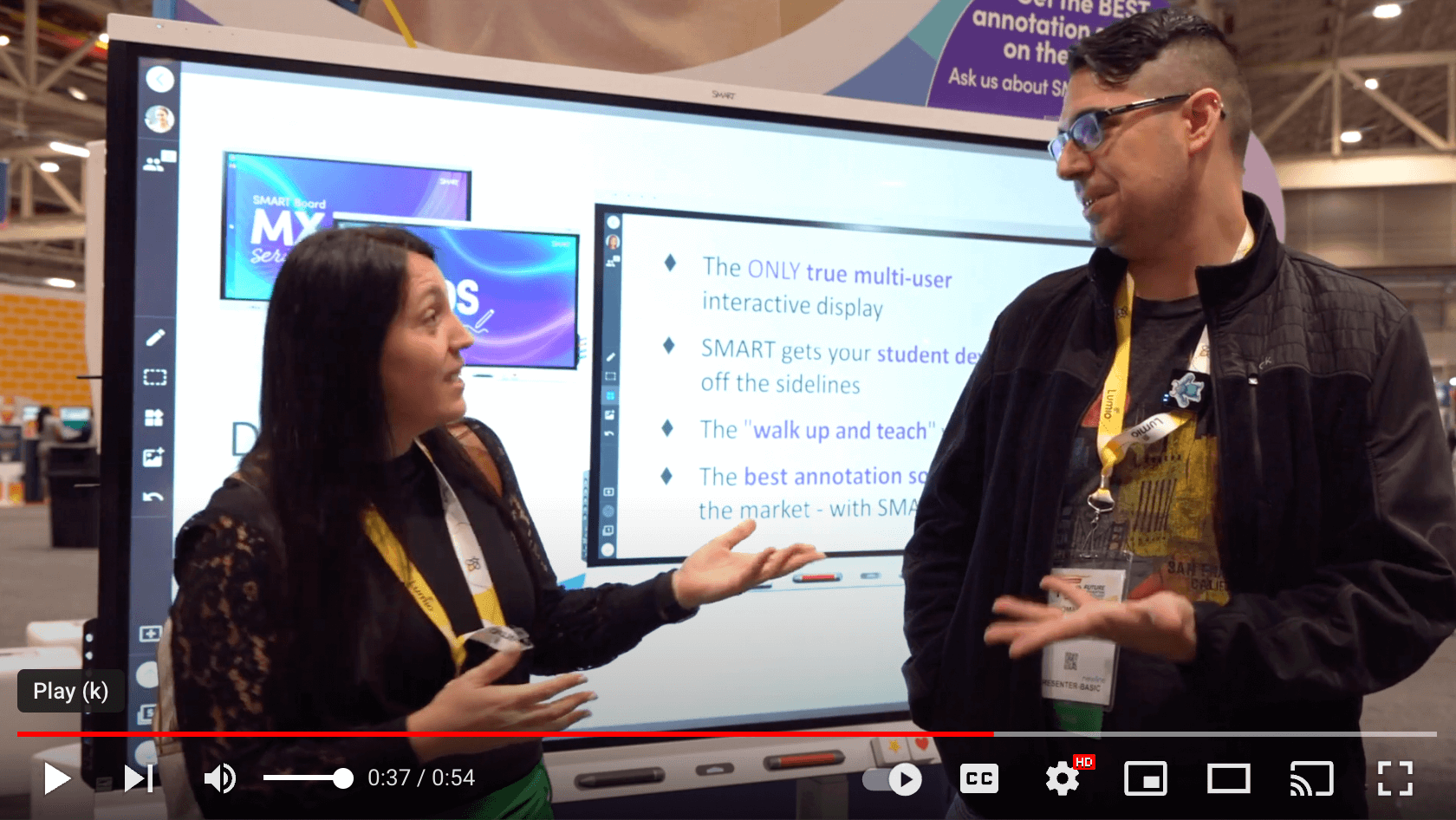 It's a way for teachers to do things more seamlessly. Different interactive features, students become participants to the lesson, and contributors to the lesson. We're always looking for tools that can do more - instead of having more tools.
Hear what people are saying about the 6000S series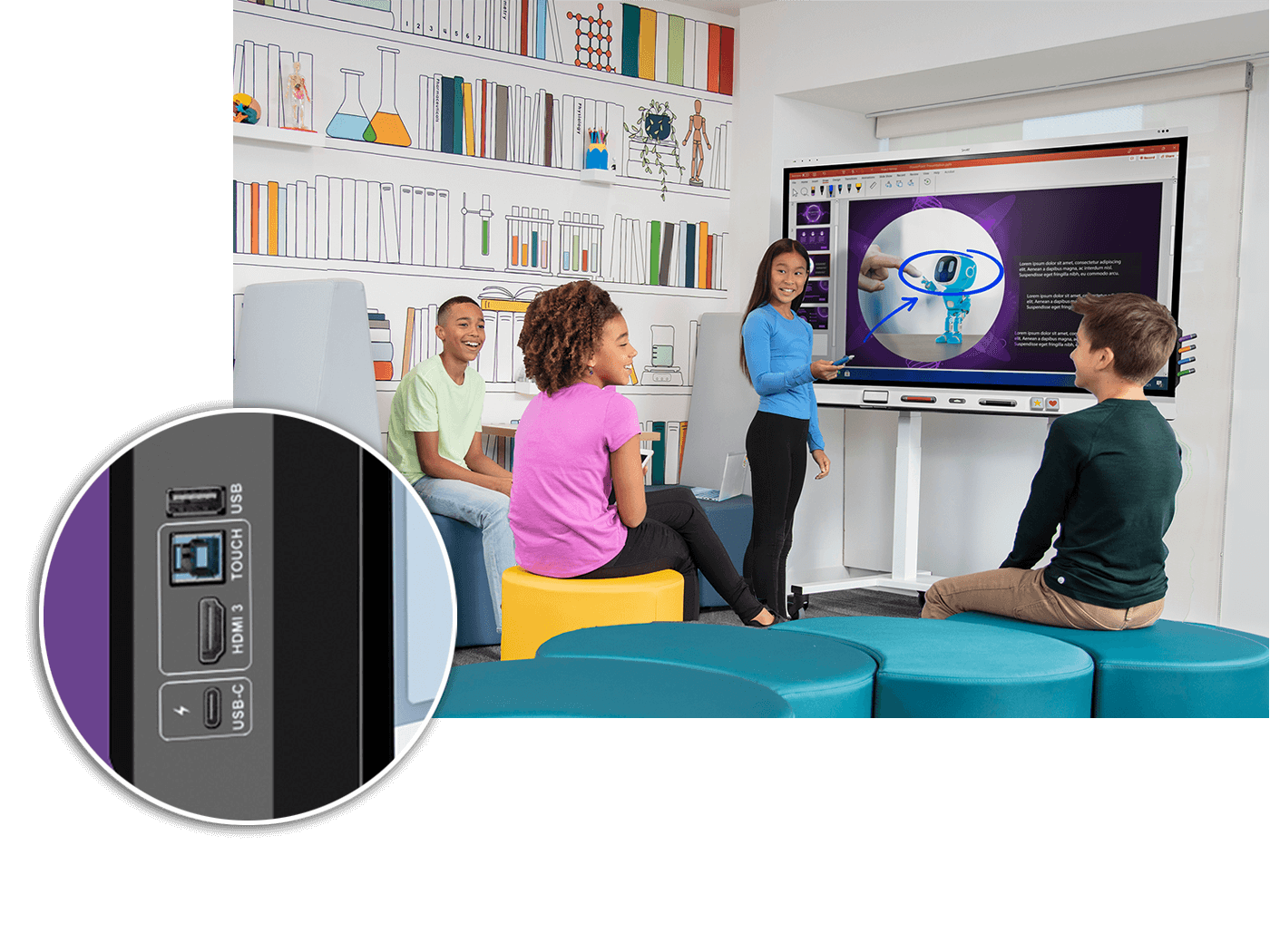 Put the power (of learning) in student hands
Easy connectivity
With the 6000s series' two 65 W USB-C connections, students can quickly and easily connect their devices to display understanding or lead learning.
Plug & play any Windows device - no need to install any drivers or new software - for annotation and interactivity in the pen-enabled apps students already use, including Microsoft PowerPoint, OneNote and more.
See how Plug & Play works
The right choice for Early and Special Education
With Tool Explorer, students can interact with physical objects, like cubes and stamps, that are automatically recognized by the display. This opportunity for engaging, kinesthetic learning with real world objects makes the 6000s series the best choice for early and special education.
Accessibility features included
Every board includes easy-to-access, forward-facing ports and controls with large, intelligently illuminated buttons for ease of use in situations of low light or visual impairment.
Value that can't be beat
There's really no question: the SMART 6000S series is the all-encompassing leader in interactivity and
product longevity. Discover what sets it apart.
Compare SMART displays with iQ
6000S Series (V3)
Longevity and interactivity that's in a league of its own. Unmatched value for IT managers.


Powered by iQ - on Android 11
Simultaneous touch points
Up to 40
Continuous pen, touch and
eraser differentiation
Yes
Differentiated pen color
Automatic Pen ID
Tools
Red and black pen with fine erase,
2x eraser blocks, 2 SMART ID NFC cards

Audio/Video features
2x 20W front-facing speakers
Integrated mic array
2x USB-C 3.2
65W (front), 65W (rear)
Sensors
NFC, ambient light, proximity, temperature, humidity
Included mounting
Wall mount
Warranty & administration

SMART Assure
SMART Remote Management

Available add-ons



MX Series (V4)

Exceptional value and game-changing longevity for IT managers.


Powered by iQ - on Android 11
Simultaneous touch points
20

Continuous pen, touch and
eraser differentiation
Yes
Differentiated pen color
No
Tools
2 pens, 2 SMART ID NFC card


Audio/Video features
2x 20W front-facing speakers*
Integrated mic array

2x USB-C 3.2
15W (front), 65W (rear)

Sensors
NFC, ambient light






Warranty & administration

SMART Assure
SMART Remote Management

Available add-ons


*55" size: 15W speakers. Zero bonded glass not available.
SMART keeps it simple for you and your teachers
Easy to adopt
We put in the effort so you don't have to. When you buy SMART, you buy peace of mind, easy setup and easy implementation.
Technology designed for out-of-the-box use – no setup or training required.
Self-serve iQ user profiles & NFC setup through familiar Google & Microsoft workflows.
Professional Learning - Extend capability with complimentary professional learning plans, online courses and webinars that cover both functional and pedagogical topics
Discover the SMART difference for your implementation
The better basic display.
From computing modules to mounting solutions, SMART has all the options you need.
Frequently Asked Questions
How do SMART boards support inclusion and accessible learning?

SMART solutions support inclusive learning environments by increasing access to participation and engagement for all students. SMART 6000S with Tool Explorer Cubes facilitate non-verbal expression, allowing students to use physical stamps to digitally represent abstract ideas on the display. Digital Manipulatives included with the 6000S support learning through demonstration and representation. They allow students to physically practice and demonstrate learning, without relying on language as a primary communication tool.

Which is the best SMART board for teaching in early education classrooms?

SMART Board 6000S interactive displays with

Tool Explorer

technology let students manipulate real world objects that are automatically recognized by the display. Help young students combine sensory play and fundamental skill acquisition, reinforcing their learning of shapes, numbers, math skills and more by manipulating physical cubes with digital reinforcement.

Are SMART boards easy to use?

SMART boards support easier workflows for educators, including a whiteboard app, built-in tools and resources
and student device integration - all designed for teaching and learning.

iQ puts everything teachers need to confidently teach at their fingertips, regardless of their tech comfort level.

What is the most intuitive interactive display on the market?

SMART offers a true walk up and teach experience. Built-in content and activities make it easy for teachers to add interactivity and engagement on the fly—even if they've never used a SMART Board.

Multi-page PDFs import in as little as 3 clicks
Engage students with exclusive digital manipulatives, graphic organizers, embedded image/video search and more
Whole-class polling and brainstorming activities
Split screen mode with simultaneous multi-user touch, writing and erasing

Do SMART boards support multi-user collaboration?

SMART's 6000S Interactive Display supports 40 points of touch in Windows and 20 points of touch on Mac, palm reject and differentiated tool use, meaning multiple users can write, ink, erase, move as they want without interfering with the tool selection or input of other users.

Which SMART board has the most features?

The SMART Board 6000S Interactive Display is SMART's most feature rich panel.
Find the right fit for your classroom