A SMART customer story with the School District of Palm Beach County and SMART Technologies
DISTRICT
Department of Educational Technology
John Long, Specialist, Department of Educational Technology
The School District of Palm Beach County Florida, U.S.A.
CHALLENGE
Create an engaging way for students in the district and beyond to connect virtually through coding during Computer Science Education Week.
SMART SOLUTION
SMART Board® MX series
Lumio™ by SMART
OUTCOME
A successful week of live-stream events in which students learned about coding and computer science through interactive, hands-on experiences.
Challenge
The largest learning event in history took place the week of December 6–12, 2021. For the last 12 years, this week has been devoted to Computer Science Education Week (also called "Code Week"), where more than 100 million students spent at least one hour exploring and celebrating coding and computer science. Many organizations support and connect with schools and students to celebrate this week through a variety of activities.
SMART Coding Event
In December of 2021, the School District of Palm Beach County (SDPBC) collaborated with SMART Technologies to bring five days of live-streamed lessons and panel discussions to students around the district. In elementary schools, each day of Code Week was celebrated with a different theme, such as "rock band" and "catch the monster."
The district-wide live-stream events kicked off each day in SMART's interactive collaborative learning tool, Lumio by SMART. SMART Training Specialists and the SDPBC Educational Technology Department Training Team led the lessons, and each lesson featured an elementary school live on camera.
Students began each collaborative lesson by warming up with an interactive Lumio activity to learn more about coding. Then, students launched into a student coding activity using the popular program, Scratch, led by John Long from the Educational Technology Department. "Once students got started with the activity, they were totally engaged and didn't want to stop," says John Long. The live-stream event concluded with a live view of students putting coding into practice. In addition, on-site interviews were broadcast about what students liked about coding and what they had learned.
"Once students got started with the activity, they were totally engaged and didn't want to stop." – John Long, Specialist, Department of Educational Technology
In addition to the five days of coding events for elementary students, SMART Technologies also supported a panel discussion with professional developers. Three people from SMART were on the panel: a Web Developer, a Senior Product Manager, and a Front-End Web Developer. Kelsey Hanson, a Web Developer with SMART, described being introduced to coding and programming in college. Ms. Hanson told students that they are already "ahead of the curve," as they are learning about coding in grade school and have the opportunity to learn a great deal before even finishing high school. "It was exciting to see so many grade-school students engaged in Computing Science," she said. "What a great way to explore logic and creativity."
Outcome
Recordings of all five live-stream events were posted on the SDPBC Educational Technology Department's popular YouTube Channel, which is open to everyone—even teachers and schools that are not part of the district. By the end of the first week, the recordings had more than 350 views. If these recordings were viewed in classrooms rather than by individual students, up to 7,000 students may have seen them in just one week. The recordings are available here for teachers and students around the world who'd like to participate.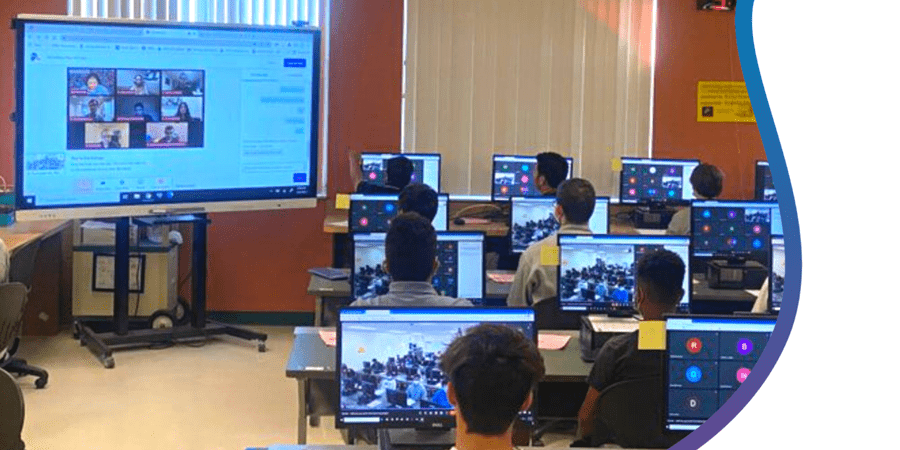 Get started with coding in your classroom! Use this resource in your lessons for a quick and easy introduction to coding your students will love.
---
Not using Lumio yet? Get started for free!