The use of technology in classrooms has been steadily increasing over the last several decades, and attention is now turning to ensuring that the right technology is being used in the right ways to truly support teachers and students. There are key capabilities that go into effective EdTech planning and implementation, with research showing how schools can prioritize them for improved outcomes.
EdTech is meant to bolster pedagogy, not replace it. But in many cases, the digital learning tools in use are not serving educators (or their students) to their full potential. When EdTech is successfully implemented, the effect is twofold: students become more engaged and their learning outcomes improve, and educators' workloads become more manageable.
When you strategically implement EdTech and incorporate it within a framework based on sound pedagogy, you get:
Satisfied teachers. Classroom instructors can spend more time interacting with students and less time managing the technology.
Engaged students. Students are more interested and involved in their learning, with each other, and with their teachers.
More connection. The entire classroom community can come together to share ideas and interact with one another.
Better outcomes. The result of stronger connections within the classroom community and higher engagement with their learning is better academic progress for students.
"The ultimate vision for EdTech is that technology is not another thing to learn and use — it's something that saves teachers time and gives them quick insights into the work they're already doing," said Marisa Kaufman, an instructional development specialist at SMART Technologies. "That's what we see is possible when technology is naturally integrated into instruction and used to engage learners through active learning experiences."
Read on for tips and tactics that can help educators implement EdTech in the classroom in a way that works for both students and teachers.
4 EdTech-driven pedagogies and strategies to know
The learning needs of students are evolving along with the strategies and tactics educators are deploying to address them. That likely means you are often looking for new approaches and ideas for using EdTech strategically in your classroom or school. Below, we explain four ways EdTech can support educators in fostering a connected, engaged, and higher-performing classroom environment, while being mindful to not overwhelm their workloads.
Active learning

Let students take the lead with their learning by engaging them through activities such as reading, writing, examining their thoughts, problem-solving, giving and receiving feedback, and reflecting after the fact. By working on their own and together with classmates, students can connect with their material, their instructors, and their classmates in their own way. Active learning can take different forms, including:
Flipped learning: Students are assigned materials, resources, and information to take-in outside of the classroom. In-class time becomes an opportunity to complete individual, partnered, and group activities to help students build an understanding of the concepts covered in those materials.
Collaborative learning: As part of a collaborative approach to learning, students work with their instructors and their peers to gather information about a topic, create meaning from what they learn, and present that information to their instructors or classmates.
Project-based learning: Students explore learning concepts by working on extended projects that allow them to develop and showcase their knowledge and skills through active, collaborative group work and by presenting their completed project to an audience.


Gamification & Game-Based Learning
Turning learning experiences into games complete with rules, interactive elements, and outcomes where students can 'level up' can help grab students' attention and keep them engaged in their learning. Many students today consistently use personal devices such as smartphones and tablets. Those devices often feature apps that use gamification principles to hook users' attention and keep them playing along. Educators can apply those same concepts in the classroom to connect students with learning tactics they can relate to, helping to build motivation among students and give them a hands-on way to practice concepts and assess their own progress.
Social-emotional learning
Focusing on social-emotional learning (SEL) in the classroom can help educators guide students through the process of acquiring and applying the knowledge and skills needed for a healthy and functional life — both inside and outside of the classroom.
Different approaches to developing and measuring SEL skills exist, but educators largely agree that these skills build the foundation for students' current and long-term academic outcomes, relationships with others, and personal wellbeing. For example, SEL skills can include: managing one's own emotions, feeling and showing empathy for others, and making responsible decisions.
Hybrid and blended learning
During the pandemic, educators and students became very familiar with hybrid and blended learning. These approaches to instruction are sticking around as the COVID-19 pandemic lingers. Could they work for your classroom? Although both hybrid and blended learning involve mixing in-person and virtual instruction, it's important to know the differences between the two:
In hybrid learning, some students attend class in person while others attend online. Educators teach all students at the same time, whether the student is sitting in the classroom or participating remotely.
In blended learning, all students and educators participate in person at various points in time. However, educators use online learning tools and methods to augment what is taught in person.
Both approaches require educators to have access to high-quality EdTech tools that enable students to collaborate with each other and share their ideas and voice regardless of their location. Those tools can include personal laptops or tablets, along with interactive displays that can connect with the individual devices, enabling students to share their learning and to engage directly with ideas shared by their peers and instructors.
Take the next step to better use of EdTech
Educators and administrators must consider a wide range of factors when deciding when and how EdTech should be used. Those include:
Does the EdTech tool or resource support engaged, active learning?
Will it increase accessibility for students?
Is it likely to help accelerate learning for students?
Will students be able to actively collaborate and work toward shared goals with their peers?
Will it support students in developing key skills that they need to be successful holistically?
(Read our answers to those questions here.)
Ultimately, EdTech must be easy for educators to use and able to help them engage students in their learning. If your tool or tactic doesn't support engagement, limits accessibility, or doesn't help to improve student outcomes, then you might have the wrong tool for the job — or you might need to rethink how you're putting it into place.
Get more strategies for implementing EdTech in the classroom to help students reach their full potential by downloading our EdTech ideabook. And
check out our EdTech Assessment Tool
, which can help you learn where to prioritize your EdTech investment and what steps to take next.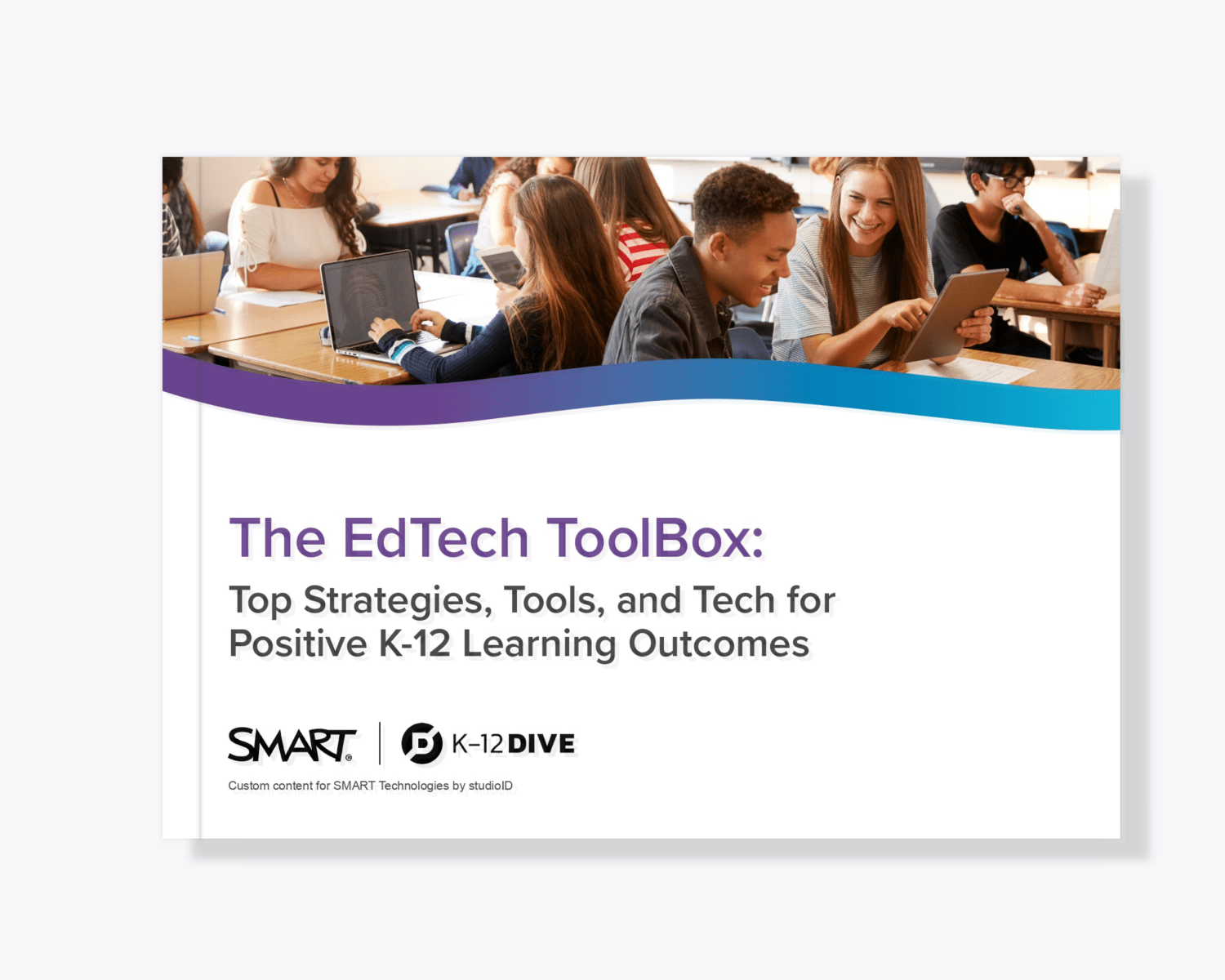 Learn more about the top strategies, tools, and tech for positive K-12 learning outcomes.
Get the ideabook
"EdTech has the ability to transform teaching and learning, but it must rest inside the framework of planning and pedagogy. Every effort should be focused on creating the conditions that lead to the best student outcomes." – Marisa Kaufman, Instructional Development Specialist at SMART Technologies