The EdTech toolbox: 
Top strategies, tools, and tech for positive K-12 learning outcomes
Teachers today may find themselves struggling to manage what feels like an explosion of EdTech in the classroom. While EdTech is proven to have a positive impact on a range of student outcomes, it was never meant to replace sound teaching pedagogy — it was meant to augment it.
The best application of EdTech is one that lessens the instructor's workload, connects students to the learning experience, and empowers active learning within the classroom. When integrated into the teaching ecosystem as a result of strategic, intentional choices, EdTech becomes a powerful tool for teacher satisfaction, student engagement, and student achievement of learning outcomes.
EdTech has the ability to transform teaching and learning, but it must rest inside the framework of planning and pedagogy. Every effort should be focused on creating the conditions that lead to the best student outcomes.
– Marisa Kaufman
Instructional Development Specialist at SMART Technologies
The formula for a successful EdTech strategy starts with pedagogy. When your EdTech seamlessly aligns with how your school or district approaches learning, the benefits of that interconnectedness extend far beyond the initial application in the classroom.
Integrated EdTech classrooms see…
More connection
More satisfied teachers
More engaged students
Better student outcomes
Read on to learn more about the top teaching strategies, tools, and technologies that educators can use to deliver positive K-12 learning outcomes today.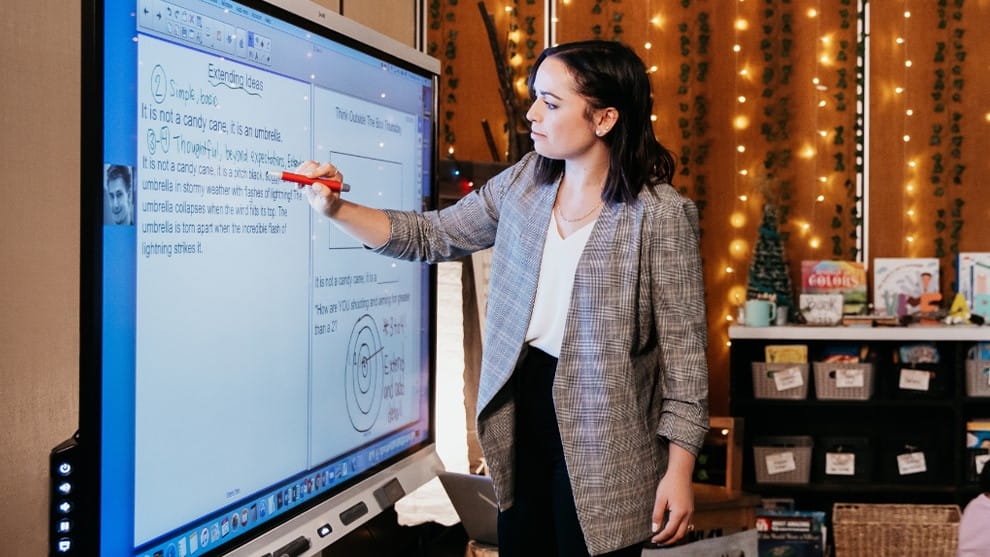 Top EdTech strategies and pedagogical skills for K-12
Students' classroom needs are always evolving, and so is educators' understanding of what pedagogies and strategies lead to the best learning outcomes. Instructors who stay on top of new concepts and advancements in traditional teaching methods have a full toolbox of support to meet students' evolving needs.
Here are four prominent teaching pedagogies and strategies that K-12 educators are using to improve student outcomes: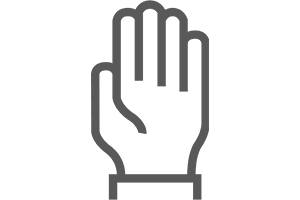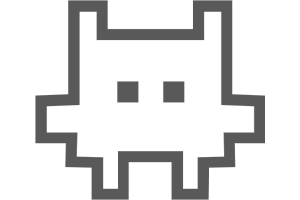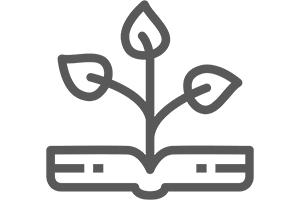 Social-emotional learning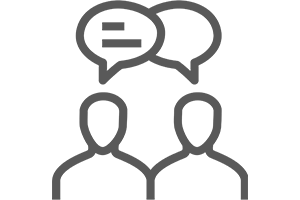 Hybrid learning/Blended learning
In the following pages, we'll break down each of these strategies and share EdTech-enabled ways educators can bring them into the classroom today.
Active learning
Active learning is an approach to teaching that focuses on engaging students through reading, writing, examining thoughts, problem-solving, giving and receiving feedback, and reflecting after the fact. It's the definition of student-led learning because it puts the student's engagement and focus at the center of the experience. By being fully engaged and working both independently and collaboratively, students can make authentic connections with the material, the instructor, and their classmates.
Active learning can take different forms, such as flipped learning and collaborative learning.
Flipped learning is a form of active learning in which students are assigned lecture materials and presentations to be viewed outside of class. The information is then discussed and reviewed in class through small group activities and individual work.
Collaborative learning is a form of active learning in which the learning experience comes from a joint effort by students or by students and teachers. Groups of students can work together to gather information about a topic, create meaning, and present it to the teacher or the classroom.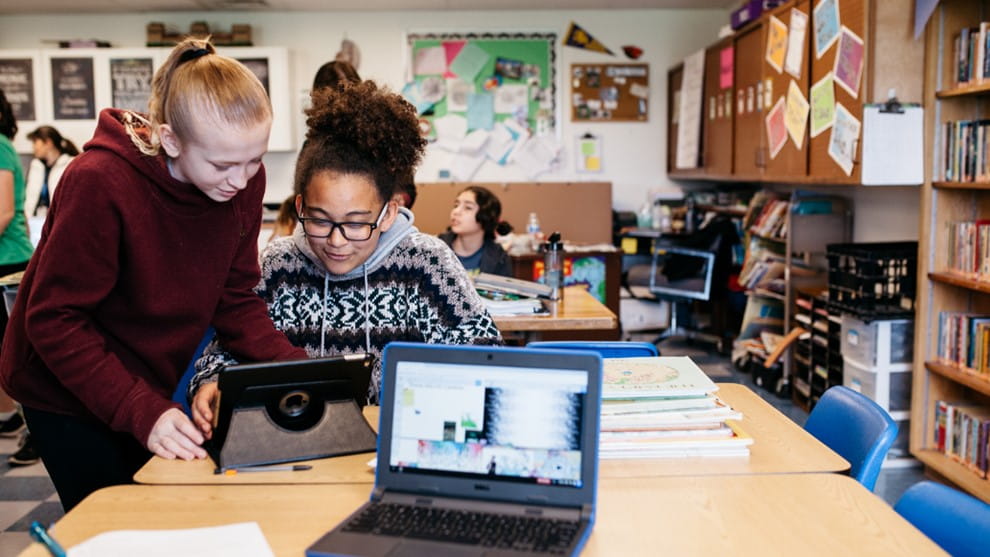 3 ways to bring active learning into the classroom
The following activities are examples of ways educators can use EdTech to conduct active learning exercises with students, and how SMART's digital templates can help.
Think, pair, share
Students reflect on a prompt or question, formulate a response, and share it with a partner.
Shout It Out!
Students share, discuss, and refine their thinking using the Shout It Out! tool. This includes looking for patterns, similarities, differences, and surprises.
Two-column notes
In this graphic organizer, students consider and respond to a prompt, pair up to discuss, and then add new thoughts to the page.
Quick write and quick draw
Students quickly reflect on their learning alone and in groups.
One-minute paper
Students reflect on their learning by quickly making connections and asking related questions using text and images.
One-word summary
Students drag letter tiles to create a one-word summary of a topic being discussed and use the digital pen tool to add a drawing related to the word.
Graffiti board
Help students understand one another's ideas by bringing sentences, prompts, and concepts to life through images.
Chalkboard splash
Educators provide a sentence starter, prompt, or question in a Workspace. Students add their individual responses to the page and look for patterns among the class responses.
Semantic mapping
Add an image or a word related to a unit of study to a blank page in a Workspace. Students make connections to strengthen their understanding of concepts.
Transitioning from one activity to another can be a particular challenge for educators in K-12 classrooms. EdTech products like Lumio can help with that transition by making the next steps clear for students no matter where they are in an active learning lesson. For example, Lumio can group students automatically and make it easy for educators to edit the groups, bring students into collaborative digital workspaces, and emphasize to the classroom that learning and collaboration is a flexible, co-created process.
Explore more active learning resources:
Gamification
Gamification is the process of turning learning experiences into games with rules, interactive elements, and win-or-lose outcomes. It's a popular way to grab students' attention and help them engage in learning. Especially in a world where personal devices are prevalent among students, gamification is a great strategy for building motivation and for giving students the opportunity to practice concepts and assess themselves.
3 ways to bring gamification into the classroom
The following activities are examples of ways educators can conduct gamification exercises with students, and how SMART's digital whiteboard can help.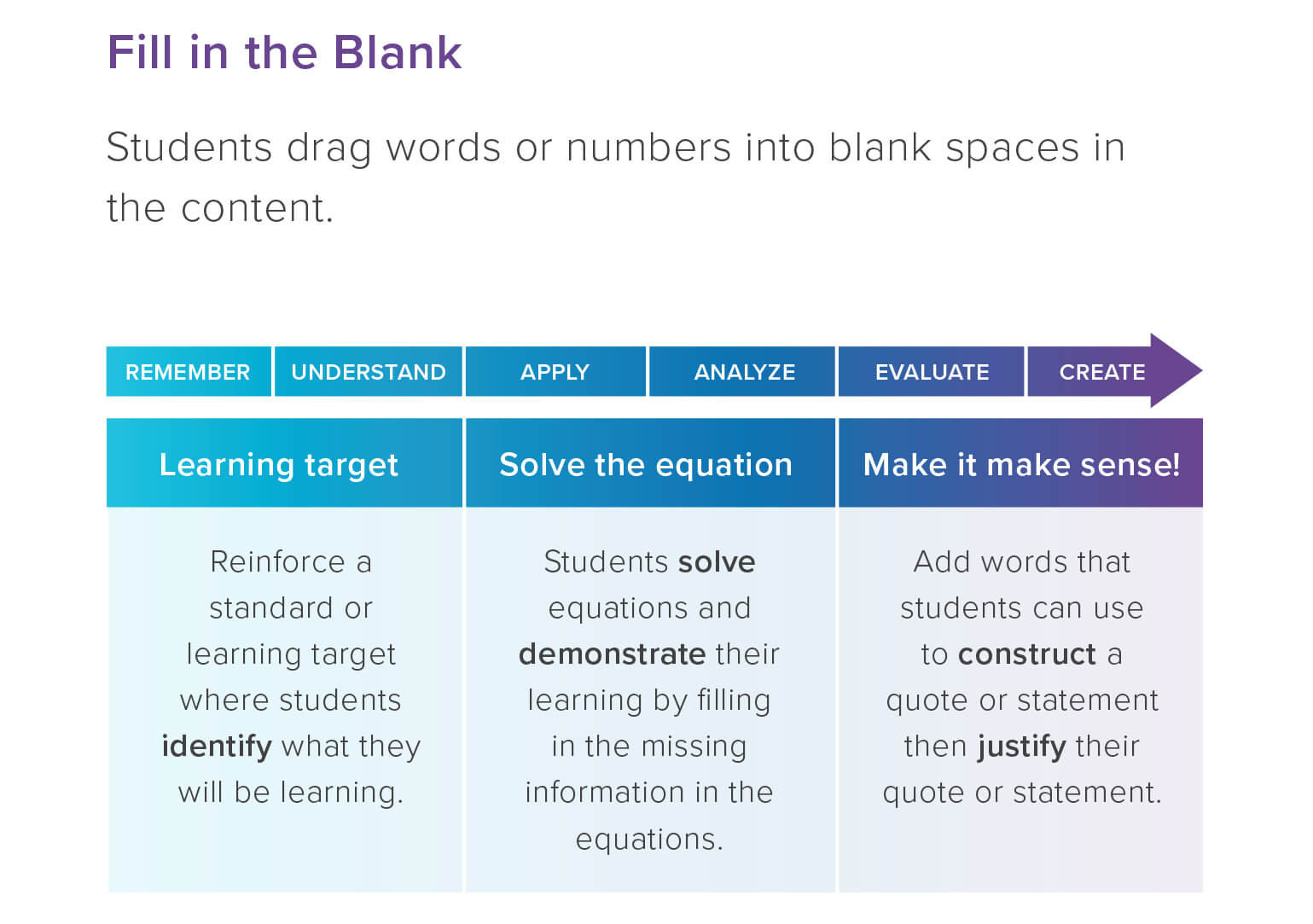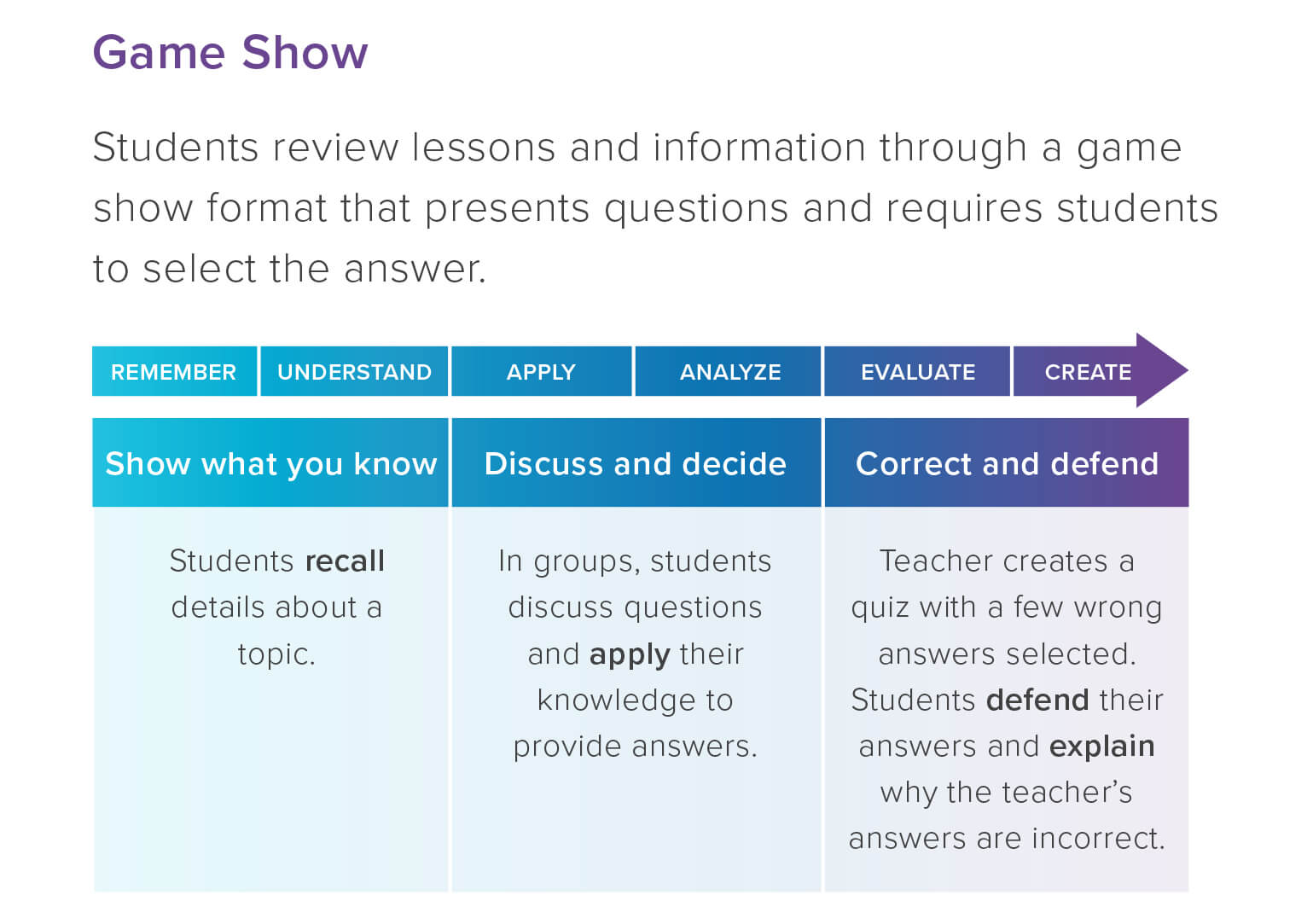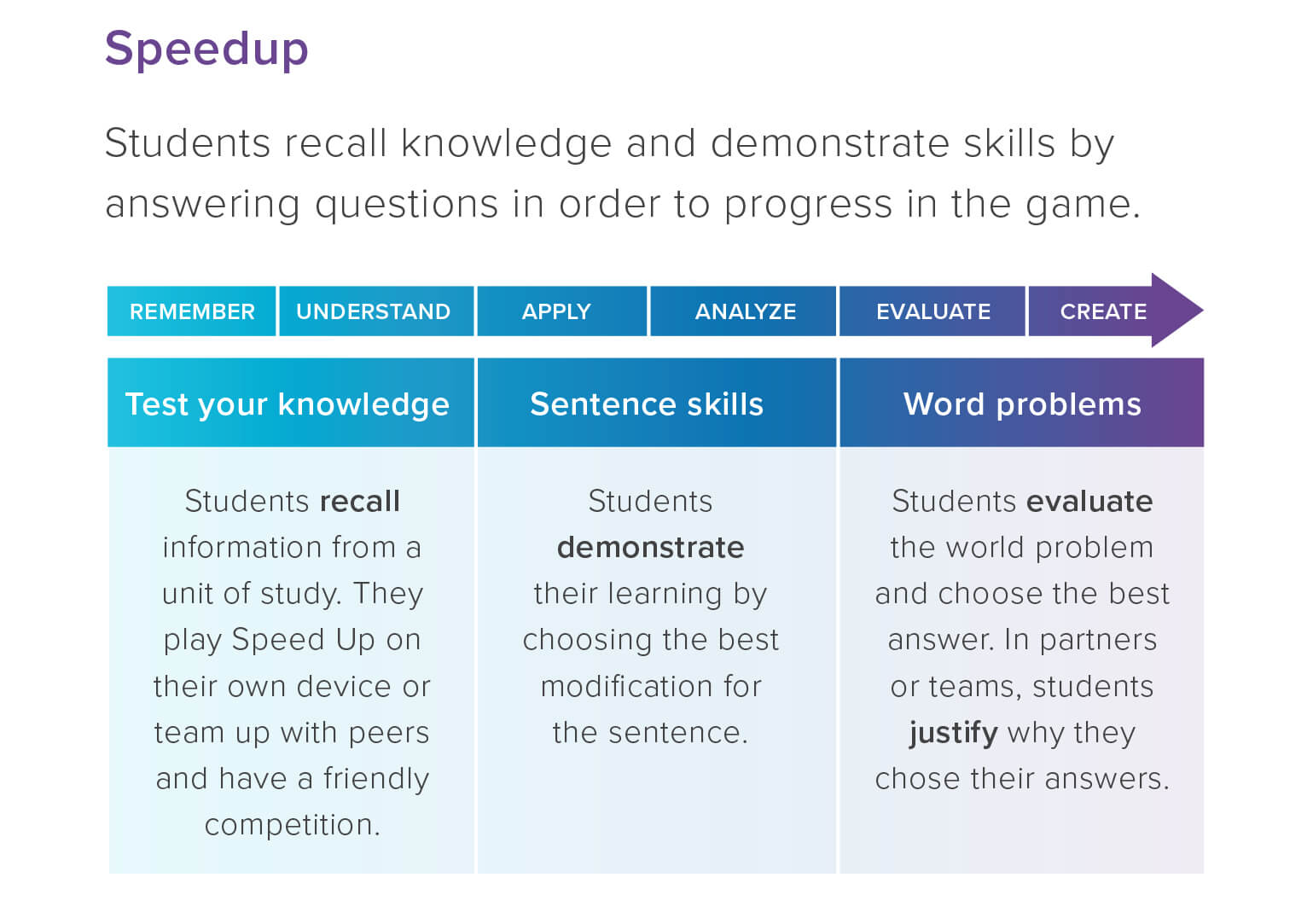 Educators have many options when conducting gamification exercises with students, but finding a group of learning opportunities that aligns with your school or district's unique goals can be challenging. And it's hard to find resources online that you can trust in today's era of heightened data security. Accessing content on a platform like Lumio makes it easy for educators to quickly find, customize, and use what they need.
Explore more gamification resources:
Social-emotional learning
Social-emotional learning (SEL) is an umbrella term used to talk about skills including emotional regulation, relationship building, and collaboration. Incorporating SEL in the classroom means focusing on the process through which all young people and adults acquire and apply the knowledge, skills, and attitudes to achieve the critical social and emotional milestones that lead to a healthy, functional life. These include:
Developing their identity.
Managing emotions and achieving personal and collective goals.
Feeling and showing empathy for others.
Establishing and maintaining supportive relationships.
Making responsible and caring decisions.
While experts may debate which skills to measure and how to measure them, it's generally agreed upon that these skills create the foundation for students' relationships, wellbeing, and academic outcomes.
3 ways to bring social-emotional learning into the classroom
The following activities are examples of ways educators can encourage SEL among students, and how SMART digital tools can help.
Self-awareness
Students practice the ability to understand one's own emotions, thoughts, and values, and how they influence behavior.
Daily self-check-in
Check in with your class by having students move a pointer to match their emotions. As a class, reflect on how these feelings can influence behavior.
Rank your values
Students use a rank order to decide which values are most important to them. Students reflect on their personal core values individually or discuss them with a partner.
Self-management
Students practice the ability to manage their own emotions, thoughts, and behaviors in different situations to achieve specific goals.
Self-control sort
Use the Super Sort game-based activity to sort cards describing examples and non-examples of self-control.
What can I control?
Students list factors within their control at school and at home, and then identify corresponding self-management techniques.
Social awareness
Students practice the ability to understand and empathize with others and their diverse perspectives.
Choose kindness
Students move pictures or add their own words and images to demonstrate how they can show kindness.
Privilege mindmap
Students read, reflect, and add connections to a quote posted in a collaborative workspace and then use symbols to respond to others' contributions.
Relationship-building skills
Students practice the ability to establish and maintain healthy and supportive relationships.
Daily good news
Students share their daily good news with peers. Use this activity on multiple occasions to strengthen and build class community.
Qualities of a friend
Students rank the most important qualities of a friend. Students complete the activity individually and share results with peers to better understand each other.
Responsible decision-making
Students practice the ability to make caring and constructive choices across diverse situations.
Helpful or hurtful
Categorize icons to sort everyday actions and prompt a discussion about how our decisions affect others.
Positive reactions
Connect difficult scenarios with constructive reactions to yield positive outcomes.
Supporting classroom instructors in guiding the social and emotional development of dozens of students at once can be challenging. Technology like Lumio gives teachers a common language and universal platform to standardize how students engage with those topics, while providing students with individual experiences that let them go into deeper exploration when appropriate. Making SEL competencies a part of students' day-to-day learning activities helps to build and deepen these skills.
Explore more social-emotional learning resources:
Hybrid learning and blended learning
Hybrid and blended learning involve a mix of in-person and virtual instruction. However, there are a few important differences between the two types of learning: Hybrid learning takes place when some students attend class in person while others participate online, and educators teach the whole class at the same time using technology like video conferencing tools. Blended learning takes place when instructors and facilitators combine in-person instruction with online learning activities, and learners complete some components online and others in person.
What's the difference between hybrid learning and blended learning?
| | Hybrid learning | Blended learning |
| --- | --- | --- |
| Students | Some students participate in person and some participate online. | All students participate in person. |
| Instructors | Educators teach remotely and in person. | Educators teach in person. |
| Technology | Educators use technology like video conferencing tools to reach students. | Educators use online learning to augment in-person instruction. |
Whether an instructor is working with a hybrid or blended learning model, tracking course materials and progress for a disparate group of students can be a challenge. EdTech tools like Lumio give teachers a single platform to monitor and check in with students, no matter if students are learning synchronously or asynchronously, virtually or face-to-face.
Explore more hybrid and blended learning resources: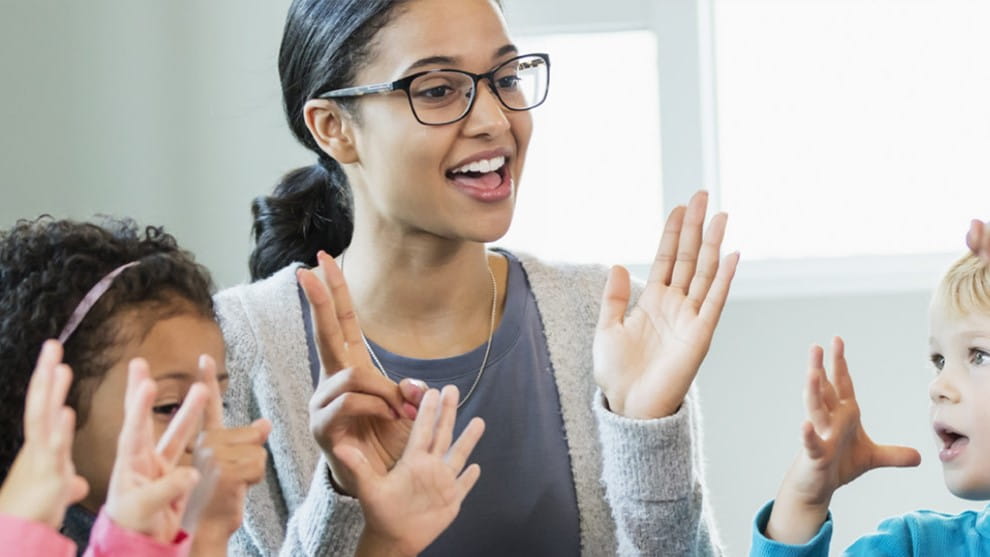 Top K-12 teaching applications and tools
EdTech was never meant to be overwhelming for educators. But it can be. When put to use correctly, these tools can provide an invisible support structure that helps educators ease their workloads, connect students with the real world, and enable active learning in the classroom.
Teaching technology can also be an important tool for a meaningful information retrieval practice that reinforces student learning by allowing for spaced-out practice, elaboration of learning, the connection of learning across topics, and the opportunity for students to showcase their learning in a variety of formats.
But what can often make or break the use of EdTech is its ability to integrate with how educators already work. Here are four of the most prominent teaching applications and tools instructors are using to streamline instruction and improve student outcomes:
Educators have access to data and software hosted virtually rather than onsite with cloud computing. Common EdTech examples include Microsoft Teams, Google Drive, and Dropbox. When used in a classroom, cloud computing allows teachers to quickly and universally access the data they need to manage grades, instructional materials, and anything related to the student experience.

These digital games can incorporate school and student devices in exciting interactive experiences that allow instructors to make informal and formal assessments about student retention and identify opportunities for remediation or acceleration in real-time. Instructors get timely feedback and can make decisions about moving forward or diving deeper as needed.

Web-based tools can include interactive lessons, game-based activities, collaboration tools and formative assessments that work seamlessly across in-person and virtual classrooms. These tools save educators and students time. With a one-stop shop for instruction, engagement, and assessment on hand, everyone wins.

These tools allow instructors to actively engage learners and provide hands-on experiences in an exciting format. With interactive screens, individual student devices can become tools for whatever learning is taking place in the classroom, moving from individualized to collaborative to gamified learning with the same tool.
Put the pieces of your unique puzzle into place
There's no single educational theory, software application, or tool that will solve all the challenges facing instructors, administrators, and school systems today. But there are theories, applications, practices, and tools that can make it easier and more efficient for educators to educate.
EdTech is meant to amplify the teaching strategies educators want to employ in the classroom and encourage students to become engaged in learning. Whether an instructor is focused on collaborative learning or inquiry-based instruction, the right combination of teaching pedagogy, tools, and technology for your school system will give teachers what they need to deliver the learning experiences students deserve.
The feedback we're getting from instructors and administrators is that our products help students dive deeply into the topics they're exploring. And when students are more engaged, everything else gets better too: student satisfaction, student behavior and overall learning outcomes.
– Dan McMahon
Vice President of Product at SMART Technologies
Lumio's library of activities
Check out Lumio's library of activities for more ways to incorporate SEL, gamification, active learning, and other EdTech-enabled strategies in your classroom.
Click here