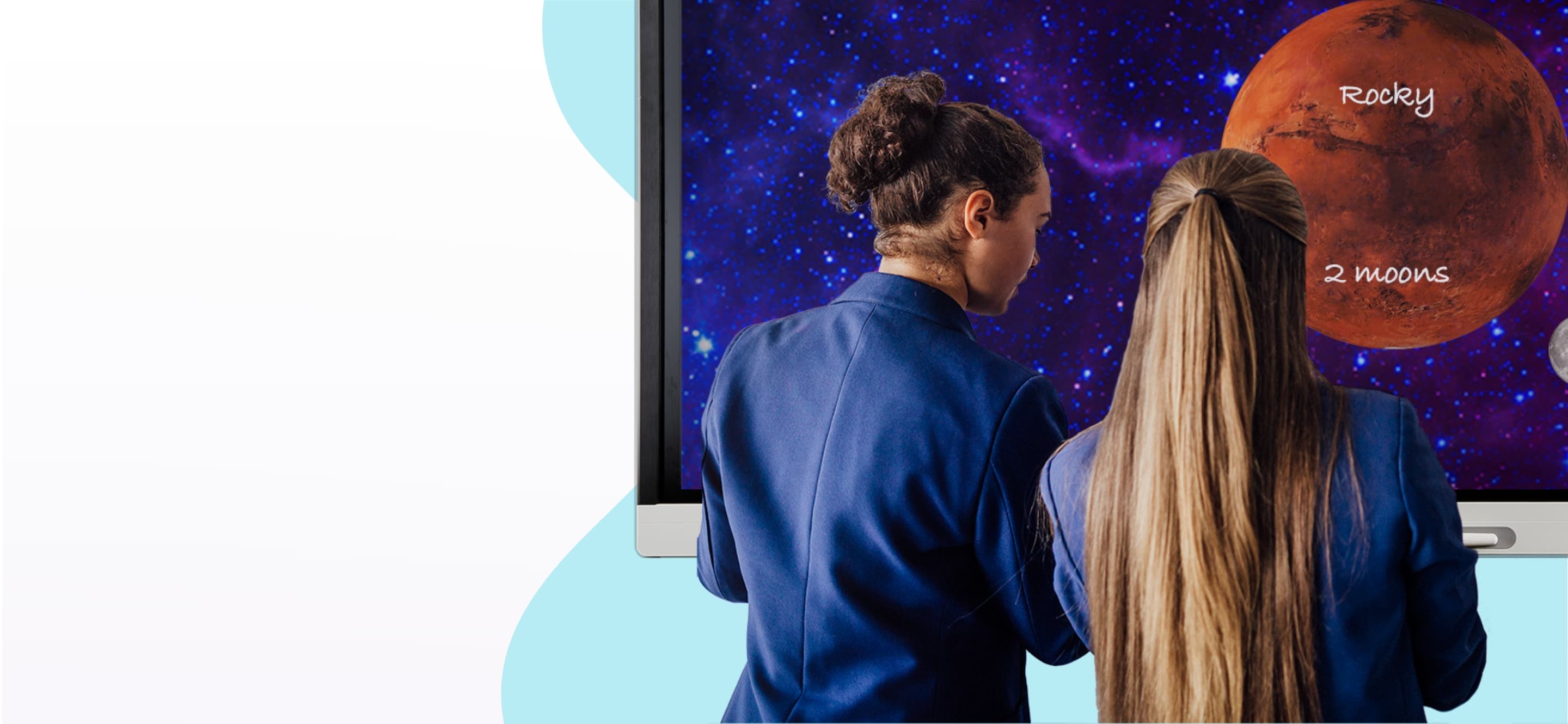 SMART Board® MX:
Powerfully
simple
Premium-quality, brilliantly easy-to-use
interactive technology at an affordable
price, giving you more connected
classrooms and engaging learning.
Book a Demo

Teachers want power and simplicity, and the SMART Board MX interactive display delivers.
The SMART Board MX's touch, digital ink, and personalization features make it an
investment in interactivity you can count on for years to come. Its easy user experience
reduces training time and tech support costs.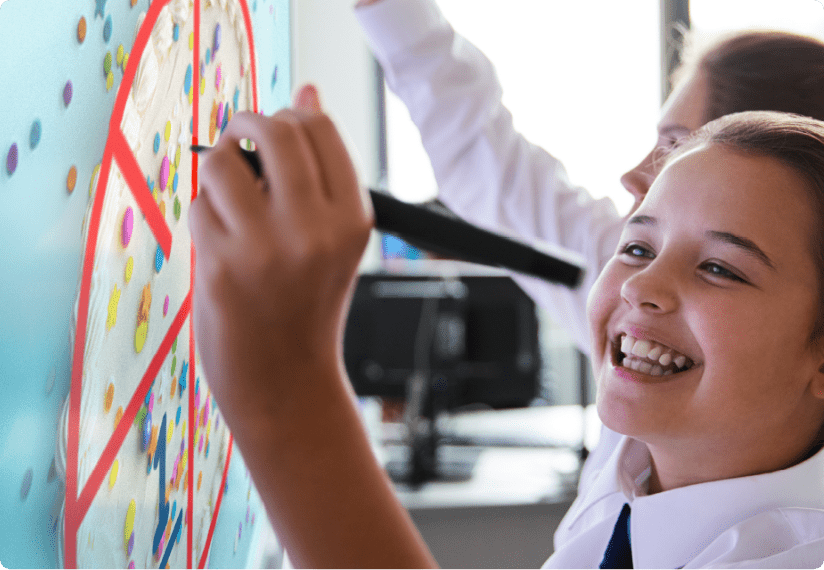 Easy to deploy, use and support
Easily connect devices, lesson content, and learning experiences, both in the classroom and remotely.
The SMART Board MX interactive display is easy to deploy and support, which means savings in training costs and time, less change and effort for teachers and fewer teacher support calls - all adding up to a lower total cost of ownership.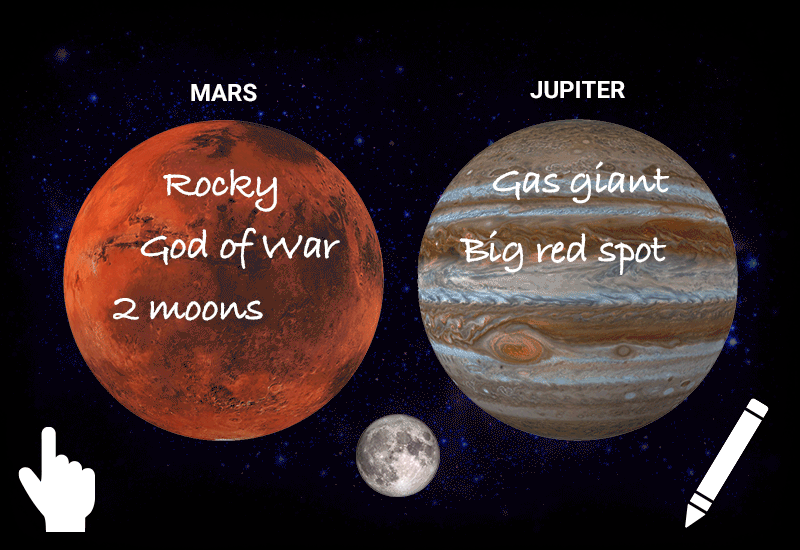 20 points of interaction
Better touch, more collaboration
Everyone can write, move objects, gesture, and erase at the same time, without interrupting the flow of learning to select tools or change modes.
New zero-bonded glass gives you precise interactions and digital ink, so the MX series is perfect for teaching everything from the biggest ideas to the smallest details.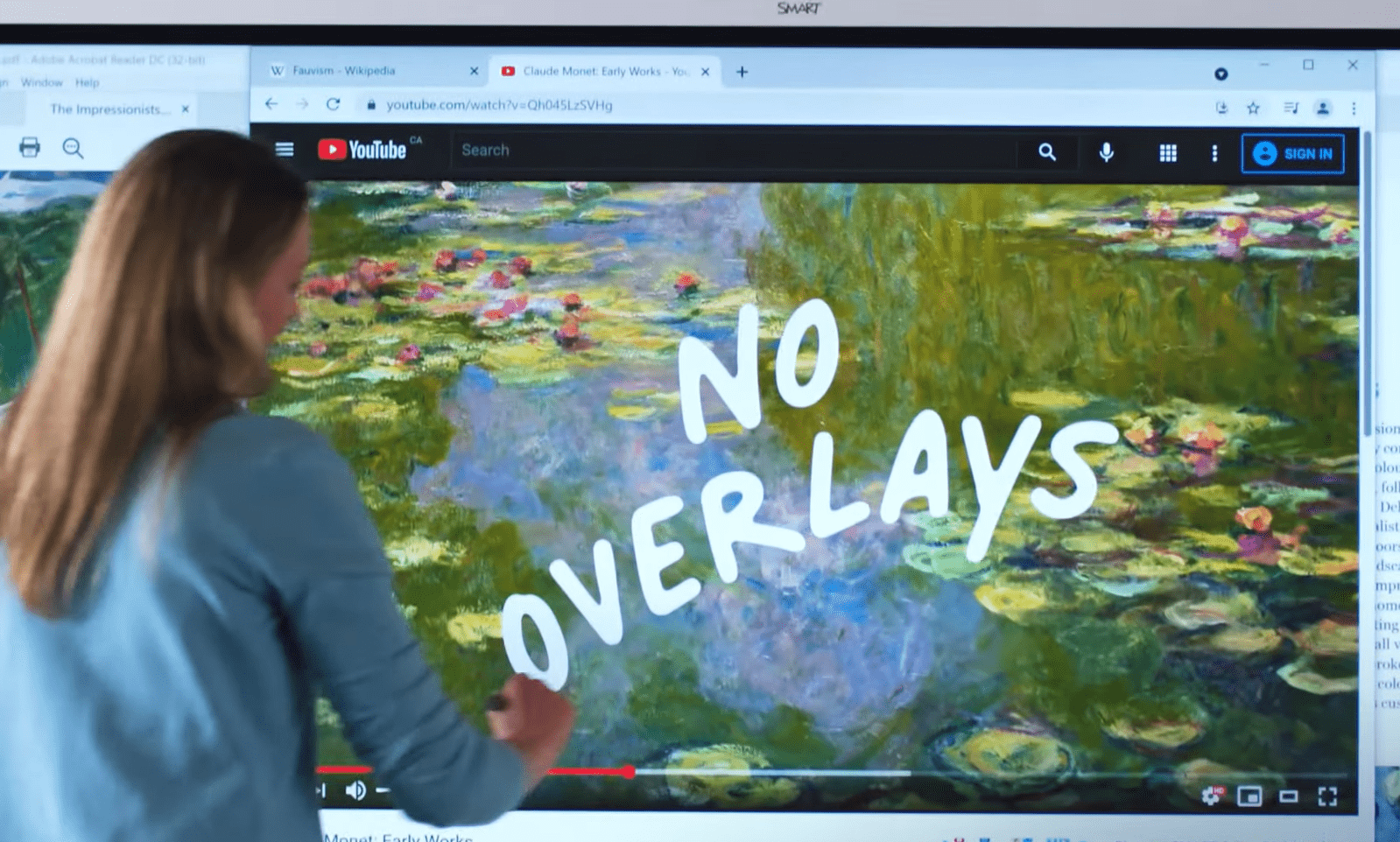 SMART Ink
®
Write anywhere, on any file
Writing and drawing isn't limited to a whiteboard. SMART Ink® desktop software lets teachers make notes anywhere: write into and over web browsers, applications, and familiar file types such as PDFs and Microsoft Office®. The ink stays even when teachers switch applications.
Request a Quote
No computer required
Built for education, powered by iQ
iQ's integrated Android-based experience gives teachers an easier way to engage students that's specifically designed to be simple and accessible for all teachers, regardless of comfort level with technology
Automatic updates and ease of maintenance and ensure your technology investment continues to meet the needs of your teachers and classrooms now and in the future.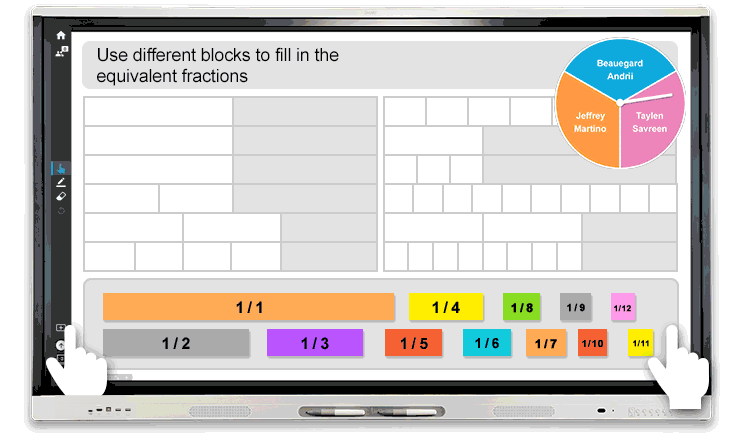 Create and deliver rich, interactive lessons
Enhance lessons with ready-made whiteboard templates, graphic organizers, manipulatives, widgets, and interactive activities. Keep learning lively with features like infinite cloning, text editing and 3D objects, and subject-specific tools like creative pens, equation editor and math tools.
Magic Pen, Spotlight, and other instructional tools help you focus students' attention, especially while video conferencing, without interrupting the natural flow of teaching.
Connect any learning environment
Connect lesson content, devices, and learning experiences in and out of class for flexible sharing and collaboration. SMART Board MX interactive displays provide a streamlined way to deliver lessons, interact, and engage students.
Share whiteboards and lessons to all your student devices for student-paced learning: students can navigate among lesson pages and zoom in to see clearly, whether they're in the classroom or remote. Switch back to teacher-paced learning at any time and bring the class back together.
Easily share up to four screens from student devices at once and stream media with native, browser-based and app-based screen-sharing options.
Use the iQ whiteboard to collaborate from anywhere. Students can connect through a browser and contribute with two-way digital ink.
Create instant brainstorming and discussion sessions with Shout It Out! Get the whole class thinking together and capture every student's ideas, questions, and connections in one place. Every student can share ideas to the display from their device, no matter where they are.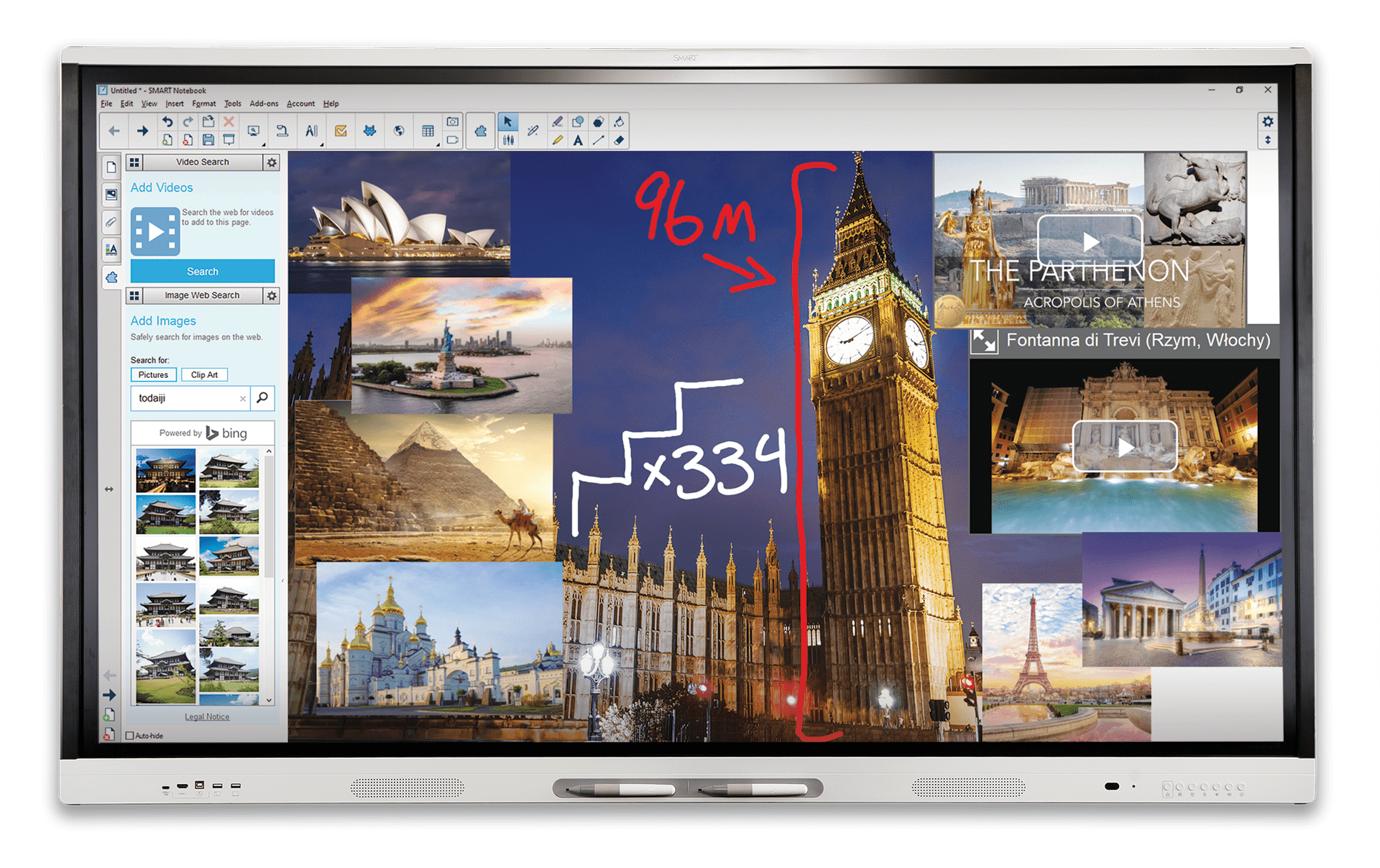 No subscription required
Free SMART Notebook® Software
Award-winning desktop software for creating engaging learning experiences with your SMART Board – no subscription required. With SMART Notebook, delivering exciting, engaging lessons has never been easier.
Discover SMART Notebook®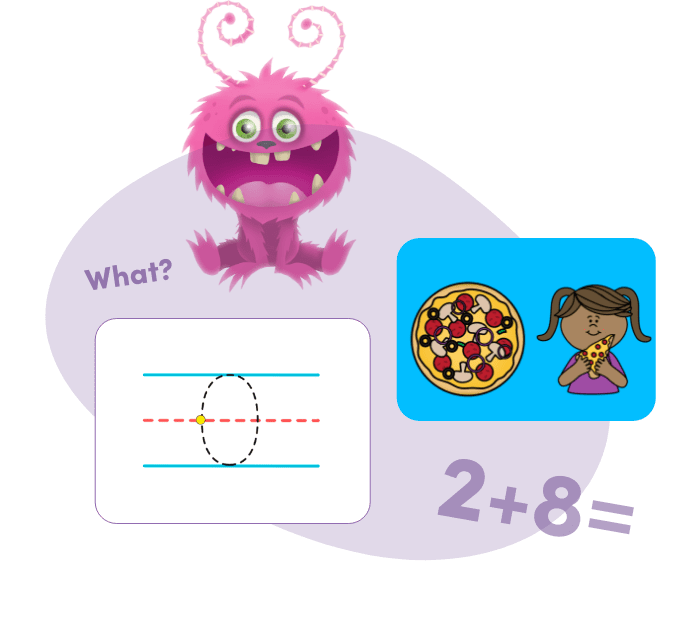 SMART Exchange
®
Free lesson resources for teachers
Access to thousands of games, activities, and teacher-created lesson plans through SMART Exchange®, searchable by subject, grade, and education standards.
Book a Demo
Personalized Technology
Your SMART Board MX display is ready when you are. Sign in and access your cloud storage, apps, lessons, favorites, and custom widgets. An intuitive display and easy-to-use features help teachers keep the focus on the teaching, not the tech.
Approach and use
Quick startup with the press of a button
Sign in anywhere
Access files and cloud storage
Easy to use
Convenient front-facing buttons and ports
Compare technical specs for all MX display sizes
Save, compare and share product info about the MX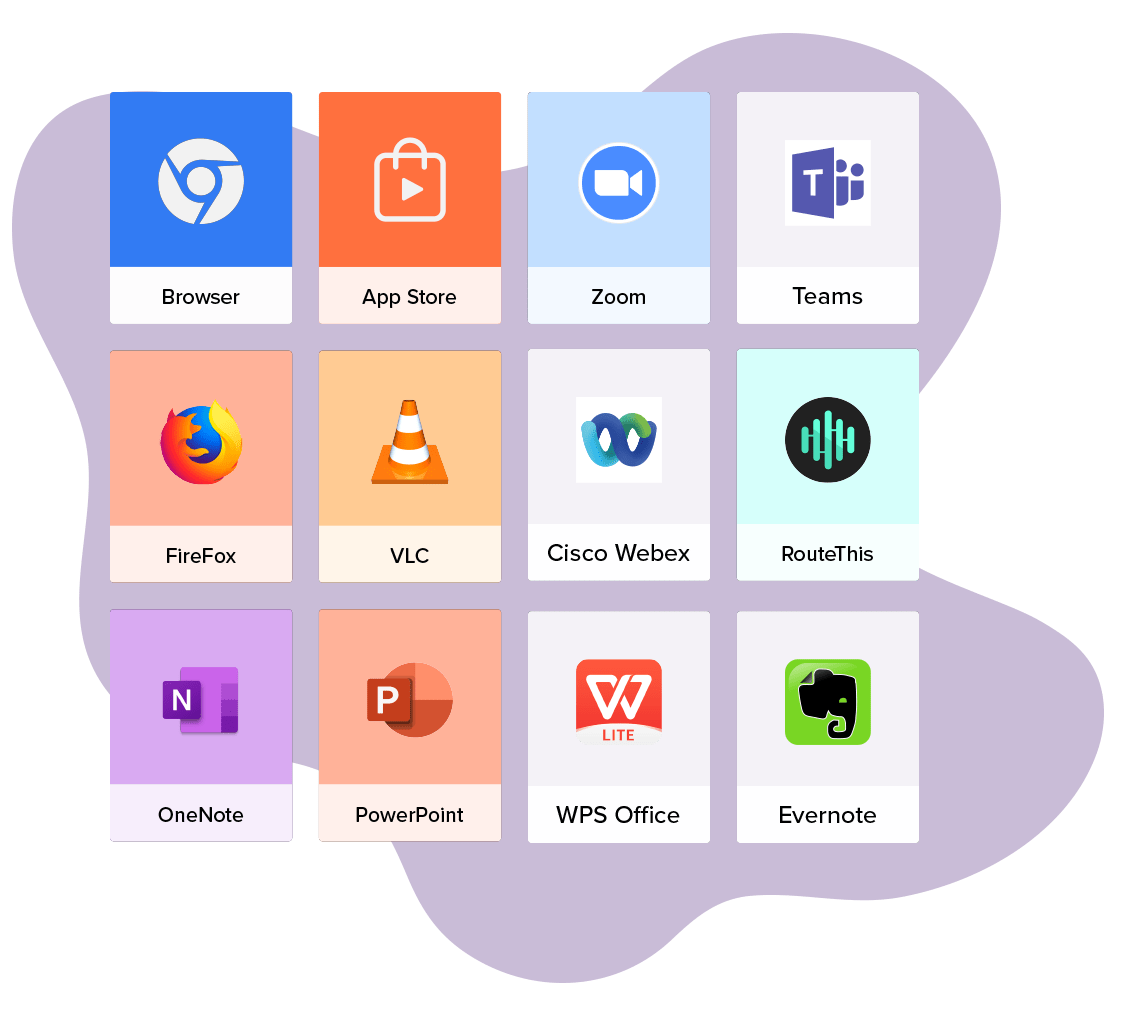 All your apps and access to cloud storage
Open documents from OneDrive™ and Google Drive™ right on the SMART Board interactive display. Teachers can easily search for and download their favorite apps from the app store, meaning less work for administrators. Administrators can also use SMART Remote Management or MDM software to easily push apps to all displays.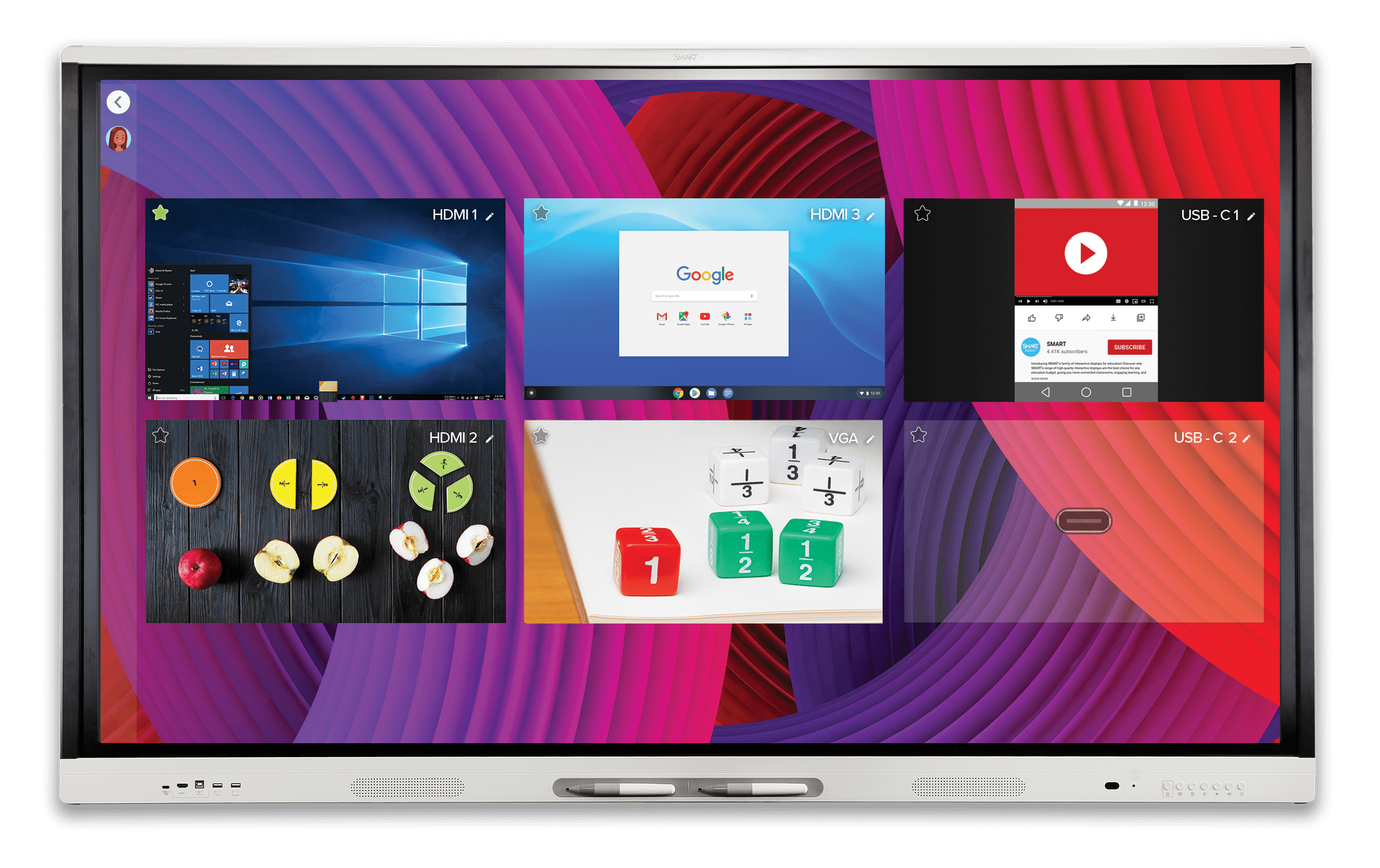 Easier use and management of connected devices
Plug multiple video sources into your SMART Board MX display and use the live input preview for easy and intelligent switching among inputs.
Convenience ports make it easy to connect devices without searching on the back of the display. Make notes over any connected device and use SMART's interactive widgets, such as spinners, timers, and clocks.
Request a Quote
Feel confident about your EdTech investment
Backed by SMART Assure warranty
Protect your investment with SMART's full-coverage warranty*, which includes advanced hardware replacement with two-way shipping, coordination and onsite replacement support, remote product support and more.
* Varies by region. See terms and conditions for details.
Remotely administer at scale
Ensure hassle-free implementations with SMART Remote Management. Push updates, run diagnostics, and maintain, control, and secure SMART Board displays and other devices from any web browser. A subscription to SMART Remote Management is included with your display for the length of the warranty.
Quality that makes the grade
SMART Board displays meet world-leading standards for product safety, warranty coverage, environmental compliance, and regulatory and interoperability standards, using third-party testing, verification, and certificates.
Adopt the MX faster
Professional learning
Instructional resources for teachers, schools and districts.
Deployment & Implementation
Get started with our FREE EdTech Assessment Tool
Technical support
Maximize uptime with expert support, tons of resources and access to a community with tips and ideas.
Find the right fit for your classroom
SMART Accessories
Add capability with the SMART Document Camera and more.
GX series
All the essentials for a great price.
6000S series
Ultimate capability, no complexity.
Find out how SMART Board interactive displays can transform your learning environments.