Check out how Shireland Technology School used technology to provide parents with an inside scoop on their children's day. They gained community trust along the way.
 A Peek Into Your Child's Day
It's a rite of passage, isn't it? To come home to your parents' "how was school today" probing, only to respond with a grunt, a complacent "fine" or a shrug. To be a fly on the wall during their children's school day has been the wish of many parents the world over.
UK-based Shireland Technology Primary School tackled this age-old complaint by offering a "Trojan Horse" of sorts – a peek into the classrooms of their school, accessible anytime, anywhere for their parent community.
Shireland Technology is a brand new UK-based school. In fact, they opened in August 2020 during the height of COVID-19. Opening its doors during a pandemic presented obvious challenges, but also allowed dexterity on the part of staff and teachers since they were essentially working with a "blank canvas."
School staff quickly learned that they needed to foster a meaningful connection with their parent community in order to launch successfully.
Using Tech To Build Trust With Parent Community
Shireland serves a community that is culturally rich, but socio-economically disadvantaged. Many families in the community approach schools tentatively, with a sense of distrust, and many parents' work situations make physical involvement in their child's school out of the question.
So, Shireland's staff brought the school connection to them. They used a powerful technology suite comprised of Lumio, ClassDojo, and other programs to give parents a glimpse into their child's day.
"Technology is a great leveler," Shireland principal Lady Kirsty Grundy said. "It doesn't judge and doesn't prejudge, it just allows people to have access and to be able to see things from a different perspective."
As Grundy points out, a tech-based connection empowered parents to be involved in their children's days like never before, especially for the 45% of students at their school for whom English is a second language.
Being able to record a video or message that is then translated into the family's primary language is a way of building a bridge of trust between the school and the parent community.
"Language can be a real barrier," Grundy said. "Sometimes our families are distrusting of organizations and official establishments. It's about saying, 'We're not here to judge. We are here to help support.'"

 'I Feel Like I'm Co-Parenting' 
When COVID-19 restrictions required that the school quickly flip its learning model to one that was asynchronous and remote, the bridge of trust between parents and school truly paid off. Shireland parents created videos of their children learning and doing the activities so teachers and staff were able to have that window into their home lives as well.
Shireland parent Soraya Connor feels that the connection formed between her daughter, the teachers, and her as the parent have created an enriched community atmosphere for her daughter to grow up in.
"With the support of such an amazing school, teachers, and bigger community, I feel like I'm co-parenting," Connor said. "...I'm able to watch her flourish. That, for me, is amazing."
Building A Safe Space For Students 
It's the glittering, shining star of the Shireland Technology Primary campus: "the immersive room."
When the lights are off, it's a room that looks like any other. Four walls, a ceiling, a door. But when the students watch their teachers power on the immersive program, the room reveals itself for what it really is: a portal for students to step into anywhere they can dream of.
Using panoramic surround display technology, the immersive room allows teachers to transport students to locations both real and fictional with the touch of a button.
"We can take children anywhere," said class teacher Phil McCahill. "We use the room to transport children to historical locations, like Pompeii before the eruption of Vesuvius, or to the trenches of World War One; we can take it to fantasy locations like the Gingerbread Cottage in Hansel and Gretel. We can take them around the world, to mountains, to rivers, to the jungles, or rain forests."
Appealing To The Senses
The room is more than just a glorified projector - it has the ability to engage all five senses. Touchpoints on the floors and walls and scent technology for smells allow students to interact with the scene they're immersed in.
And, according to principal Lady Kirsty Grundy, immersive learning is what it's all about.
"When children are truly immersed in the learning that they're doing, that's when you get truly deep learning and it will make a difference and it sticks," she said. "Our immersive room makes learning sticky."
Removing Barriers To Learning
From an access perspective, the immersive room breaks down almost every type of barrier that could possibly stop a student from getting to experience far-off and exotic places. Financial barriers become a non-issue. Special needs barriers immediately become surmountable.
And a worldwide pandemic? Still no match for the access the immersive room provides.
"For us, school trips didn't stop during COVID," said McCahill. "We were able to take children to places we wouldn't have been able to get into."
Really, the greatest barrier to maximizing the potential of the immersive room is failing to dream big enough.
"Teachers need to go in and think of it almost like being a director of a movie, or a conductor of an orchestra," Grundy said. "You're conducting and directing an experience in there."
Shireland Technology Primary School uses every opportunity to empower students and their technology use, from parent connections to virtual field trips. Their goal? To prepare students for a tech-driven world.
Shireland Technology Primary
Smethwick, United Kingdom
Located in the heart of the Smethwick community, Shireland Technology Primary provides pupils with real-world learning experiences. Shireland teachers bring the curriculum and learning to life with technology.

Certified SMART Exemplary School
A powerful network of visionaries using technology for incredible results.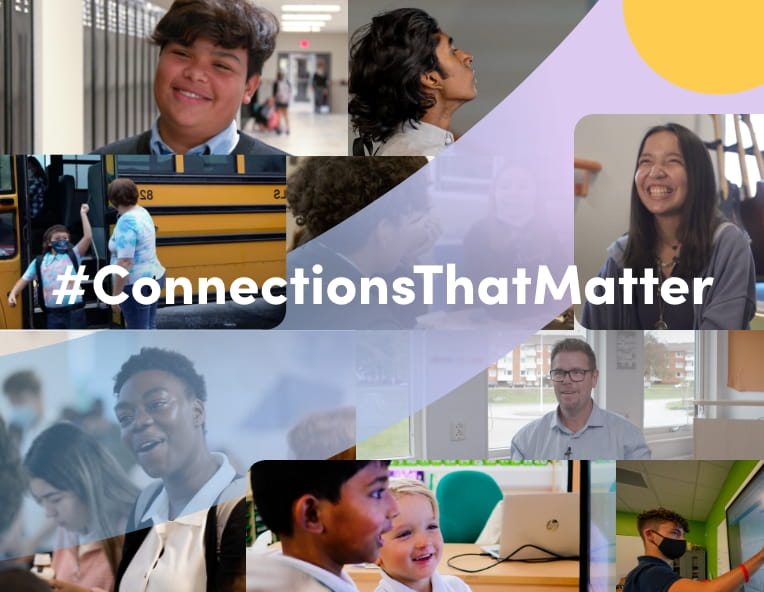 Explore More
Connections From Schools Around The World
See the collection of inspiring stories and resources helping connections thrive in schools around the world.
See all stories
Are you a journalist or industry analyst? Send public relations inquiries to pr@smarttech.com.