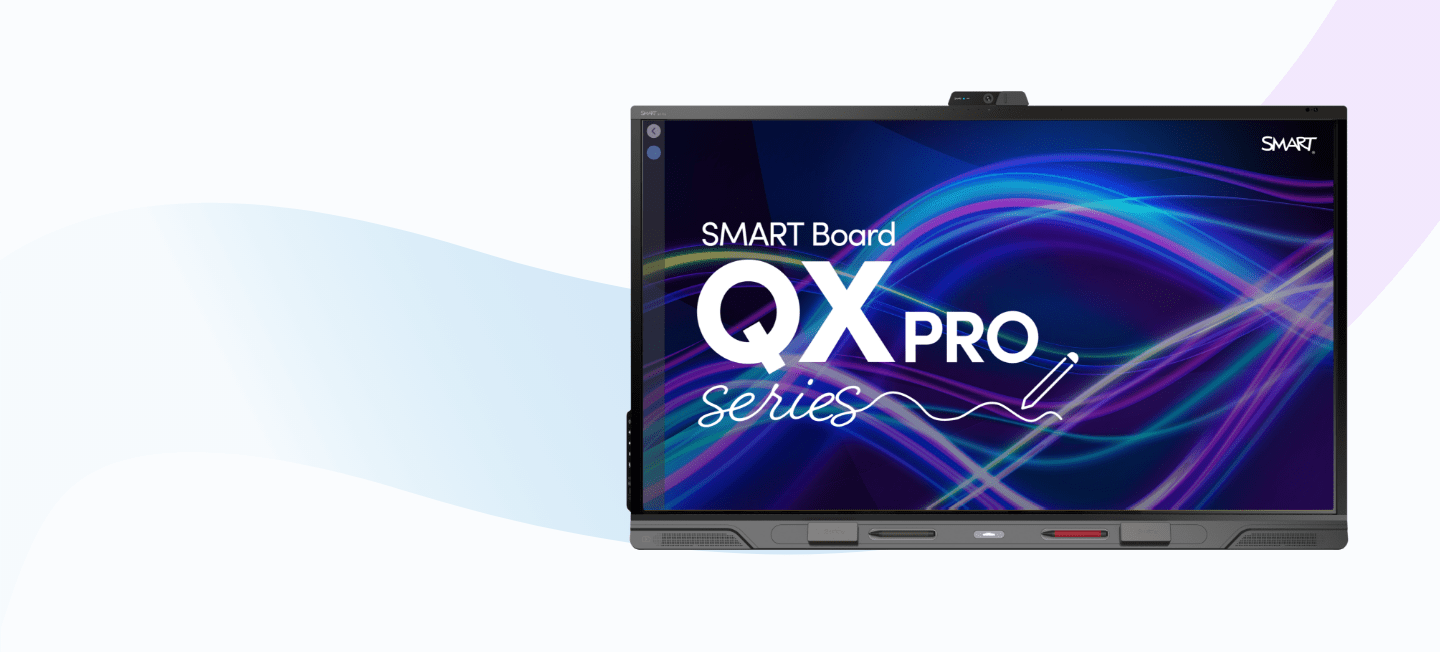 The all-in-one performance display for the modern hybrid workplace
QX Pro series
Your unmatched technology solution designed for the dynamic needs of the modern workplace. The SMART Board® QX Pro series is everything you need to deliver a seamless interactive and collaborative meeting experience.
Book a demo
See the QX Pro in action
A powerfully simple user experience
A true walk-up-and-use solution, designed exclusively for businesses and simple enough for even a first-time user.
Intuitive. Powerful. Built to last. Discover what makes the SMART difference.
Available in 65", 75", 86"
Compare and share technical specs and product info about the QX.
The world's ONLY interactive display
that allows multiple users to freely write, erase, and gesture at the same time across platforms and applications.
Industry-leading touch technology

Advanced inking and touch capabilities

Experience lag-free and uninterrupted writing precision with pressure-sensitive pens and palm rejection on an optically bonded glass for a true pen-on-paper feel.

The QX Pro series provides natural, intuitive, easiest-to-use touch and interactivity. Don't worry about figuring out menus – the QX Pro series is smart enough to know the difference between your touch, gesture, pen and erasers, and palm erase without pressing a button.

Exclusive tools for dynamic teams

Tools that offer differentiated ink colours with precision erasers for easier collaboration and block erasers give users every option for a truly intuitive interaction with the board.
Generate ideas that stick
Spontaneously open and mark up documents and actively brainstorm on the board, in real time, with iQ embedded computing built on Android 11. Plus, you can add remote participants at any time.
A smarter whiteboard
The iQ whiteboard gets everyone communicating and contributing to solve problems and reach breakthroughs without a connected computer.
Remote friendly
Hybrid meetings are a breeze with the QX Pro series. Users can join collaborative whiteboards live from any web browser with no login required.
Superior screen share
Get input from anyone and everyone. Teams can share screens from any device, in person or remotely.
Leave your mark – effortlessly
SMART Ink® software helps to keep ideas flowing and meetings dynamic. Simply pick up a pen and write into PDFs, Microsoft Office files, browsers, and connected video sources.
Plus, only SMART Ink lets you write and navigate at the same time without frustrating overlays. It really is as easy as putting pen to paper.
Plug and play with Windows Ink
The difference is in the details
Interoperability with leading operating systems and conveniently located connection ports – including 65W USB-C – make it easy for participants to connect, interact, and share.
Write and save editable annotations directly into Microsoft Office files – without installing any additional software or drivers. You can use the pen-enabled apps you already know and use, including OneNote, Microsoft Office, and more.
See how plug and play works
Write natively into common file types.
Write into and save your ink into PDF and Microsoft Office file formats. Or install SMART Ink to extend annotations to any program.
Robust whiteboarding
A collaboration space that's easy for anybody to use, with robust features to satisfy even the most experienced collaborator.
Broad interoperability
SMART Ink works seamlessly with all your programs on
Windows & Mac
. Mark up anything, anywhere – even in applications without native ink tools.
Just pick up a pen and write
.
Ultra HD 4K, flush-mounted camera

A wide 120° field of view, ideal for collaboration and conference spaces. Plus, our cameras boast extensive platform compatibility: Windows, MacOS, and Android.

Integrated microphone array

Enjoy high-quality audio capture in any space with an integrated, eight-element linear mic array, providing clear, crisp audio with no background noise.

40W audio + 15W subwoofer for video conferencing with an immersive audio experience without connecting additional hardware.

Compatible with all major conferencing platforms

The QX Pro series works with Microsoft Teams™, Zoom, Google Meet™, Webex, and more to engage hybrid teams for effective collaboration.
Bigger, better
Easy compatibility
SMART interactive displays integrate with some of the big names in audio visual technology, such as Microsoft Teams Room-certified Logitech cameras, Crestron, Windows, Intel, and more.
Plus, use SMART Solutions with popular platforms such as Microsoft Teams, Zoom, Google Meet, and Cisco WebEx for bigger, better video conferencing.
Learn about our integrations & partnerships
Built to play nicely with everything your team uses
Powered by Android 11
With a simple tap, switch from showing a video to writing and sharing on a digital collaborative whiteboard to keep ideas flowing.
Works with any device
The QX Pro series works well with popular iOS®, Windows®, and Android™ devices, so you can easily collaborate, share screens, and stream media using native casting, apps, or a browser.
Shared peripherals
Connect a PC to your QX Pro to access the display's Ultra HD webcam, integrated mic array, NFC reader, and other attached USB peripherals such as keyboard and input devices.

HDMI passthrough
Connect to additional displays for more working space, or share content into Teams or Zoom Rooms deployments with HDMI-out.

Convenient login
Quickly log in with the tap of an RFID- or CCID-enabled card through the integrated NFC reader.

Optically bonded glass
Enjoy the most precise touch and inking with a pen-to-paper writing experience and clearer, crisper viewing from every angle.
Ready to transform your workspace?
The modern workplace requires intentional design of space and tech.
Explore the ways you can elevate your space with some of our most popular products.
Get the most out of your SMART display
with our award-winning software, included with every QX Pro series display
SMART Meeting Pro
Unbound workspaces that expand as you add files, links, and markup – even over multiple displays and meetings.
Remote Management
Remotely administer your technology: push updates, run diagnostics, maintain, control, and secure SMART Board displays and other devices from any web browser.
Add SMART TeamWorks
Engage hybrid teams and launch meetings faster with one touch with an end-to-end meeting solution designed for fast, flexible and limitless connectivity, collaboration and engagement.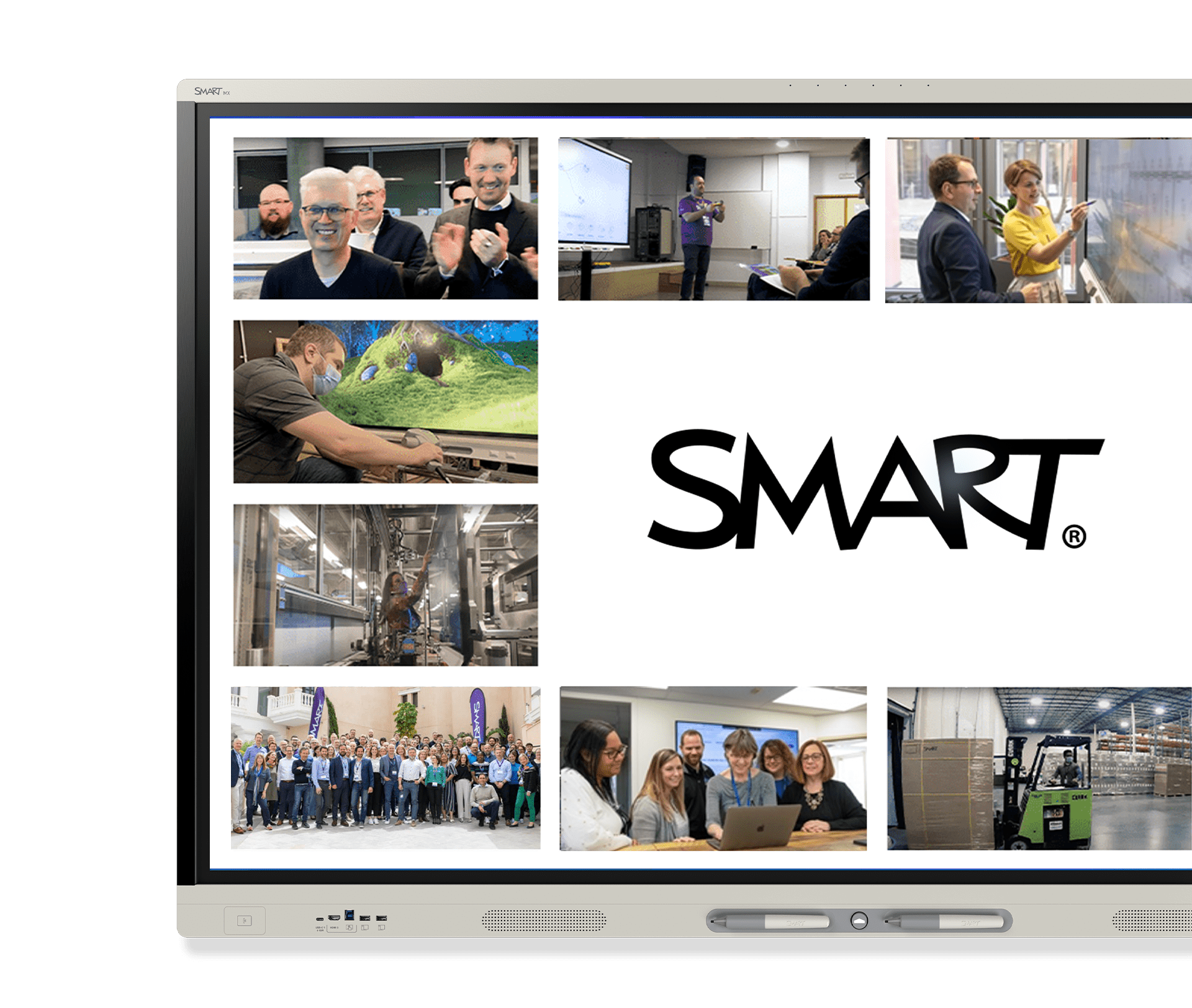 Your partner every step of the way
Supporting your implementation
Minimise downtime and avoid additional costs – the QX Series comes with all the benefits of SMART Assure.
What's included:
Real-time technical support
On-site warranty support
Customer support teams around the globe
Advanced replacement
Two-way shipping
For the ultimate coverage, choose our extended warranty, available up to seven years.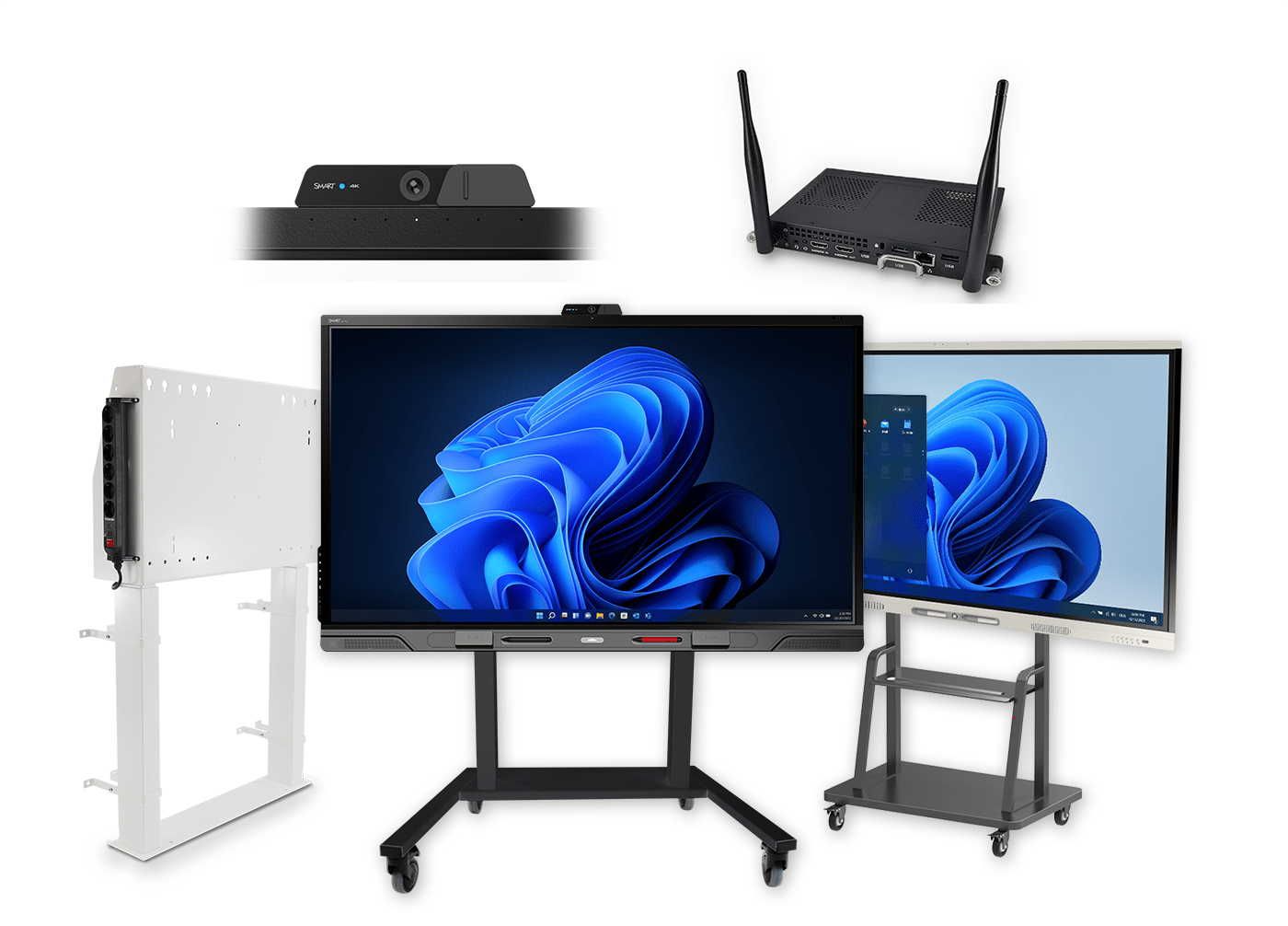 Solutions for any collaborative space
From computing modules to mounting solutions, SMART has all the options you need to design productive and empowering meeting spaces.
Ready to find the perfect solution for your business?
Book a demo
Find the right fit for your organisation
SMART solutions for business
Find out how SMART solutions can help your business drive engagement and collaboration.
MX Pro series
The all-in-one versatile display for visual collaboration.
SMART Podium 624
Make anything interactive.
Find out how SMART Board interactive displays can transform your workplace.