SMART solutions for higher education
A more connected modern classroom
The learning landscape is more dynamic – and digital – than ever. SMART solutions offer powerful options for connecting with students in any classroom environment, whether in-person, remote, or hybrid.
Book a demo
Download brochure
SMART solutions offer dynamic options for learning technology that allow educators and students to engage and collaborate in deeply meaningful ways.
But dynamic technology doesn't have to be complicated. SMART solutions are intuitive and easy to use, while still offering teachers and students powerful tools for teaching and learning.
Whether it's in the public arena of the lecture hall or the intimacy of a small study group, SMART interactive displays and collaboration software have the power to elevate the learning environment of your institution.
Thousands of learning institutions around the world trust SMART to connect, inspire, and engage learners in a modern learning environment.
Meaningful collaboration
SMART interactive displays are compatible with all major video-conferencing apps, and allow for simultaneous inking, moving, and erasing for multiple users.
Whether in-person or remote, students can easily and powerfully collaborate.
Truly flexible technology
Let SMART interactive displays become the hub for all of your classroom technology. SMART displays seamlessly integrate with your existing devices and peripherals. Our included USB-C ports allow users to connect any device for video, audio and touch with only one cable.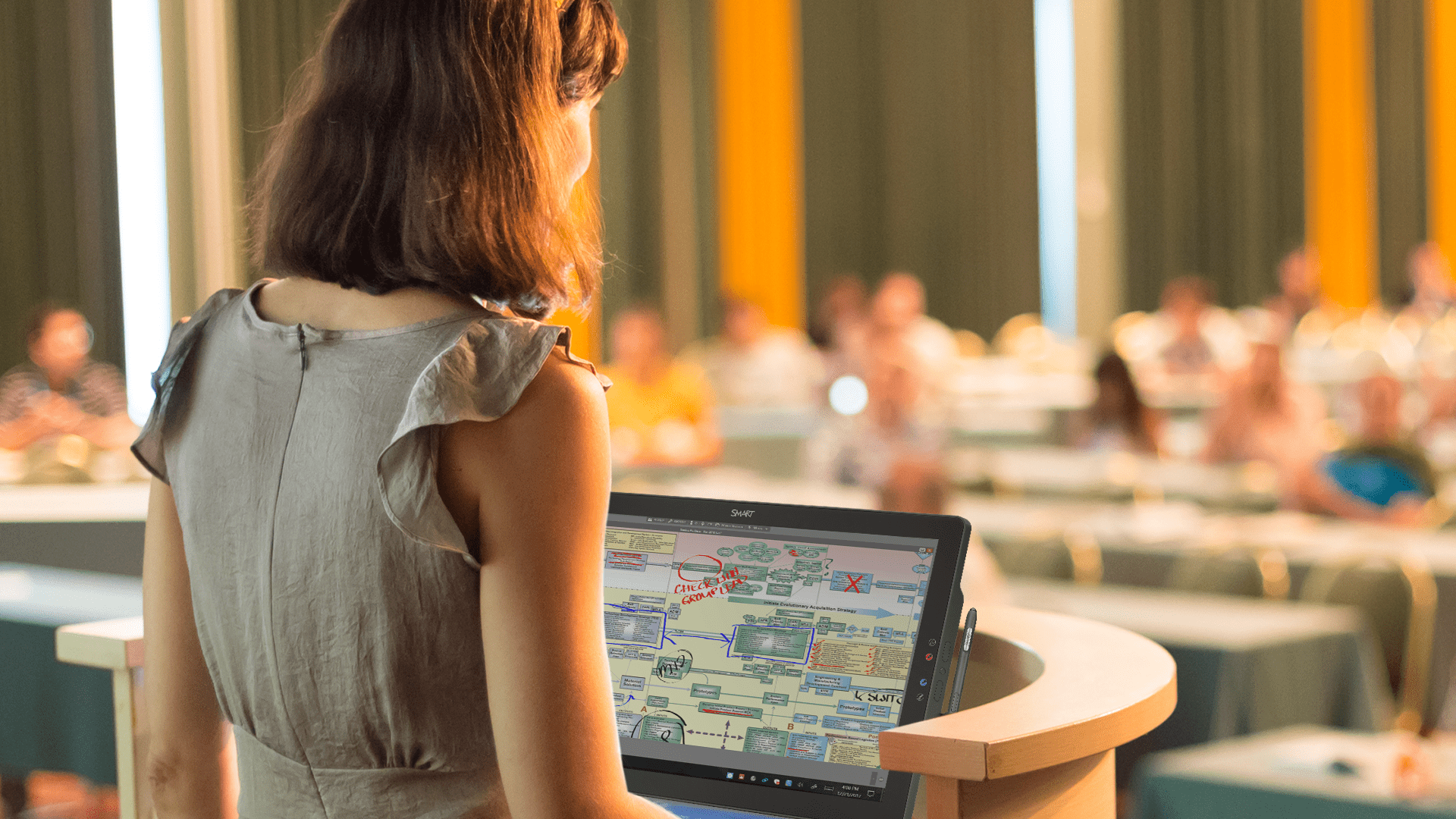 Unmatched accessibility and convenience
Solutions like SMART Podium and SMART Ink® allow students and teachers to instantly access and interact with all lesson content with ease. Users can ink on a wide variety of file types, and instructors can annotate without freezing the screen for a more dynamic lesson environment.
Want to dive deeper?
Download our higher education solutions brochure to see our detailed offerings for your institution.
Queen's University Centre for Advanced Computing uses the SMART Board interactive displays to connect instructors, students, and administrators from all over the world. The built-in capabilities of the SMART Board allow their users to plug and play or open applications right on the built-in Android OS. The Queen's team has designed an innovative meeting space that supports authentic connections, collaboration, and content delivery through one simple platform.
Queen's University
Ready to see SMART in action? Book a personalised demo today.
Go ahead, take a look.
Browse our most popular products in higher education classrooms.
Performance display for the modern hybrid workplace
Easy to deploy, use, and support.
All the essentials for a great price.
Training and support services for your institution.
When you work with SMART, you get more than just a great  product – you also get training, installation, and support services customised to your needs and budget.
Training
Access our online training courses and how-to videos on our hardware and software solutions any time, anywhere, so you can get the most out of your collaboration technology from day one.
Support
SMART global support has the experience, knowledge, and resources to ensure consistent, fast, and effective support. Make your SMART experience simply seamless with a host of warranty options, training resources, and technical support.