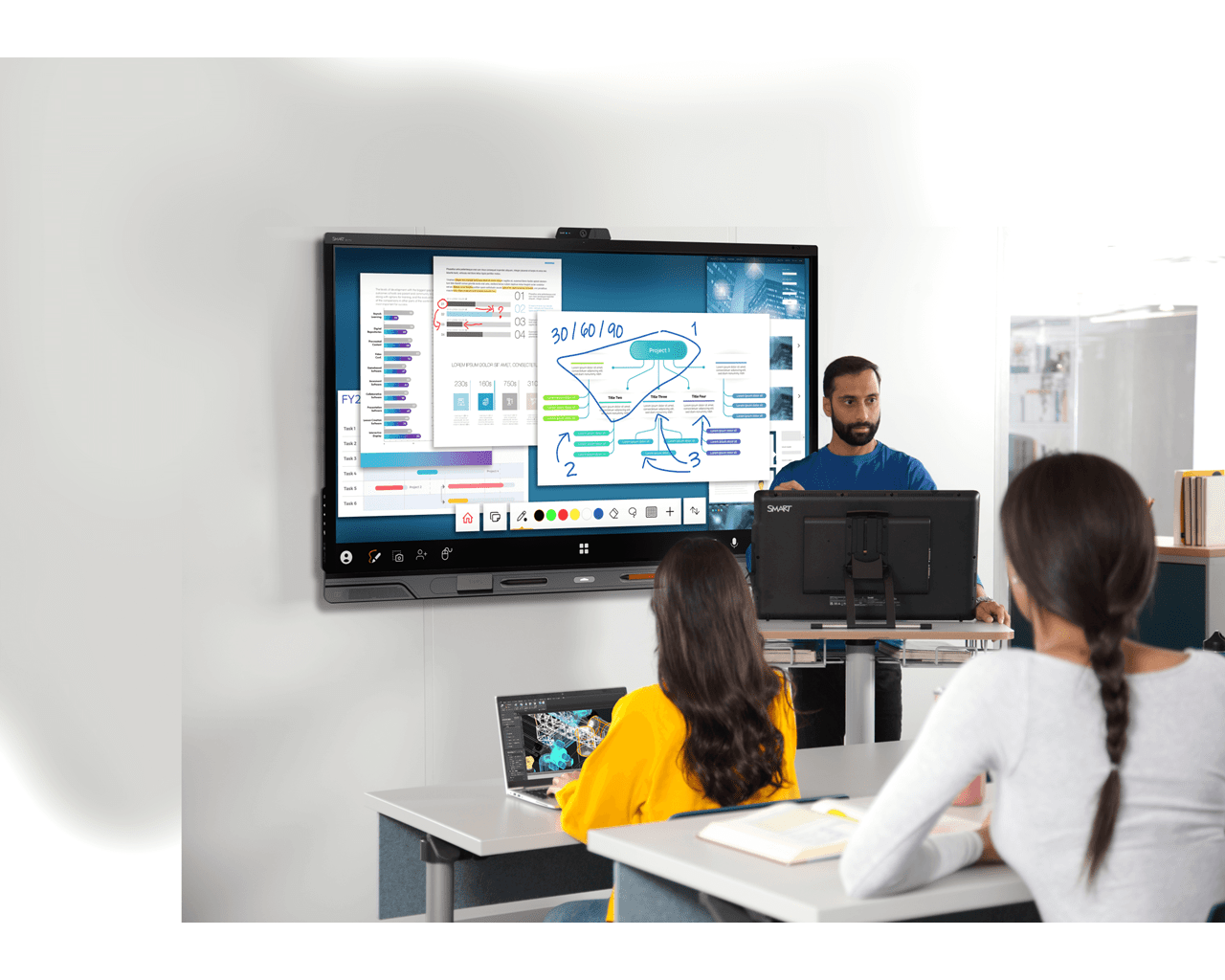 Corporate training
For businesses looking to offer a real-time active learning environment, SMART interactive displays are designed to promote participation through content sharing, annotation and manipulation.
Keep participants engaged, no matter where they're located to improve information retention, training outcomes and instructor ratings.
Book a demo
For businesses that need to increase the capability of their teams in workplaces that are more distributed than ever, SMART Pro displays have you covered.
Download a whitepaper to learn how upskilling existing staff can help meet your demand for top talent.
Corporate training with strong visuals can make a lasting impact long after your session is over.
Make a lasting impact with strong visuals
Capture the attention of participants, improve information retention and keep them engaged with real-time, dynamic annotations, whether on-site or remotely.
Power up your training presentations in a visual, media-rich way with SMART's 4K Ultra HD interactive displays and SMART TeamWorks™ software.
Keep your training materials protected and secure
SMART Board Pro displays come with secure remote management and end-to-end data security, giving you peace of mind.
Take control of your displays with SMART Remote Management to provide support, push apps, remotely deploy system updates and manage one or multiple displays from a centralised location.
Industry-standard security practices embedded in SMART whiteboards help protect your data as it's shared between the whiteboard, a mobile device or third-party services and sharing sessions.
With the whiteboard's cleanup button, when you're done with your meeting you can reset the whiteboard yourself or set it up to automatically clear after each session.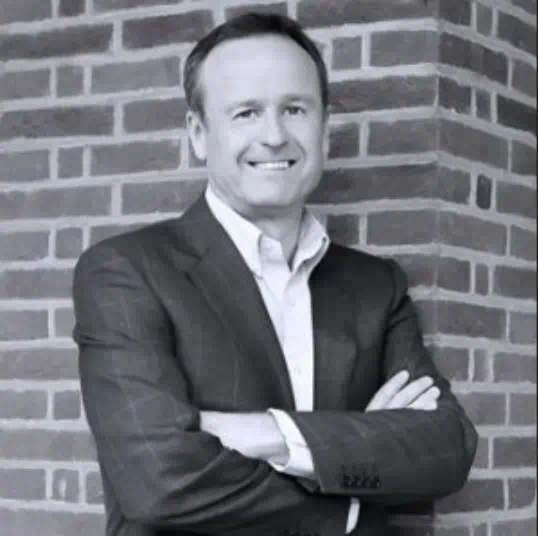 [The SMART Board] has absolutely transformed my ability to educate groups of people. When you're educating people about something, you have to bring it alive. You're effectively on a stage to some degree, and the SMART Board is a brilliant stage mechanic.
Peter Birkholm, Founder and Managing Director,
ITZ
Read how Peter Birkholm, founder and Managing Director of ITZ, used his SMART Board to better connect and train beyond the office and keep up with the changing times.
Amplify true collaboration with ease
Whether training one on one, in small groups, in-room, or remotely, SMART solutions bring groups together for optimal engagement and interaction.
SMART Board Pro displays and SMART TeamWorks™ software lets teams interact with all types of content including images, PDFs, Microsoft Office® files, websites and videos.
SMART Simultaneous Tool Differentiation empowers multiple in-room participants to write, erase, use tools and move notes all at once over web browsers, applications and files.
Seamlessly unite with remote participants with SMART Board Pro displays that work with UVC webcams, Google Meet™, Microsoft Teams™ and more.
Work in a collaborative whiteboard and launch web conferences with a single touch using SMART TeamWorks software.
"SMART Boards put us two to three years ahead of our competition. Our training sessions are far more effective, far more powerful and enjoyable. I estimate that there is a 20-25% increase in knowledge retention."
Britannia Safety & Training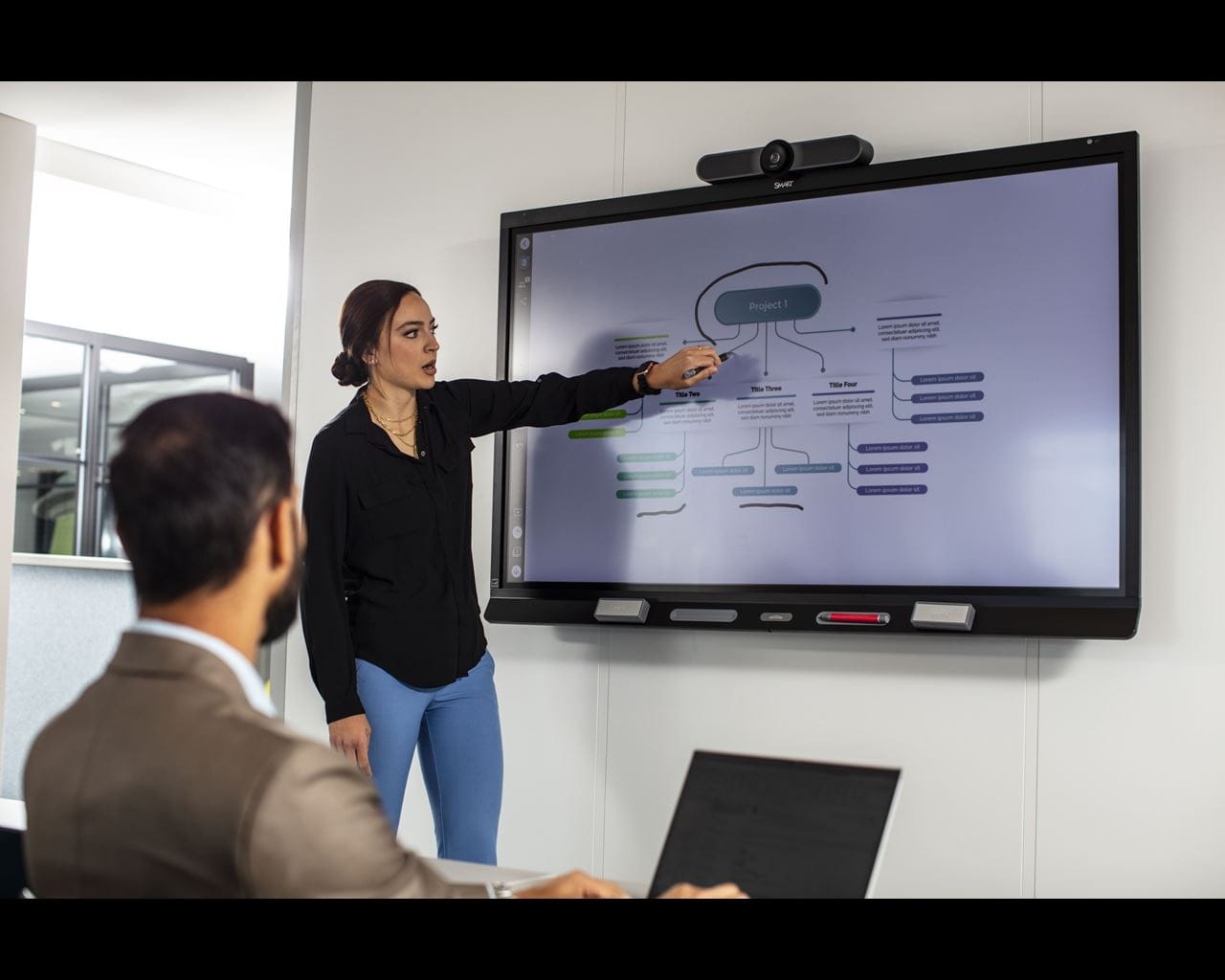 Smooth efficiency that keeps up to the speed of your work
Proximity sensors create a seamless walk-up-and-use experience on SMART interactive displays, making it easy for first-time and occasional users.
Build high-performing hybrid teams through training by inviting contributions from all participants. Easily access cloud storage files, share four screens at once and stream media with native, browser-based and app-based screen sharing options.
Keep your sessions on track as you write, draw and navigate content as you communicate and capture ideas quickly.
Book a demo to experience this yourself
Train SMART
SMART Board Pro series displays empower you to train teams across devices, offices and time zones as if they're in the same room. Simply walk up and use for more memorable presentations, enhanced productivity and serious ROI.
Learn how SMART solutions can help facilitate high-quality learning and development and training in an instructor-led, face-to-face or a remote environment.